Looking for airplane toys for your little pilot? Now can you can stop searching. Here I got you covered a shortlist of the safest and best value airplane toys for toddlers. It will be fun watching them hold the toy plane running at the house and pretend to take off and land. Continue to read and find the best airplane toys to spark your kid's imagination.
---
Battat Take-Apart Airplane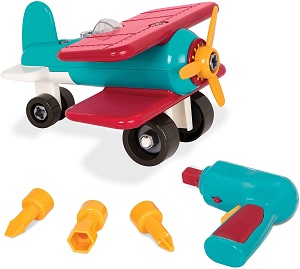 If your little one likes airplane and take things apart and put them back together. This Take- Apart Airplane is the perfect gift for him.
It comes with a battery-powered drill and 3 bits, and the airplane can take apart in 21 parts. Kids will love to pretend to be an aircraft maintenance engineers to check and fix the plane.
The toy drill fits the tiny hands and easy to use. It works like the real screwdriver, turning in two different directions to loosen and tighten connectors.
The chunky pieces are made from durable and safe material, they easy for small hands to grab. It is fun and educational toys for kids ages three and up.
Why Recommend Battat Take-Apart Airplane:
It is a building airplane toy for kids to take apart and rebuild again and again. Great for promoting hands-on ability and fine motor skills.
Comes with a working toy drill, adding more fun.
The bits to fit the toy airplane's various connectors, helping teach children pattern matching and mechanical skills.
The pieces are child-friendly size.
It is engineered from strong, durable material.
Encourage kids to role-play as an engineer or pilot, which is helpful for their development is many ways.
Click here to get the Battat Take-Apart Airplane for your little one who likes to fix things.
---
Tuko Transport Cargo Airplane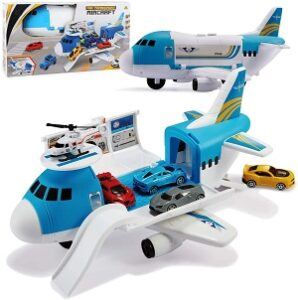 Cars, helicopter, and planes are combined together, is that awesome? The Tuko Transport Cargo Airplane will not only fun but exciting for your toddler. It is great for kids who are obsessed with cars and also wanted a plane.
This Airplane toys come 4 mini-vehicles and a helicopter,  which can be loaded in the transport cargo airplane cabin. Kids can create their own city base!
The cargo door can be opened and close, and with a ramp to get the vehicles in and out, and there is also a helicopter parking pad.
Push the friction powered transport cargo airplane,  it can be rolled on their own for a long distance on flat surfaces. The airplane measures 14.7 x 7.8 x 4 inches.
Why Recommend Tuko Transport Cargo Airplane:
Vehicles, helicopter, and plane combination.
Provides your toddler with hours of interactive fun play.
Made high-quality Non-toxic ABS material, durable for kids to play.
With the decent size and the perfect weight for little hands to play with ease.
Great toy set for kids to play alone or share with friends or siblings.
It is easy to assemble.
Click to find more pics of Transport Cargo Airplane
---
LEGO DUPLO Town Airport 10871 Building Blocks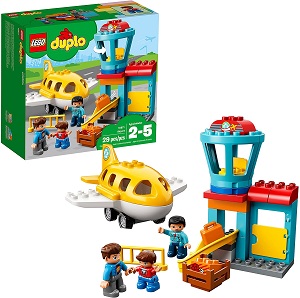 The LEGO DUPLO Town Airport Building Set will be a hit for toddlers who loves LEGO and airplanes. It is designed for kids ages 2 to 5 years.
It contains 29 pieces of large and durable building blocks and accessories. With luggage slide, suitcase, boarding gate, and revolving air traffic control tower,  a buildable airplane toy, and 3 modern characters, provides loads of opportunity for your toddlers to role play.
The plane measures  3-inch high, 7-inch long and 6-inch wide, and toddlers can put the pilot character and passengers inside the plane for more realistic fun.
Why Recommend LEGO DUPLO Town Airport Playset:
Comes with nice pieces for kids to explore stories about traveling on a real plane.
Large and durable pieces for toddler's hands to hold and put in place.
It is easy for toddlers to assemble.
Encourage kids to build fine motor skills, coordination, and building skills.
Click to check deals on Amazon
---
Green Toys Seaplane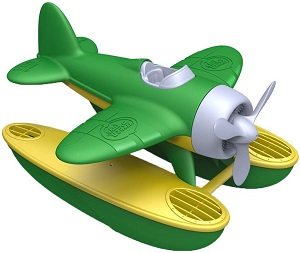 Green Toys Inc. specializes in making children's playthings made from 100% recycled materials. The toys they produced are safe for children to play, BPA and phthalates free.
This Green Toys Seaplane is loved by many parents and their kids. It features a cheerful, colorful design that will appeal to young children easily.
Kids will love the spinning propeller, rounded wings, and thick, oversized pontoons. Kids can also place a small figure in the cockpit which increases more pretend fun.
The Seaplane can float in water, kids can play with it in the bathtub or pool.
Why Recommend Green Toys Seaplane:
Made from 100-Percent Recycled Plastic.
Fun, Interactive toy Ideal for Bath Time or Pool Play.
Feature vibrant colours and endearing, cartoonish look.
It is easy to clean and dishwasher safe.
Designed to withstand rough play.
It will help young captains to easily navigate to air and water.
Click to buy the Airplane Toys that made of 100% safe materials.
---
Mickey Mouse Plane Ride-On Toy
If your toddler likes Mickey Mouse and loves the airplane toy with lights and sounds, check out the Mickey Mouse Plane Ride-On Toy.
You little pilot can press the different buttons in the cockpit to fire up the plane, play different sounds, hear various phrases from Mickey or make braking noises.
Kids will love watching the propeller spin when pressing the controls. The propellers are made from soft foam to protect kids from getting hurt.
With a multi-directional extra front wheel, kids can ride on the Mickey Mouse Plane and move in any direction. When finish playing, fold up the wings for easy storage.
Why Recommend Mickey Mouse Plane Ride-On Toy:
Kids will like the cute looking of the Mickey Mouse Plane
Makes fun sounds and lights up, making play more realistic.
The soft propeller is a hit for little kids, it can spin with light-up patterns.
With rear bumper prevents the ride-on from tipping backward while in use.
Easy for young kids to get on and ride.
Parents love it comes pre-assembled.