Wooden toys usually feature simple, classic, open-end play that can keep young kids entertained for years. Consider hands-on wooden train sets for toddlers will be a great idea to help them develop skills such as fine motor skills, creativity, imagination, storytelling, hand-eye coordination, dexterity, and so much more.
Though so many developmental benefits of wooden train sets for your little one, there are certain factors that you need to keep in mind so that you can choose the best wood train set that suits your little boys or girls.
Here are some guidelines for choosing the wooden train sets for toddlers.
4 Tips for choosing wooden train toys
Solid wood will be a safe option
Wooden train sets made of solid wood such as maple, walnut and alder woods from FSC certified forests will always be the safest option, especially for toddlers. You can simply communicate with sellers for product details.
Smooth and free of burrs surface
Most wooden toys are handmade, so the smoother the surface of the toy, the finer the workmanship. Parents should choose wooden train sets with smooth and round-edge surfaces to avoid burrs from getting stuck during play.
Good wooden train toys use environmentally friendly water paint coatings. This paint is non-toxic and odorless, and it is safe for children to play. When choosing a wooden train set, you can notice if the paint on the surface is even and complete. Gently scrape it with your nails to see if it will fade. Smear it next to your nose to see if there is any odor. If you buy online, you can read the reviews for more info.
Each toy has a recommended age for young children, and parents should buy toys that are appropriate for your child's age. Children under 3 years old have a poor sense of self-protection, and it is easy to put toys in their mouths. Therefore, you should choose train toys with large size, simple shapes, and smooth surfaces for toddlers.
Now let's jump into the list of top wooden train sets for toddlers and see what I have collected for you. (Some of the links within this post are affiliate links of which I receive a small compensation from sales of certain items, There is no additional cost to you)
Top wooden train sets to purchase for young kids
Orbrium wooden train set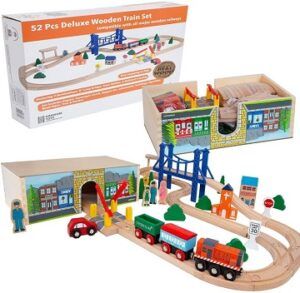 Orbrium wooden train set would be a great present for kids to spark their imagination and build a wooden railway world. Come with 52 train pieces stored in a dual-used box for an exciting trip.
What includes: 23 tracks, 4 trains/cars, 1 railroad crossing, 1 train station, 1 bridge, 7 building pieces, 8 trees, 7 figurines/road signs.
Material: Made of high-quality solid wood that meets the safety requirements of ASTM F963 and CPSIA.
Feature:
Compatible with major brands in the market such as Thomas Wooden, Chuggington, Brio Railway System, Kidkraft, Ikea, Melissa and Doug and so on.
The wooden box can be used in 2 ways, Flip the box, it turns to a village tunnel for playing. When done of play, store everything in the box.
Fit the room that has no so much space, can put it on the table.
With 3 destinations, Bridge, Train Station, and Railroad Crossing.
The railway can be built and rearrange to five layout plans as your preference.
No battery required.
The manufacturer recommends for children age 3+, but many parents buy for their 2 years old or even younger, they pretty enjoy it.
Why Recommend Orbrium Wooden Train Set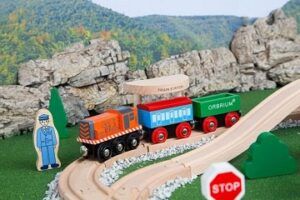 A great toy set to feed toddlers' imagination.
Well-made wooden pieces that can last for years.
Right size for small hands to manipulate.
Nice price for a fun train set that keeps kids engaging.
Vibrant color accessories make kids' play more realistic and beneficial for sensory development.
The trains without battery-operated, require manually move the train with hand, but that helps develop kids ' fine motor skills.
Meet the safety standard.
Can fit with many other train set brands.
---
Play22 Magnet Wooden Train Set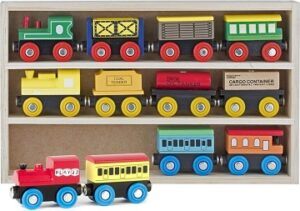 Looking for the simple yet sturdy train sets to keep your little one excited?  I recommend the Play22 12 PCS Wooden Train Set which compatible With Thomas Train Set Tracks And major brands.
The train set is made for toddlers! Boost their imagination with a variety of wooden train cars includes Engines, Tender, Coaches, Convertible coach-hopper car, Cargo car, Magnetic cargo load, Tanker car, Magnetic tanker load, Hopper car, Cabooses.
Each train car feature magnetic connect, encourage your kid's creative play.
Made from safety tested solid wood that can endure child rough play.
The display wooden gift box allows kids to line up the train in their own way, helps young kids sorting skills.
Each wooden car measures about 3 inches long by about 2 inches high, perfect size for toddlers to play.
Some buyers said the magnetic is not so strong, but that not affect the fun play.
Why Recommend  Play22  Educational Magnet Train Set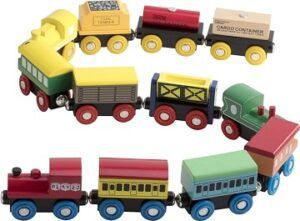 Built to last for years of pretend play fun.
Painted with colorful eco-friendly material, safe for kids to play and the bright colors help with color recognition.
It comes with a display box for storage.
It can be the expansion of existing train sets.
Offer your toddler an adventurous game at an affordable price.
Trains can be connected with the magnetic, encourage children to develop hands dexterity and practical skills.
Great gifts for boys and girls who into the train toys.
Simplicity designs help spark imagination.
Wheels move smoothly.
Click here to get this Open-ended Wooden Tian Set for your train enthusiast toddler
---
BRIO My First Railway Wooden Train Set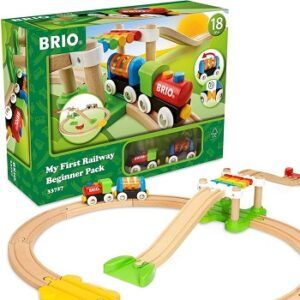 BRIO is well-known for its well-made and good value long-lasting wooden products. So does BRIO My First Railway Train Set won't let you down which is designed for youngsters age 18 months and up.
It is a great beginner set for a wooden train enthusiast toddler. With reversible magnet connections and simple guiding tracks make frustration-free play for kids to explore.
The plastic guide ramp allows little young hands to get the train onto the track easily, it is great for developing their fine motor skills and hand-eye coordination.
Feature bright colors, patterns, textures, and simple layouts provide a more joyful experience for little boys or girls.
The set includes two train cars, one is an engine, and the other has a rattle wagon that can spin around and make sounds.
The trainset made of FSC certified wood provides your budding child a safe and wonderful introduction to the world of wooden trains!
Some parents said they still keep the BRIO toy which they had decades years ago. this train set is not cheap, but definitely get what you pay for.

Why Recommend BRIO My First Railway Wooden Train Set
This is a very high quality, well constructed set that can play for years.
This wooden train set is specially designed for toddlers.
Compatible with the BRIO World railway system and other BRIO railway products.
The track pieces connect together well and the trains can move easily on it.
Very smooth finish and without splinters make a nice touch for small hands
Encourage children to understand and learn about things in a fun way.
Strict safety tests make sure the toys are safe for kids to play with.
Visually appealing colors keep kids engaging
Click here to get your toddler The First Wooden Train Set
---
Thomas & Friends Wood Toy Train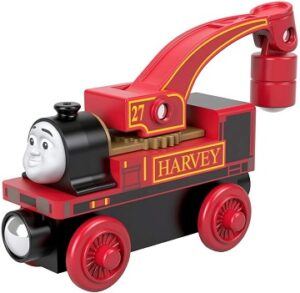 Thomas & Friends Wood Toy Train series features different characters, which character is your litter one's favorite?
"Harvey is big-hearted and cheery. He can be a bit sensitive, but If trouble strikes, he's always ready to clean up a mess or help his friends pick up the pieces"
Thomas & Friends Wood Toy Trains made of sustainably-sourced wood and features high-quality construction provide your toddler limitless imaginative play. It can fit with most of the train set.
Whether you looking for an addition for your children's train collection or a fun toy to spark their imagination, It will be a hit.
Now click here to find all the characters of Thomas & Friends Wood Toy Train