LEGO building, for decades, has offered so much fun for both kids and adults. It has been encouraging learning through exploration. In 1969, LEGO Duplo was introduced, designed for children from ​1 1⁄2 to 5 years old, which size is bigger than traditional Lego bricks. They are easy for toddlers to manipulate and the bigger size avoids the choking hazard. Below are the top 5 Duplo Legos For Toddlers that are new release of 2020.
---
#1 LEGO DUPLO Super Heroes Lab 10921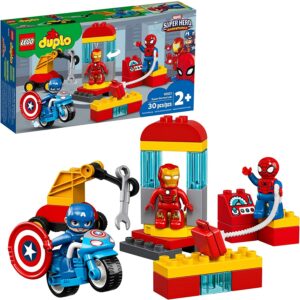 This Super Heroes Lab comes with popular Marvel Avengers characters: Iron Man, Spider-Man, and Captain America, makes a fun role-play playset for toddlers.
Feature with cool equipment: moving crane, spinning turntable, wrench, control panel, and vehicles, for toddlers to manipulate, which help toddlers develop fine motor skills and cognitive thinking.
There is total of 30 pieces of this playset, including the  LEGO DUPLO bricks, all the pieces are colorful and simple to assemble and take apart. It will be an awesome choice for those boys and girls ages 2+ who love the Marvel Avengers.
Click Here to Check Deals on Amazon
---
#2 LEGO DUPLO Disney Frozen Toy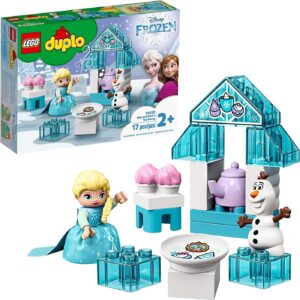 For those kids who love the Disney Frozen movies, this LEGO DUPLO Disney Frozen Toy Set definitely a hit. With well-known characters Elsa and Olaf, and feature a tea party theme, This playset provides toddlers tons of imaginative fun.
The buildable set comes with 17 pieces of accessories of toddler-friendly size. With vibrant color blocks to build an icehouse for Elsa and Olaf to hide and go seek, or hold a tea party with the adorable accessories: teapot, cakes. Toddlers can role-play a range of scenarios. They are building developmental skills like fine motor skills, visual-spatial, and emotional skills while having fun with this cool Disney Frozen toys.
This playset is recommended for children ages 2+. It can compatible with all Lego Duplo.
Click Here to Get this LEGO DUPLO Disney Frozen Toy For Your little Fan of Disney Princesses
---
#3 LEGO DUPLO Classic Brick Box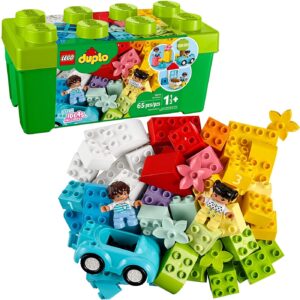 This LEGO DUPLO Classic Brick Box packed with 65 colorful bricks plus familiar pieces is a great introduction to Legos and building toys.
The set includes a bunch of "regular" bricks such as squares and rectangles, also some unique items such as a car with wheels, flowers, chairs, window, roof, and bricks with numbers, 2 DUPLO people figures: a boy and a girl. This classic DUPLO toy set provides endless imaginative play possibilities for toddlers with these familiar objects and colorful shapes.
The green plastic box it comes in is great for keeping all the items all tidy in one place. There is a small booklet with a handful of different building ideas that cover a variety of complexity levels.
It is recommended for kids ages 18 months and up.
Click Here to Add This Great Starter Set to Your Toddler's DUPLO Collection
---
#4 LEGO DUPLO My First Alphabet Truck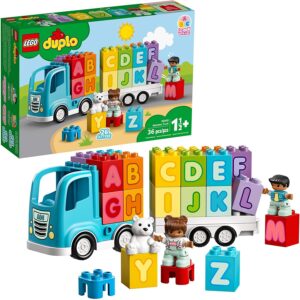 This LEGO DUPLO Alphabet Truck brings creative building, imaginative play, and learning the alphabet to a new level. It comes with a complete colorful alphabet of Duplo bricks, a boy, a girl, a bear,  two stools, a block for each letter of the alphabet, and a LEGO DUPLO truck. Instead of the sticker, the letters are printed on the bricks, which are easy for toddlers to recognize. That makes an ultimate playful educational playset for toddlers.
The truck rolls easily without tipping over or coming apart. Young children can stack the letter bricks onto the back of the truck easily, which encourages them to learn how to stack the blocks together, and that helps fine motor skills development. Role-play with the figures helps develop social abilities.
A letter poster is included, you can use it to have your child learn to match the letters, color recognition, sorting…ect.
The LEGO DUPLO Alphabet Truck is recommended to boys and girls ages 18 months and up.
Buy This LEGO DUPLO My First Alphabet Truck (New 2020) For Your Toddler on Amazon
---
#5 LEGO DUPLO Town Pizza Stand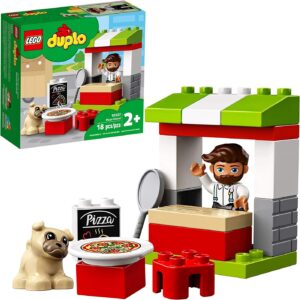 The LEGO DUPLO Town Pizza Stand is great for young kids who enjoy food theme play. The set includes a pizza, a pizza pan, a wood-style countertop, colorful bricks that build the Pizza stand, a figure, and an adorable dog that makes the set more attractive.
Rearranged the Pizza Stand or role-play serving up delicious pizzas, This LEGO playset provides so much development benefits for toddlers and parents to share.
Click Here to Add the LEGO DUPLO Town Pizza Stand To Your Toddler's Toy List
You might also interested in: Wooden train sets for toddlers
(Some of the links within this post are affiliate links of which I receive a small compensation from sales of certain items, There is no additional cost to you)