Christmas is fast approaching, Are you looking for a gift for your son, your nephew, grandson or friend's kids? I get it sometimes will be overwhelming and a little tricky when looking at all kinds of toys in every store aisle and online catalog.
So I have rounded up some of my favorite finds that are unique and entertain.  Check the following Christmas gift ideas for toddler boys, Get ready to call your holiday shopping a wrap, give your little one a big surprise.
(Some of the links within this post are affiliate links of which I receive a small compensation from sales of certain items)
---
#1 Transportation Village Personalized Play Mat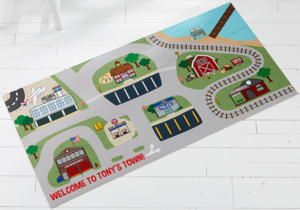 A play mat that can name the village with any title and personalize each stop along the road, the airport, school, fire department, farm..ect, How cool is that. And what impressed me is the mat quality.  The mat surface is made of sturdy polyester fabric and the eco-friendly dye-print technology.  Which means is safe for kids to play.
The back is with recycled rubber, it can more attach to the floor, no concerning its skid.
The mat size is 24″H x 48″W, suitable for home indoor or outdoor use.
Cons: Heavy to carry due to its material, car not including,
Despite the weight, it will be a unique Christmas gift for boys, seeing their name on the mat, they will adore pushing the cars and trains along the mat, and it will bring so much fun.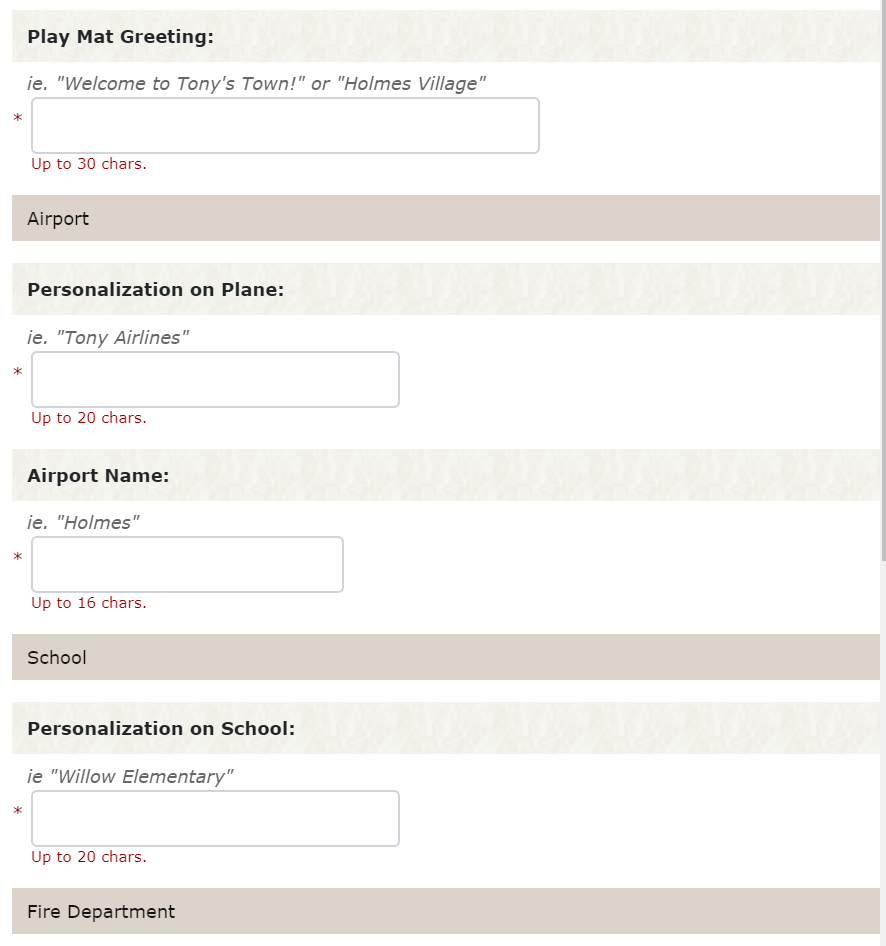 ---
#2 VTech Sit-to-Stand  Alphabet Train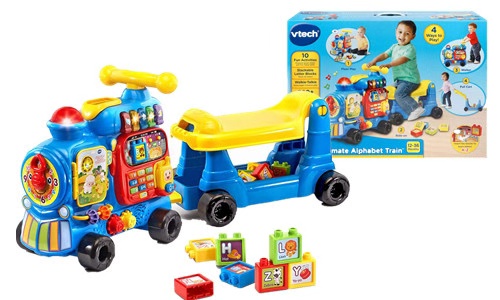 A train that can play with 4 ways, floor play, walker, ride on, wagon. Which also with double-sided alphabet blocks, more than 100+ songs, melodies, sounds& phrases, with 10 activities included a walkie-talkie and number pad, storybook, clocks, gear so on.
It can teach toddlers colors, numbers, letters, music, animals, help to develops motor skills, sensory development, discovery, and exploration. It will be a great learning toy and gift for a toddler.
Cons: When using as a walker not recommend for the toddlers who start to walk. As it is not heavy enough to hold up a child learning to walk.
It has blue, red, pink color, But the Blue color only supplies online.
---
#3 LEGO Construction Toy Set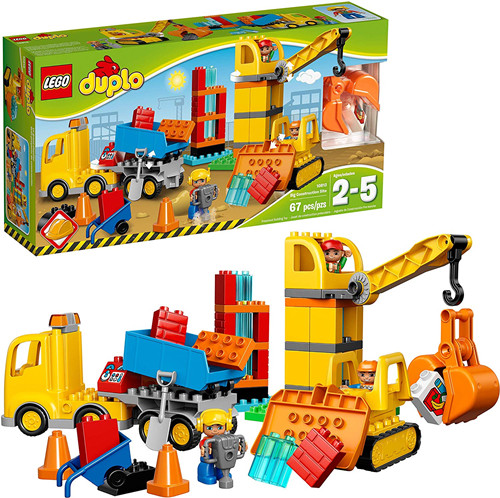 If your kiddo is truck obsessed and likes the construction, His eye will light up when he sees this LEGO Construction Toy Set with Toy Dump Truck, Crane and Bulldozer. The building bricks are designed to be safe and can be easily grasped and handles by little hands. Construction workers and realistic accessories will bring tons of fun for your little builder's operation on their own building site.
When the boys constructing and deconstructing the toys, it can Improve their creativity, engineering thinking, and promote motor skills.
It comes with a total 67piece and packs in a gift box. An ideal Christmas gift for boys ages 2-4.
---
#4 Control Car Set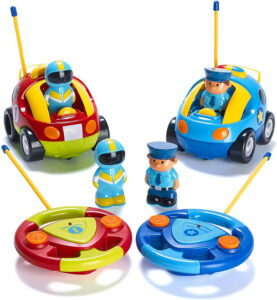 This Prextex Pack of 2 Cars will be suitable for whose home have more than 1 kids.  It is including a race-car and a police car, and 2 figures, one is a race-car driver, the other is a cop.
Each car with it is own control, both cars could be played with at once since they have different frequencies. There are 2 buttons on the remote forward straight and the other goes backward but curves a little, so it will be easy for small kids to learn to control.
Pros:
It can run on the carpet, Durable quality
The controls are well-design for little hand to operate.
The police make a siren sound, while the race-car makes a sound that raves the engine.
Cons:
The blue one plays the music and lights on continuously until you turn off it.
Batteries not included, Require 3 AA Batteries, and Remotes Require 2 AA Batteries, so the total you need to buy 10 AA batteries separated.
---
#5 VTech Drill & Learn Toolbox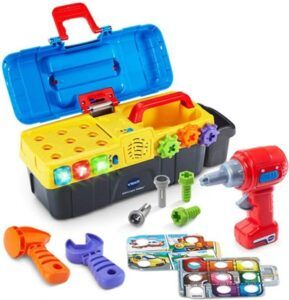 A toddler-friendly toolbox with electronic fix-it tray, working toy drill, hammer, wrench, nails, and screws. It gives your little fixer role-play fun with working drill spins the gears and drills screws into the electronic tray's holes. It can help build motor skills while turning the gears and hear mechanical clicking sounds.
There are light-up buttons and press it will paly with fun songs and teach the kids to learn about different tools, the way to use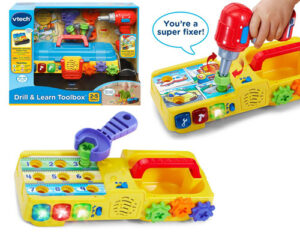 and the sounds they make. And it also comes with instruction cards, inserts it on the tray, boys can hear about colors and numbers while pretending to make repairs. A great way to learn by playing.
When done with playing, the tools and accessories all fit inside the toolbox,  except the drills, while it will go in the holder on the side. But this is also a con, Because I would like all the things can fit in the box, so it can be more convenient to carry on the go, and if the tools put separated it will be more easy to lose it.
How do you think this Christmas gift for the little boys who like to help daddy to fix the stuff?
---
#6 KidiBeats Drum Set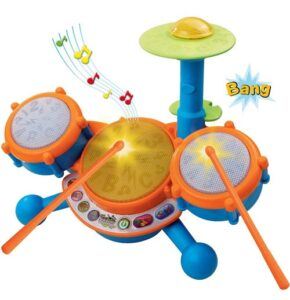 This drum set comes with two drumsticks that can be used to tap the four different electronic drums.  It allows your child drum freestyle or plays along to nine pre-set musical styles.
kids can follow the lights on the drums as they hear about letters and numbers.  Four ways to play and a variety of fun sounds, Help for sensory development. And it is cool that it can automatic shut-off preserves battery life. And while volume control allows for quieter play.
---
#7 LEGO City Advent Calendar Building Kit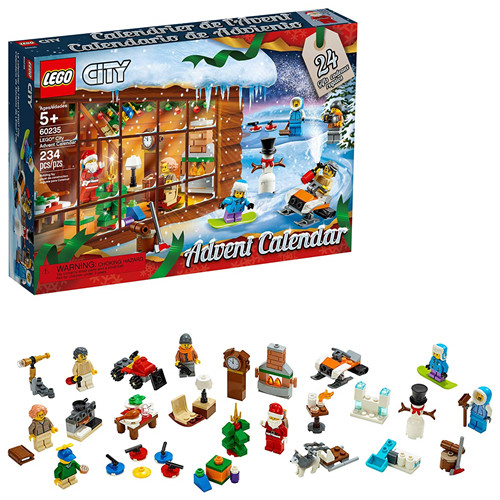 Last, How about getting your kids a Christmas countdown Advent Calender of 2019? 24 different buildable presents, one for each day of the season, include a snowmobile, snow fort, curling set, fireplace, rocking chair, telescope, Minifigures and much more.
But Please be noticed that these toys contain a small ball. Not for children under 3 years old.
---
Summary
Little boys from 1 to 3 years old are such explores, These toys I selected are designed to develop fine motor skills and to learn how things work in a fun and exciting way.
Have you found some Christmas gift ideas for your toddler boys?
Or, do you have any ideas you would like to share? Please leave them in the comment section below.
Here are the links to toddler toys guides:
Best Learning Tablet for 2 Year Old
7 Drawing toys for toddlers-Spark creativity, Mess-free