It is not easy to choose the proper toys for hyperactive toddlers as their instability and inattentiveness. Giving them flashy toys or complex playsets may not be a good idea. Given below are some tips to guide you in choosing the right toys for the toddler in your life who are hyperactive.
Some of the links within this post are affiliate links.
7 Tips for choosing toys for hyperactive toddlers
Toys that channelized the energy
Toddlers extremely curious about everything and they never stop exploring the world around them. And the kids who are hyperactive make it more difficult for parents to handle, as they have endless high energy, which needs to be properly channelized. Get in some physical activities and choose active toys like the trampoline, football, basketball for burning their energy with bouncing, spinning, running, jumping. Also, explore the outdoor will never be a bad idea.
 Keep it simple to improve their self-confidence
The hyperactive toddlers often become frustrated and discouraged trying to completing lengthy tasks.  Choosing simple hands-on toys like the building blocks that have only a few pieces so children can create a single structure easily in a short period of time which may help them gain a sense of achievement and build their self-confidence.
 Colorful and speed play to help them focus
When a child has been diagnosed with ADHD, they often have a hard time trying to engage in one task and they quickly lose interest in a toy. Choosing toys that are colorful, fun and can complete in a short time that can catch their attention easily. Like the fabric short charter books, or floor puzzle with recognizable patterns or shapes that allow them to be creative and stay attentive.
 Busy hands to stop the fidgets
The hyperactive toddlers are unable to relax and are always fidgety. They can't sit back in their seats and move around a lot. Even when they sit stills, they might feel nervous and do not know what to do with their hands and might bite their fingers. Some special fidgets toys can keep their hands busy and help them to channel  "fidget energy", get them to concentrate and relax.
 Interactive toy to improve socializing skills
Fantasy and pretend games provide children a creative and fun way to express themself, which will be helpful for emotional development and social skills improvement, especially toddlers with ADHD. Give them some Interactive toys like a playhouse, costumes for dress-up and puppets for imaginary play, offer them a safe outlet for expressing their feelings
 Sensory Toys to  stimulate senses
All developing kids can benefit from sensory play,  which includes any hands-on activity that stimulates senses. Especially for a toddler with hyperactivity as part of an attention deficit, Sensory toys can help them to engage attention both cognitively and physically by stimulating one or more of the five senses: sight, sound, touch, smell, and taste.
 Last but not least: Safety
When you choose any toys for any kids, Remember the age-appropriate rules and safety. For toddlers, avoiding toys with choking hazards.
Below are some Top Picks Of  Toys For Hyperactive Toddlers designed to help them focus,  energy channelized, and skills building while still entertaining.
---
7 Toys for hyperactive toddlers 
1. Liquid Motion Bubbler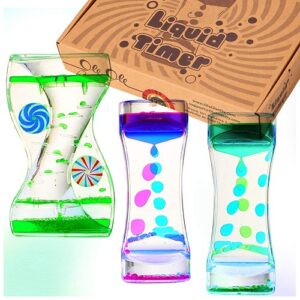 This liquid motion timer featuring slow and rhythmic drops will be a great sensory toy for children who is suffering from symptoms of hyperactivity. The vibrant colors can catch toddlers' attention and follow the slow and steady floating colored droplets, which can help them focus, relax and improve visual awareness at the same time.
Made of durable acrylic, It is light and easy for little hands to hold it with the special shape design.
---
2.  Magnetic Blocks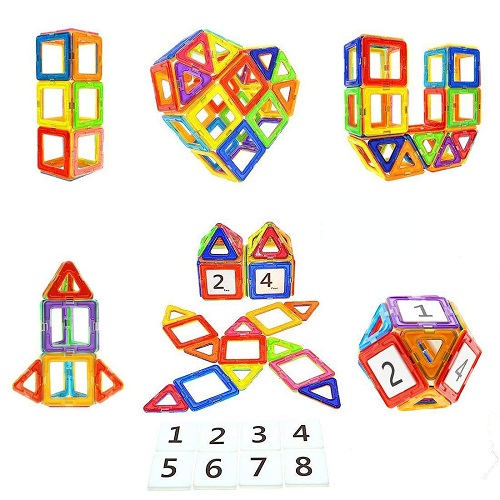 Hyperactive toddlers are easy to get frustrated and angry when they face to the complex toy set. This visually attractive magnetic blocks set are simple for them to connect and build different models, which can help them engage and build confidence. The size is perfect for little hands to grab and manipulate, beneficial for fine motor skills development. Different shapes and colors also allow parents to sneak in the learning part: Yellow! Triangle! Number 1!
---
3.  Hover Soccer Ball Set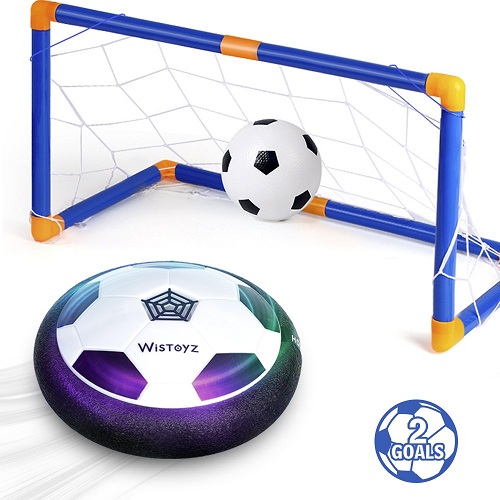 This Hover Soccer Ball Set will be an ideal indoor set for those active kids to burn off their excess energy.  Featuring an LED flashlight and powered by 4 AA batteries,  the hover soccer will attract your little boys or girls to keep kicking it around the house and get hours of fun and exercise. It also comes with an inflatable soccer and a small pump, so you can use the ball set at outdoor.
Pros: The floating soccer can glide over the low-pile carpet, tiled floor, hardwood, and basement. it is very lightweight and with the foam bumper protection,  will cause no harm to walls or furniture.
Cons: 4 AA batteries is not including in the set
---
4. Fidget Toys Cube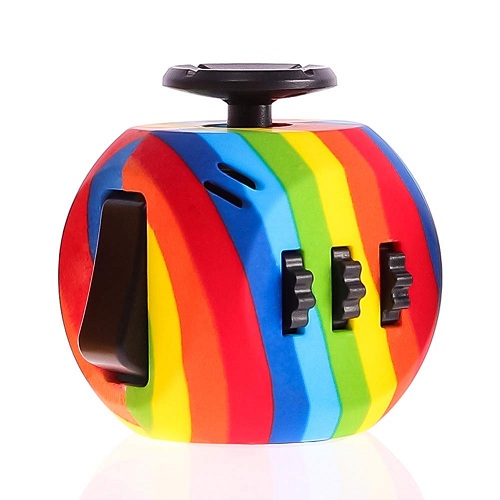 This rainbow cube with 6 sides for clicking, rolling, spinning, flipping, gliding and breathing. Its special designs are suitable for all ages who can't keep their fingers still or sit for any length of time and begins to fidget constantly,  it can help to focus and relieve stress. With a portable size of 1.77 x 1.5 x 1.5 inch, ideal for little hands to have fun on it.
Get your toddler the first fidget toy
---
 5. School Bus Style Activity Board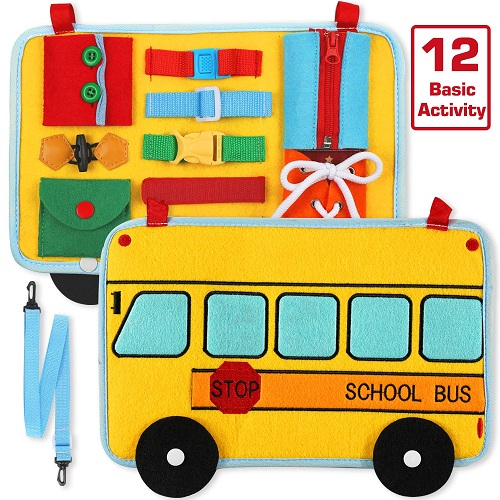 Featured a variety of buttons, zippers, buckle styles, and good quality felt material, This colorful  School Bus Style Activity Board will be a great interactive toy to keep your little one busy and learn dressing skills through playing. It can help train child finger flexibility and develop hand-eye coordination.  Measures 12.5×9 inch and weighs 0.33lbs, it is convenient to carry on the go.
---
6. Mini Trampoline with Enclosure Net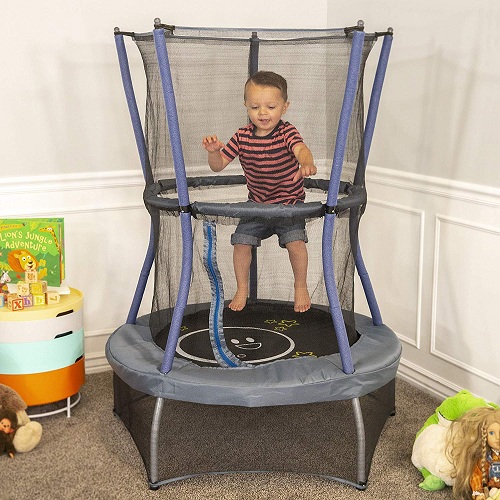 This mini trampoline will be a great way for the little one to channelize the energy and entertain when they stuck at home. Here are some features of this great energy-burning toys.
The handle with styrofoam throughout that helps stabilize kids as they jump
Patented enclosure design, safe for kids to jumps
Sturdy but light to move
Easy to assemble
---
7. MOLUK Bilibo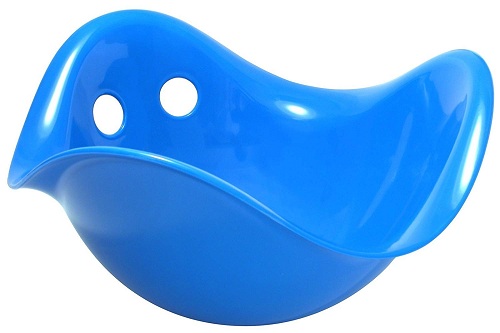 The award-winning Bilibo featured simple design and appealing bright colors, provides limitless play ways and sensory input for toddlers who can't sit still. They can use it to rock in, spin in, hide under, sit on, tote with, and peek through. It can help improve balance, coordination and motor skills.

Click here to check out other parents' comments on MOLUK Bilibo
Please note not all active toddlers are hyperactive. Hyperactivity is different.
Share your ideas to choose toys for hyperactive toddlers in the comments section below.