Your little one is now a toddler. One-yea-old,  that will be a year full of milestones. They can say "mama" and "dada", understands simple questions like "Where is your eye?". Their Movement and Physical Development will improve such as stands alone,  bangs together cubes or blocks held in both hands. And they love to watch and imitate older kids and adults enhancing their social and emotional skills.
Virtually every child development experts agree that play is crucial to development in every way.  The type of toy 1-year-old plays with can be important, But one big message from the experts is that: Basic is Better!  Toys that have lots of possibilities for open play, less-directed play, can promote more creativity and problem-solving.  Read on the list of Learning Toys For a 1 Year Old, which are carefully selected with characteristics we like to see for positive development.
---
1. FunLittleToy Wooden Stacking Train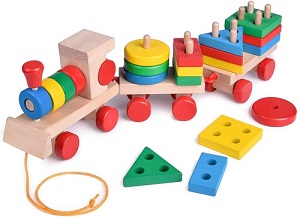 With 20 colorful blocks made of premium quality natural wood material,  Your little one can take them apart or put together atop the pegs of the train carts. The sturdy wheeled engine with a cord can be pull-along in an easy way from room to room. Simple but provide different to play, help your one-year-old for shape recognitions and develop motor skills. Don't miss this classic early-childhood essential!
---
2. Hape Wooden Toy Car Set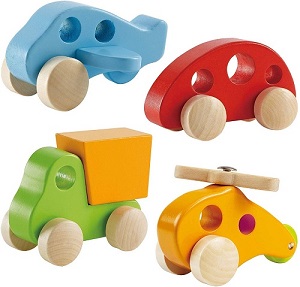 This wooden solidly built and brightly painted toy set includes a car, an airplane, a helicopter, a truck.   Featured rounded edges,  Each toy includes finger holes for little hands, easy for your kiddo to grasp and push along the floor or carpet.  They do not look very fancy, but it can encourage the kids to play more sometimes when they're presented with less,  as kids have great imaginations. These will be great and safe learning toys for a 1-year-old.
---
3. TOP BRIGHT Wooden Shape Sorter Truck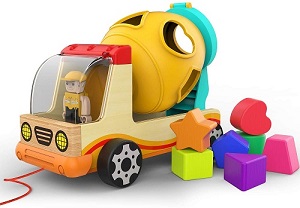 Non-gendered color palette,  The combination of shape sorter and truck, offers lots of learning fun for 1-year-old boys and girls. They can learn to fit the different shapes into the mixing bucket, enhance Hand-eye Coordination and Cognitive Enlightenment. The barrel can be rotated and uploaded, help toddlers to understand the concept of space above and below when uploading the blocks out. The truck can be pushed to each place to play and the door can be opened, provide more interactive play. A great gift for your little one.
---
4. Wooden Ramp Racer With 4 Mini Cars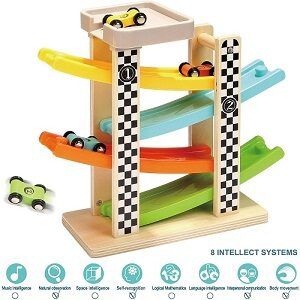 This vibrant color and well-build ramp racer with 4 adorable mini cars provide plenty of racing fun for your beloved boys and girls. each car roll, flips and race at the end of the ramp to continue to the next, keeps kids engaged in watching them, helps to stimulate focus and curiosity, during the playtime, they can figure out how things work.
---
5. Wooden Activity Cube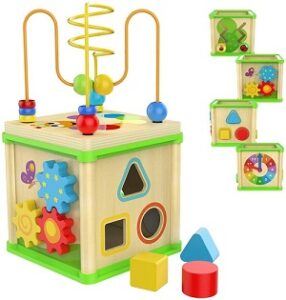 A cube that can be played in 5 different ways, includes shape sorting, spinning gears, sliding inserts, a teaching clock, and even a 3D bead maze. A great multi-functional educational toy for 1-year-olds natural observation and logical mathematics. Have passed the safety standard of both the U.S. and Europe, An ideal gift for toddlers.
---
6. Fat Brain Dimpl Toy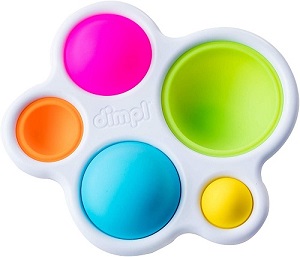 This is a very simple toy yet definitely keep your child's attention hour and hour. Features 5 vibrant bubbles made of 100% food-grade silicone, safe for a young kid to push, pop and grab, encourages fine motor skills. Lightweight to take on the go, offer a perfect sensory adventure for your little one.
---
7. Hape Wooden Musical Pounding Toy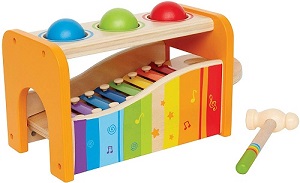 The winner of the 2018 Cribsie Award of favorite first musical toy! The Hape wooden musical pounding toy provides 2 ways to play. Your 1-year-old can fetch the balls or pounding them letting the balls fall on the keys, helpful for Strengthens arm muscles. The xylophone can be pulled out, the kids can play a solo on it, good for audio recognition.
---
8. Lewo Wooden Rainbow Stacking Game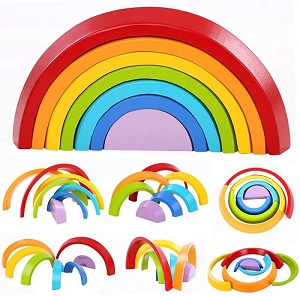 This Rainbow block set features 7 different vibrant colors and sizes of wooden arches, which offer different possibilities to play. A great open-ended toy set to inspire children's creativity and expand their reasoning. This is will be the fun learning toy accompanies kid's growth.
---
9. Rainbow Stacking & Nesting Cups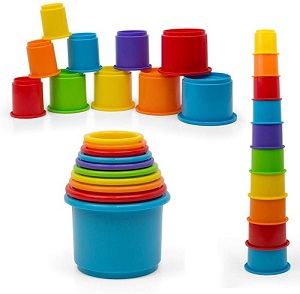 These 10 pieces bright colorful nestings cups provide your toddler hours of fun to stacking up, can be played at home or token to the beach. Made of BPA free plastic, proper round size for little hand to grab. A classic and safe toy set for toddlers hand-eye coordination development.
---
10. Color Matching Egg Set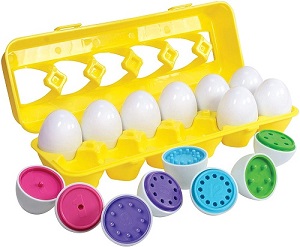 12 uniquely colored eggs in a carton that can split in two. Each egg contains a different color, number, with corresponding pegs and holes, help toddlers recognize color, learn to count, and match.  Smoothy surface, perfect size for little fingers to take 'em apart and put 'em back together!
---
11. Wooden Wild Animals Chunky Puzzle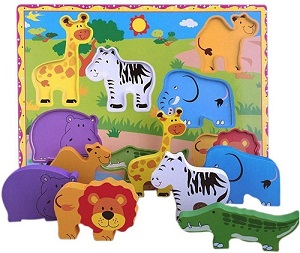 This wooden puzzle board contains 7 colorful and cute wild animals, including lion, crocodile, elephant, hippo, giraffe, camel, zebra. They can easily attract a 1 year old attention.  The chunky pieces can be easy for young kids to play and fitting them into the wooden board. The fun learning toy to encourage the toddler to acknowledge the animals.
---
12. Fat Brain Toys Tobbles Neo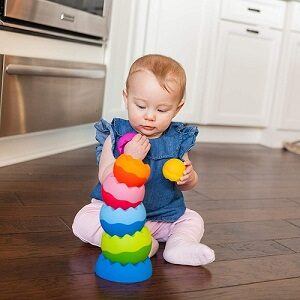 Made of BPA-Free soft material, The young child can discover endless ways to play with this Tobbles.  To stacking, toppling, spinning, Which can inspire sensory exploration, strengthens visual-spatial skills.
---
13. Melissa & Doug Classic Shape Sorting Cube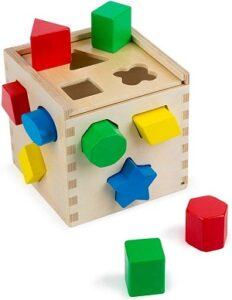 Each shape is designed to fit through a matching hole on the wooden cube. Drop the 12 colorful shapes into the natural-finish hardwood cube., then open the lid, take them out, and start all over again! A classic educational and entertained toy for little boys and girls.
---
14. Deluxe Pounding Bench
Striking a peg with the mallet , the vivid, non-removable pegs with friendly smiles will go up and down on the bench,  likes playing peekaboo. That will help for the toddler to understand cause-and-effect in an entertaining way, and beneficial for developing hand-eye coordination.
---
13. SOFT ACTIVITY BOOK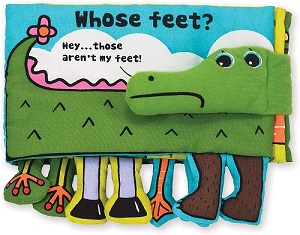 A book that is safe for children of all ages, made of washable cloth material. It features dangly feet, a funny story, and colorful artwork. Read it with your toddler to create a happy child-parent time.
---
16. Melissa & Doug K's Kids Hungry Pelican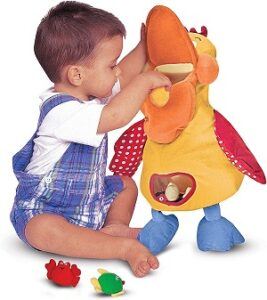 Drop the mini plush animals into the cuddly plush pelican's empty mouth, then it will drop right into the bird's big belly. The little one will find so much fun to feed the hungry pelican again and again,  It is great for gross motor and sensory development.
---
17. Laugh & Learn Smart Stages Chair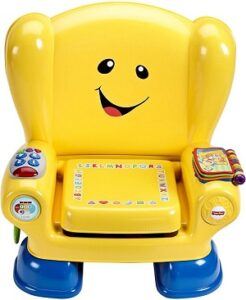 This smart chair with an illustrated flip-book & light-up remote control with buttons,  offer a  variety of developmentally appropriate songs, phrases, and sounds within three levels of play. Just slide the switch or enter the baby's age for automatic level changes.
---
18. Magic Touch Piano Wooden Musical Toy
This piano toy is made from wood, features magic touch technology – no buttons or keys needed! Including a few song cards that can be played in 2 modes: make your own music or play along with classic melodies. A fun music toy that can help a toddler tune into different rhythmic patterns and sounds.
---
19. VTech Chomp and Count Dino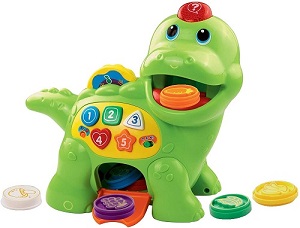 The Dinosaur toy is a great interactive toy, feeds him with colorful food pieces, it can recognize it and will respond to you in a fun way. With 5 shape buttons teach shapes and numbers or spin disc to play songs.
---
2o. Wooden Lacing Apple Threading Toys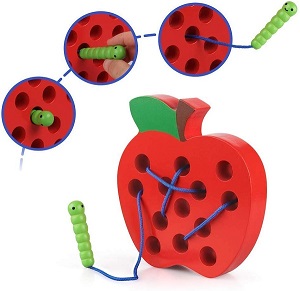 Bright colored red apple with 13 smooth holes and a fun caterpillar can catch 1-year-old attention easily.  It is a traditional Montessori toy to improve gross and fine motor skills, hand-eye coordination, eyesight measurement, to develop lacing and sewing skills.  Easy for little kids to hold and play anywhere.
---
Last Words
The sort of toy a toddler plays with can be important, but the way they are using the toy and whom they're playing with is also important. The joint play of parents can have long-term effects on children's development.
Although we try to provide different learning toys for a 1 year old , but also remind that not all play has a function, not all toys are educational, Sometimes they're just fun.
(Some of the links within this post are affiliate links of which I receive a small compensation from sales of certain items)