Play tents are a great way to get the kids outdoor to playing and having fun. Kids can crawl through in the tents, play pop up games with their friends, parents, hide and seek. A perfect place for sensory processing, and coordination activities.
Here are 5 of my favorite outdoor tents for kids that offer the simplest and most fun solutions for endless fun.
Note: Some of the links within this post are affiliate links of which I receive a small compensation from sales of certain items
1.   Kids Ball Pit Tents and Tunnels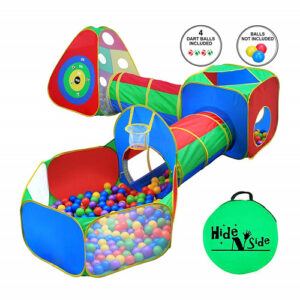 This colorful and vibrant ball pit playhouse is made of high-quality 190T polyester fabric and thick steel wiring is well wrapped by the fabric to ensure safety. And of course, the material is not the only reason I recommend this play tent as the No.1 of one of my favorite outdoor play tents for kids. There are some awesome features of it. Check below.
Pros:
1. Large Size: The tent can take apart to 4 parts, Triangle tent(41*41*53in), Square tents(28*28*28in), Ball pit(44*48*32in), Craw tunnel (43*18in). It is big enough for 3-4 kids to play together. Put it on the backyards, parks, toddlers can practice crawling inside, helpful for arms and legs muscles development.
2. Free combination: You can use the separated part individual, or you can combine them to L shape, straight, V shape, etc. There is hook and loop closure to connect.
3. Easy to open and fold: Take the tents from the storage bag put it on the floor, It will pop up and open in seconds. And they can be bent and lightweight to put it in the bag after finish playing.
4. Different ways to play: There is a target wall on the triangle tent with 3 dart balls, good for eye-hand coordination. And kids can play pretend inside the tents, hide-and-go-seek, shooting balls in the basket, keep them entertained for hours. Suitable for age 1 to 5 years old.
Cons:
1. Not including balls, suggest buying 400-600 balls.
Brand: Hide N Side
Where to buy: Amazon 
2.  Pink Princess Kids Tent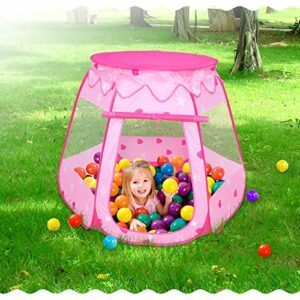 This princess tent will surely catch your little girl's attention. The bottom and the top are made of water-resistant polyester fabric and high-density gauze for the sides. Give your child a comfortable and independent space. And put the balls inside It become a ball pit, Toddler will get excited about it. This set will be a great gift for girls aged from 5 months to 3 years old.
Pros:
1. Pink color and cute design for girls
2. Easy to clean, to fold, lightweight and portable, with a bag to carry on the go
3. Roof and Mesh windows can be removed
4. With a Pink headband as bonus
Cons:
Balls not included, space size for one to two kids
Brand: Le Papillon
Where to buy: Amazon
3. Outdoor camping tent with gear set
This camping gear set toys can let your little one start to explore an exciting adventure. A fabric pop-up tent, come with a full camping kit includes a lantern, stoves, food, tools, makes your child enjoy the camping pretend play which can also teach them to learn about the valuable life of taking risks and respecting nature.
Pros:
1. The stove and lamp can battery-powered light up, And a multi-functional whistle, make the pretend play more realistic
2. The two sides of the tent are mesh makes more breathability when kids play inside, and also allows parents to see what they are doing.
3. Colorful, tent is easy to assemble.
Tent size 30.7 X 30.7 X 35.5 inches.
Cons:
1. The tent fabric is not waterproof.
2. Place not so spacious for 2 kids
Brand: FUN LITTLE TOYS
Where to buy: Amazon
4. Galactic Rocket Ship Play Tent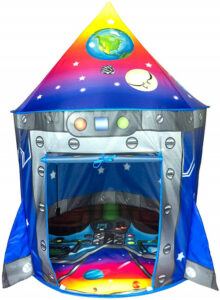 This vibrant solar system theme tent will stir your kid's imagination. The outside and inside of the tent are detailed illustrations of galaxies, planets, and other celestial bodies, encourage kids to spend hours enjoying the tent, A great learning tool to teach them about the space.
 Pros: 
1. Strong and durable fabric material
2. Very easy to assemble, packs small and convenient to take outside
3. The floor is illustrated with seats, steering wheels, buttons, and monitors, Encourage cooperative play for kids with siblings and friends while taking on roles such as astronauts, captains, space explores, aliens, and so much more.
4. Doors can be rolled up with 2 mesh windows, help kids keep cool Tent
Size: 51″ tall and 40″ in diameter
 Cons:
1. The stars on the outside will glow in dark but not so bright as the pic shown
Brand: LmpiriLux
Where to buy: Amazon
5.  Yellow car tent for kids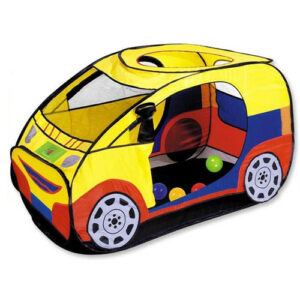 Bright color car design tent will be a great gift for kids who likes cars. It creat a little space for kids while providing them endless fun. It is with good ventilation and enough room for 2-3 little toddlers to play.
Pros:
1. 2 sides doors can be opened, front, back and the top also have a mesh window
2. Easy to set up and store, don't need poles to put it
3. The bright color is conducive to children's color perception
Size: 26'' x 47'' x 24''
Cons: According to some buyers review, the sewing needs to improve
Brand: Anyshock
Where to buy: Amazon
Beneficial for kids playing outdoor
Kids can crawl, run, jump, throw balls, catch things when at outdoor, These will improve their motor skills and good for kids' muscle development. And playing in the sun is a natural way to build-up Vitamin D in the body. The outdoor tents for kids provide a great opportunity for them to have different activities. They can play with their friends in the tent, they learn to take turns when playing the game, share and develop other positive behavioral skills. And especially for toddlers, they are at the age of discoveries, they can experience more things outdoor, such as the grass, flower, stone.. and also some outdoor tent with the interactive toys for them such as ball pits which will improve sensory skills.
I hope this post can help you find the option of outdoor tents. If you have any questions, please leave them below, I will be happy to help you out.