Climbing is another milestone for your toddler development. They learn how to control their body movements and start trying to pull themselves up onto the furniture. Climbing allows the young child to build their physical strength and develop gross motor skills, though it can be hard behavior for parents to manage. Some indoor climbers provide a great chance for toddlers to satisfy their adventurous spirit and flex their muscles. Some of the links within this post are affiliate links of which I receive a small compensation from sales of certain items
Tips on choosing indoor climbers for toddlers
Materials
There are mainly three kinds of material on the market: Wooden, Plastic, Foam. The wood climbing playset is natural and durable, but it may not suitable for clumsy young children as it is hard. And also remember to avoid harmful paints. Foam climbing blocks is soft yet firm enough to support toddlers' weight. Plastic climbing toys featuring soft, rounded corners, easy to assemble and clean that makes for perfect indoor climbers for toddlers.
Size
Check the size before you purchase an indoor climbing playset, and make sure it will not be too high, as toddlers are often unaware of the dangers involved in reaching new heights.
---
Top picks of indoor climbers for toddlers
#1 Soft Foam Stairs and Ramp Climber
Brand: Milliard
Recommended age: Early walker
Price Range: Under US$80
Rate: 4.6 star
The soft blocks provide a safe way for the early walker to boost motor development by climbing, sliding and crawling.  The blocks are made of firm polyurethane foam and covered with Vinyl which is water-resistant and easy to clean. Without any sharp corners and less than a foot high, So don't worry your kids will get hurt when sliding down or goes up and down the stairs.
Featuring velcro strips, 2 blocks can be connected or separated. But the strips is attached at the bottom of the blocks. So some people are confused about how to use the stips. Actually it also comes a patch of opposite Velcro, uses it stick on the bottom strips of 2 blocks so they can be connected(As follow pic shows). Strips on the bottom can make the blocks not slip on the floor, but I think if they add one more strip on the sides of the two pieces will be better though most of the review says 2 blocks can stay together fairly well.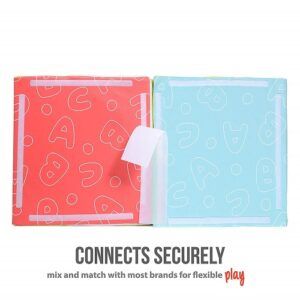 Weight 10.45 pounds, It is light and portable to transfer from room to room, And it won't take much place of your room as you can fold in half for storage. Many reviewers said their baby and toddler have a lot of fun with it.  For the baby who learned to walk can crawl up on it and stand up with it. Though it is only with 2 pieces, it will be enough for the early walkers to increase physical activity. Compared with the other items, It is worthy to have one at home for its nice price and durability.
Pros:
Perfect size
Easy to clean
Stable and sturdy
Soft and safe material
Good for motor development
Cons:
---
 #2 Monkey Bars Climbing Tower 
Brand: Eezy Peezy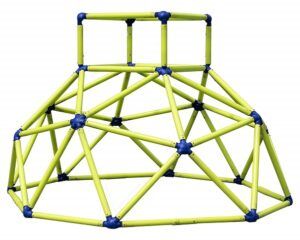 Recommended age: Age 3+
Price Range: Under US$150
Rate: 4.5 star
The Monkey Bars Climbing Tower will be a hit for active toddlers. The tower is simply created by plastic tubes and connectors and with the special interlocking and double self-locking springs designs, it is sturdy enough to load the weight of 150lbs. Another selling point of this climbing tower is the high-quality plastic enhanced with UV protection, which ensures a long-lasting lifetime of the product even put it outdoor with the sun.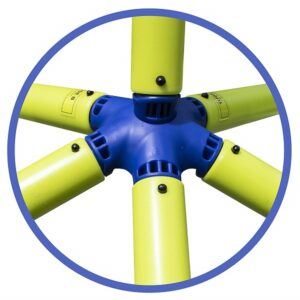 After assembled, the climbing tower size at 70. 07 x 65. 53 x 46. 65 (inches). It will be not too high and ensure the safety of toddlers while also provide endless fun for elder kids. If you worry the little monkey will get hurt in case of falling down, you can also put some pillows or a ball pit as other parents did.
Though the seller claims that it is easy to assemble, according to most of the reviewers 'it is a hit for toddlers but a pain for parents'. Because pins on the connectors are stiff and hard to push down to get the tubes on and can lead to pinched fingers. And it can take a few hours to get it to assemble if you ate not good at assembly. But don't give up, use a small screwdriver to help you click the joints together and follow the instruction, you can get it right.
All in all, The Monkey Bars Climbing Tower will be a great indoor climber for toddlers and keep them entertained for hours. It helps with strength and coordination.
Pros:
Ideal size for smaller kids
High-quality plastic pipes with UV-protected
Simple design yet sturdy
Lightweight can use for indoor and outdoor fun
Helps build strength and coordination
Cons:
Buttons on the connectors are hard to push
Requires a flat head screwdriver for assembly
---
#3 Game Time Sports Climber and Slide
Brand: Step 2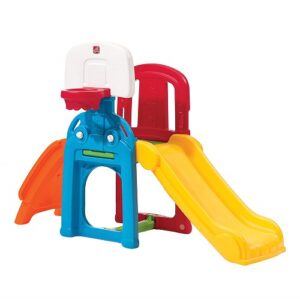 Recommended age: Age 2-4
Price Range: Under US$150
Rate: 4.5 star
Featuring multiple functions, The Step 2 Climber is an ideal playset for engaging social play with multiple toddlers. With an easy climb stair, a basketball hoop, smooth slide, and crawl-thru space provide toddlers tons of physical play. Made of high-quality plastic, it lightweight yet sturdy enough. Compared with the Monkey Bars Climbing Tower, it is easier to assemble.
Pros:
Made with a 4-in-1 design
Comes with multi-purpose ball
Made to be used indoors or outdoors
Easy to assemble
Smooth surface
Cons:
The basketball hoop is small
---
Which climber will you choose for your toddlers? Share them in the section below.
You may also like: