Lots of researches show that musical instruments can help young children learn and develop in many aspects, especially for brain development. Playing different instruments can also increase their motor skills and coordination.
But considering toddlers' age and safety, not all the instruments are suitable for them to play with. I understand you as parents always want to find the best option for your little one. So I've made a list of the variety of instrument that is best suited for toddlers, which are easy for little one to grab and fun to play. Let's go through the best musical instruments for toddlers. (Some of the links within this post are affiliate links of which I receive a small compensation from sales of certain items)
---
Drum & Percussion Instruments 
Remo Kids Floor Tom Drum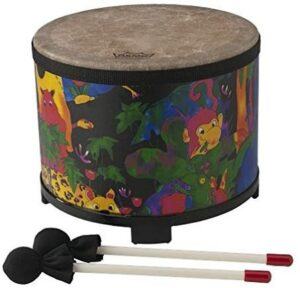 If your little one love banging on things and enjoy the Boom, This drum will be a hit for them as well as you. It produces professional high-quality sound, featuring an Acousticon shell and a pre-tuned Skyndeep drumhead.  (Skyndeep is the graphic infusion of pigment into a polyester surface making it uniquely attractive and providing a weather-resistant drumhead with warm tones that increases sound, volume, and projection in any environment. )
It is a real drum while small and portable enough for a toddler to play with hands or sticks. The colorful jungle animal finish is equally attractive for young kids. And the note is tuned lower than the standard 'children instruments', therefore you won't feel so noisy even you listen to it every day. This drum provides children and adults of all ages with tons of enjoyment based on its high quality.
Now Give your toddler an exciting way to music with the Kids Percussion Floor Tom Drum.
Size: 15 x 10 x 15 inches
---
Guitars & Strings
Hape Kid's Wooden Ukulele 

This delightful mini ukulele will be an ideal instrument to help get your young boy or girl into the world of music! Made of flexible nylon strings which are properly attached to the Environmentally friendly wooden surface, safe for young hand to play with it. It is light yet sturdy for toddlers to carry and manipulates it with ease. The vibrant Non-toxic finishes add more fun for your little musician.
Sure it is not a very 'professional' ukulele, but it is good enough to teach the toddler about basic rhythm, strumming, and other musical techniques. Kids will enjoy making music with this fully playable as well as easily tuned ukulele.
size: 21.1 x 6.9 x 2.6 inches
---
Wind & Brass Instruments 
Small Fish Harmonica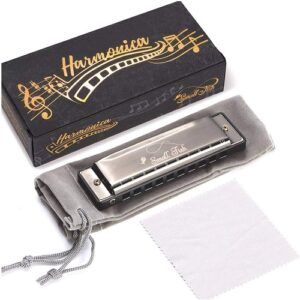 The Harmonica was developed in Europe in the early part of the 19th century, is one of the most fun and recognizable instruments in the world. It used in blues, classical music, jazz, and many other musical genres. The Small Fish Harmonica will be a perfect introduction for the toddler to make-your-own -music. Featuring a key with 10 holes and 20 notes which  It's ideal for young kids since it's not too complicated, simply press on the lips and plays.  It can create beautiful sounds that children and adults of all ages will love.
Made of high-quality phosphor bronze reed with smooth stainless steel covering and ABS resin comb, sized at 5 x 2.10 x 1.40 inches,  Just the right size for small hands. And it's lightweight at 20 pounds, perfect for toddlers to play with and carried everywhere.
When the kids blow it and make music will help to improve their lung power and capacity as well as control their mouth and throat.
---
Pianos & Keyboards
Conomus Piano Keyboard Toy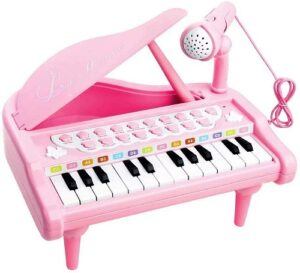 This mini 24 keys piano can bring so many joys to kids between 1 and 3 years old. Featuring 22 demo songs that can be played in 4 musical instruments and 8 percussion Instruments. It's cool that kids can experience the different sounds of the same song!
What brings more fun is that it comes with a microphone so kids can sing and record on, they will love to hear their own music they made. You can also connect the audio cable to your phone to the piano for playing music. The volume and tempo can be easily adjusted with the push of a button.
Size: 10.8 x 8.7 x 8.3 inches
Where to buy: Amazon
---
Toddler Musical Instruments Set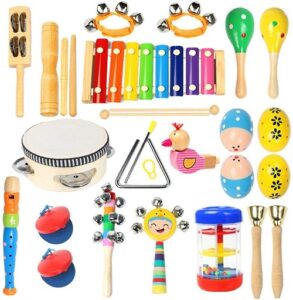 Last but not least, 15 types of musical toys including shaking, tapping, beating and blowing instruments, like the xylophone, maracas, tambourine, castanet and what is more, provide endless musical possibilities. Featuring vibrant color catch the toddler's attention easily, and when they grab the different size of the instrument can help their fine motor skills development.
With its sturdy and safety, The Ehome Musical Instrument Toy Set will be ideal to get the young one moving, grooving, and feeling the beat, discover the potential and sensitivity in music and audio.
---
Happy Play Time with Your Kids
Your little musician is eager for music! Introduce various instruments to your child will be a fun way to develops a love for music and igniting the imagination while enjoying quality time together.
Which instruments will you choose for your young boys or girls? Share them in the comment section below.