A fire truck toy will not only provide tons of fun for toddlers, but it's also educational. It will spark a toddler's imagination, encourage them to roleplay. If your little one is fascinated with fire trucks, I have gathered a list of the top fire truck toys for toddlers. They are safe for toddlers and with interactive features, They will be the perfect gift for your little firefighter.
(Some of the links within this post are affiliate links of which I receive a small compensation from sales of certain items, There is no additional cost to you.)
---
Green Toys Fire Truck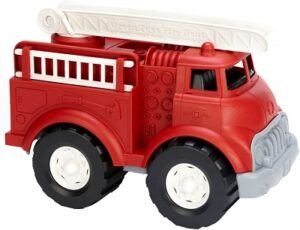 When comes to toddlers' toys, safety comes first. Green Toys is specialized in making Eco-friendly toys. This Green Toys fire truck, made from recycled material, designed for toddlers ages 1+.
It is a simple yet durable fire truck that can withstand a toddler's rough play. A toddler can rotate the top roof ladder or remove the 2 ladders on the side engaging in pretend firefighting. It helps boost their fine motor skills.
The realistic-looking hatchets, compartments, and dials are molded on the body of the truck provide more fun for an exploring toddler.
Your little one can roll the fire truck along on its wheels. With the right size, the truck can be played indoors or outdoor. It's easy to clean and can be washed by a dishwasher.
Parents are very satisfied with the truck quality and they love it is safe for young children to play. This Green Toys Fire Truck gots a high rating, you can check here to find that.
FAQS:
What is the recommended age for this truck?
–It is recommended for kids aged 1+
What is the size of the truck?
-It is 10.5 x 6.2 x 7.5 in, with 1.4 pounds of weight
Do the doors of this truck open?
-The doors do not open in the fire truck. However, the main ladder does move up and down and rotate. Also, the side ladders are removable.
Why recommend Green Toys Fire Truck
Made from BPA-free material, this toy is safe for the environment as well as your child.
They stand up to rough play and encourage imagination.
With molded detailing on the body of the truck including hatchets compartments, dials.
Help improve gross & fine motor skills along with the development of pincers grip.
Kids love this fire truck.
Lightweight and easy for young kids to carry.
---
Temi Fire Carrier Truck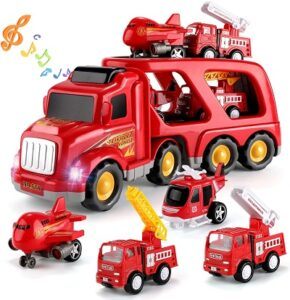 If you're looking for an awesome fire truck toy that's not only fun but exciting for your toddler, then look no further than this Temi Fire Carrier Truck.
It comes with a large Carrier Truck, 2 rescue trucks,1 airplane, and 1 helicopter. Your child can load smaller vehicles inside the big truck and carry it around.
The awesome carrier truck has lights and sound effects that your toddler will love, including flashing headlights and honking noises. It increases the fun of kids playing.
Every car has frictional power. Toddlers will have so much fun pushing forward or pulling backward to drive the truck forward.
Every small fire truck features functional parts. They are the perfect size for small hands to grasp.  Whether playing solo or with others, your toddler will love zooming these eye-catching fire truck around and making up all kinds of adventure stories!
Parents shared that their kids are so happy when got this fire truck set.  They also shared that the toy trucks are really durable and hold up well during rough play. Click to check more images of this Temi Fire Carrier Truck Set.
FAQS:
Will the sound it makes continue and be noisy?
– Every time you press the button, the truck will make the sound of starting the car, whistle, and brake, but it will only last for 8 seconds. Only when you press the button again will the sound continue.
What batteries does it need?
– Sound and light are powered by 2*1.5V AA batteries (Not included.)
What sizes are the trucks?
-Big emergency fire truck size: 16.9*5.7*7.1inches/43*14.5*18cm
Small fire vehicle size: 4.5*2.2*3.3inches/11.5*5.5*8.5cm
Why recommend Temi Fire Carrier Truck
Toddlers love all the scenarios they can play out with this delightful fire truck toy set!
Comes with five toys: a large Carrier Truck, 2 rescue trucks,1 airplane, and 1 helicopter. Allows your child to play with a friend or sibling for even more fun.
The cab can be turned and detached from the trailer. so that your toddler can mini trucks inside
Allows your child to role-play which helps improve their social and communication skills
Made of sturdy, non-toxic, and recyclable premium ABS plastic.
The large truck has lights and sounds, and the parts of each small fire vehicle can turn and move. making play more realistic.
Every car has frictional power, just push and go.
Good value for money and a wonderful Christmas gift idea for toddlers boys or girls.
---
Paw Patrol Marshall's Fire Fightin' Truck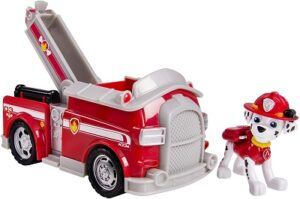 If your little one loves the Paw Patrol Rescue Team and fire truck, he or she will be thrilled to this Paw Patrol Marshall's Fire Fightin' Truck.
It comes with a Mashall figure and a fire truck, it encourages your child to engage in imaginative play and pretend play about the fire rescue missions.
The firetruck feature a movable ladder and the truck itself is easy to push along.
The figure and vehicle have the right size for small hands. Your Child can put the figure into the truck. It is a great way to develop your child's dexterity, hand-eye coordination, and motor skills.
Why recommend Paw Patrol Marshall's Fire Fightin' Truck
Great gift for toddlers who are obsessed with Paw Patrol.
A major hit providing endless imaginative play.
Sturdy enough to hold up for long periods of play
Can be used both indoor and outdoor.
Great toy to encourage pretend play.
Made from BPA Free material, safe for toddlers.
With the right size and easy for small hands to manipulate.
---
Battat – Fire Engine Truck

This delightful Battat Fire Engine Truck comes with 2 firemen figures will provide your little one with lots of fun.
The toy vehicle size is 12" (L) x 6" (W) x 7″ (H). Feature sturdy rubbery wheels that are easy to roll. Children can move the ladder up and down.
Both of the cute figures can be placed inside the vehicle.
It's a great toy for a toddler to engage in creative play and practice fine motor skills.
Why recommend Battat – Fire Engine Truck
Simple but with enough details for toddlers' imaginative play.
Comes with 2 firefighters figures, can promote child' teamwork by role-playing.
The size is perfect for little ones to pick up and push around and stay engaged
Made from durable plastic, so will hold up to rough toddler play.
Soft rubbery wheels is smooth to roll and won't scratch your floors.
With no sharp corners.
The ladder goes up and down, and pulls out to go higher.
Good value for money Click here to check the price.