Whether you are looking for a fun toy to keep your preschooler busy or an education toy to help them to build some essential preschool skills. Board games will be a great choice. Board games provide a great opportunity for you to spend some quality time with your child, and it is also an enjoyable way to help your child to master some preschool skills like socialized, strategic thinking, takes turns, hand-eye coordination, communication, focus, and much more. Now Let's take a look a the best board game for 3 year olds. The games on this list will help your child learn about numbers, counting, colors, etc, and of course provide tons of laughter and excitement!
(Some of the links within this post are affiliate links of which I receive a small compensation from sales of certain items, There is no additional cost to you.)
---
Disney Snuggle Time Game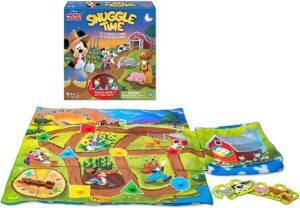 Ages: 3+
Players: 1-5 players
Play Time: About 15 minutes
This Disney Snuggle Time Game will provide tons of fun for the little Mickey fan and animal lovers. It is a great collaborative game and 2019 National Parenting Product Award Winner.
Game Idea:
Players spin the wheel to land on a shape or a color,
Move a sleepy animal to a matching location. Sometimes the wheel will land on the Sun. The goal is to get the animals into the barn before the sun goes down.
Package includes:
1 Soft game board
5 Animal movers
1 Instruction
Why Recommend Disney Snuggle Time Game:
It's a great cooperative game for the whole family and a wide age range of kids.
The game board made of soft fabric and can be folded into the pouch attached, make it convenient to store or take for a car trip or family vacation.
The animal game pieces are of good quality and are fun to play with outside the game.
Promote preschooler's color, numbers, and shape recognition.
Encourage cooperation, decision making, and learn about taking turns.
It's perfect for bedtime, nap time, or any quiet time.
It is a simple yet engaging board game for 3-year-olds.
2019 National Parenting Product Award Winner & 2019 Parents' Choice Recommended. Click Here to Check more Info
---
Wonder Forge Richard Scarry's Busytown – Eye Found It! Game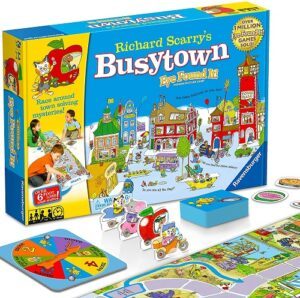 Ages: 3+
Players: 2 to 4
Play time: 20mins
This Wonder Forge Richard Scarry's Busytown board game is a fun cooperative game to keep a wide range of ages occupied. The theme is a trip to an island to share a picnic. Your 3-year-olds will love to play this board game again and again and also a blast for family fun.
Package includes:
1 game board, 4 movers, 4 mover bases, 1 spinner, 1 ferry tile, 10 magnifying glass tokens, 6 food tiles, 30 goldbug cards, 1 sand timer, and instructions
Game Idea:
As a team, all players try to get to Picnic island before the pigs eat all the food.
Everyone takes turns spinning the spinner. you will either
a) Move forward based on how many spaces it tells you to move.
b) remove food from the pigs' picnic blanket
c) turn over a Goldbug Card. Each Goldbug card has a picture and corresponding word on it (ex: barrels, flags, cones, numbers, etc). You have a minute to find as many of that item on the game board as possible. When the minute is over, everyone moves forward based on how many of the items were found.
The game will over when the pig eats all the food. (All the food is removed)
Why recommend Wonder Forge Richard Scarry's Busytown – Eye Found It! Game:
As a cooperative game, there is no loser in this game that will not frustrate the toddler.
The game is easy to set up and the directions are simple.
This a great game for the whole family and will provide hours of fun and teach children teamwork
It really holds the attention of a young child while he or she is playing the game.
It helps preschoolers reinforce object identification and matching skills.
The illustrations are detailed, colorful, and fun, it can catch young children's attention.
The board is 6 feet long, big enough.
The game markers are large and well balanced so they are easy to move and don't keep falling over.
High educational value as the game is good at getting your preschooler to count the number of spaces they need to move, doing basic math for determining how many they need to get, searching for certain objects, and building vocabulary as you talk about the different objects on the board.
---
Snacky Squirrel  Board Game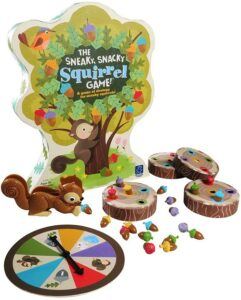 Ages: 3+
Player: 2-4
Play Time: 10-15mins
This Snacky Squirrel  Board Game is a great educational game to keep toddlers and preschools engaged, entertained, and learning. It is also a fun toy to develop your child's fine motor skills.
Package includes:
1 Colorful tree-shaped game board
10 Squirrel Squeezer
20 Colored acorns
1 Game spinner
4 Logs
1 Instruction guide
Game idea:
Spin the spinner
Spinning a 1 or 2 means you get to pick any one or two colors,
The color means you get to pick the matching color acorn,
a sad squirrel means you lose your turn,
a stealing squirrel means you get to take someone else's acorn from their trunk
a wind gust means all the acorns are 'blown away' from your own tree trunk)
Pick up the matching acorn with your Squirrel Squeezer, placing it in your log.
The first to collect 5 acorns wins
Why recommend Snacky Squirrel  Board Game:
There is no reading required. Easy setup and clean up.
It is great for game nights with young children.
Kids can learn to take turns, strategize, identify, and match colors.
Kids can practice finger dexterity and hand-eye coordination by using the 'squirrel grabber' to pick acorns up from the box.
Encourages counting skill development, sorting.
It is well made.
The artwork on the box is colorful and fun.
Help preschool develops fine motor skills and pre-handwriting skills.
It is a competition game, can teach kids how to act when losing or win.
---
Peaceable Kingdom Alphabet Bingo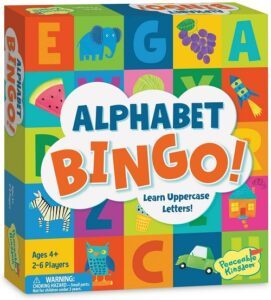 Ages: 3+
Players: 2-6 players
Play Time: About 10 minutes
This alphabet bingo set is a fun and exciting board game to motivate toddlers to learn letters. With eye-catching visuals and colors, it can capture toddler's attention easily.
Package includes:
6 game boards
26 letter tokens (1 each of every alphabet letter),
72 chips
Game idea:
Players pull out a letter from the bag. If the letter is on their card, they mark it with a plastic chip. Once someone gets four in a row, they shout "Bingo!" and win the game.
Why Recommend Peaceable Kingdom Alphabet Bingo:
It's both an educational and fun board game.
It made the process of letter recognition an enjoyable experience
Help preschoolers develop various social skills like cooperation, sharing, and taking turns.
It instilled a sense of accomplishment that motivated kids to keep playing.
It is a competitive game that can teach kids how to process and accept loss a little more gracefully, which is a valuable long-term skill in navigating friendships.