Bath toys can bring a breeze for your little one's bath time. There are tons of bath toys on the market, have you choose the right one for your child? Are they safe for baby, toddlers to play, to chew? Read below about some tips choosing eco friendly bath toys, and I got you covered some top safe, non-toxic bath toys that you and your little one will love.
---
PVP, you should know about it before choosing eco-friendly bath toys
PVC(Polyvinyl chloride ), is a kind of synthetic plastic polymer. PVC must be available with additives or plasticizers, the most widely used being phthalates, DEHP, BPA, which used to improve the performance of this type of plastic. These chemicals are harmful and may ooze or vaporize, posing a great threat to the health of young children. Though By 2008, the EU, Washington, and California had banned the use of DEHP. But there are still some harmful chemicals of the PVC material, so when choosing toys, avoid the toys made of PVC.
7 numbers you should know about when the bath toys is made from plastic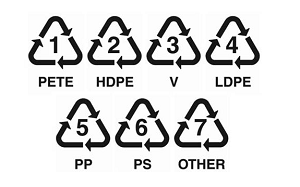 Recycling signs and plastic classification signs are often seen in plastic products. One of the seven Arabic numerals including 1 to 7 is printed in the center of the sign. These numbers identify the plastic resin out of which the product is made. It is also called  Resin codes, It does not mean that the material can be recycled, but rather explains what the material is. Recycling the first and second types of plastic is the most common.
In general, plastics with plastic classification marks 1, 2, 4, 5, and 6 are unlikely to be in contact with BPA during production,
No. 3 (PVC) and some No. 7 plastics may also contain BPA because BPA is added to the plasticizer as an antioxidant during the production of soft PVC.
3 materials you can consider for bath toys:
Natural rubber
high-grade silicone
100% recycled plastic
---
 Top Eco-friendly bath toys for baby, toddlers – BPA,  Phthalates, Mold Free
1. Green Toy Submarine Bath Toy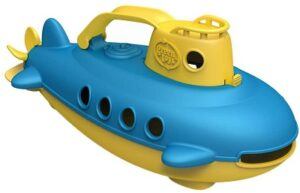 This appealing submarine is not only fun but safe for toddlers to play with it. It made of 100% recycled plastic and is BPA, Phthalate free. And even the packing used the recycles materials, which is one of the features of the toys from Green Toy.
If you worried about this submarine is hard to clean and will get mold. then you have no worry about it. The cabin of this submarine toy can be opened for easy cleaning.
This submarine can float on the water, increase more imaginative play fun for kids. It designed with a handle for small hands to grasp easily, which also helps in improving fine motor skills. When you get the toys, you will be impressed by it is quality, sure it is a perfect bath toy that can last for the whole childhood.
Check The Latest Price on Amazon
---
2. Tub Cubby Foam Bathtub Letters & Numbers Set
Bath time can be both fun and educational. This Tub Cubby Bathtub Set comes with 2 organizer bags and 36 pieces of safe and soft letters and numbers.
The organizer bags is made of double stitched mesh net, it is easy to dry and can prevent from getting mold. It is very sturdy to hold your child's bathtub toys or other bathing supplies. The letters and numbers are made of BPA free, Non-Toxic EVA Foam, which can stick to the wet wall, provide a great learning opportunity for kids during bath time. And these soft foam features different colors, help with kids' color recognition.
Click Here to Add This Educational Letters & Numbers Set to  Your Toddlers Bath Toy List
---
3. Munchkin Bath Bobbers Toy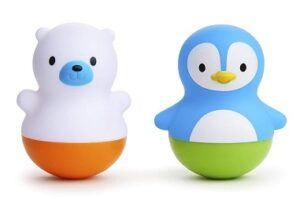 It includes a Polar Bear bobber and a Penguin bobber. Their cute faces can attract toddlers' attention and encourages imaginative play. The bath bobbers can float and bob around in the water, keep kids entertained during bath time. There are no holes for water go inside, which can prevent from getting mold.
It made of non-toxic material, the shape is easy for little hands to manipulate, helps to develop fine motor skills.
---
4. Wild Republic Rubber Ducks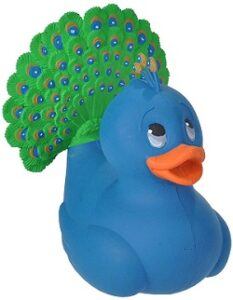 If your little one loves ducks or you looking for a safe creative bath toy, you can consider the Wild Republic Rubber Ducks, which won the National Parenting Product Award in 2019.
The Wild Republic rubber ducks transform various animal species and characters into hilarious duck forms, makes a great creative and funny toy for kids.
The ducks are made of eco-friendly rubber material and with hole-less design. The size is approximately 4", perfect size for small hands to hold.
Click Here to Check More Ducks Forms of Different Characters
---
5. Nuby Floating Purple Octopus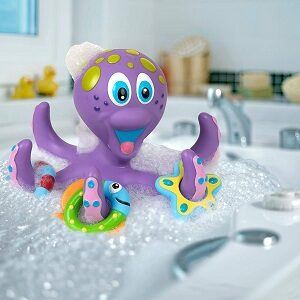 Made from BPA free materials, this cute octopus comes with  3 Hoopla Rings, makes a fun interactive bath toy for young kids. Feature bright colors and fun shapes can stimulate baby or toddler's r senses. Put the hoopla rings onto the octopus, it encourages hand-eye coordination development.
The Octopus and rings can float, it will provide hours of enjoyment.
Click Here to Get this BPA Free Octopus Bath Toy for Your Toddler
---
6. Munchkin Fishin' Bath Toy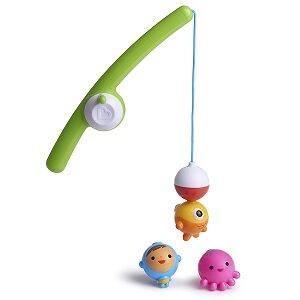 Fishing game is great for developing fine motor skills and hand-eye coordination. The Munchkin Fishin' Bath Toy includes a magnetic fishing rod and three underwater bobbing characters, introduce a fun fishing experience for toddlers, it is a great bath activity to keep them busy and engaged in the tub.
The bath toys used safe materials, meet the CPSC and ASTM safety standards. The characters are airtight, helping to limit mold and mildew. The rod handle is specially made to fit small hands, toddlers can pick up the sea creatures with the magnetic fishing hook easily, which can increase their confidence.
Click Here Check Deals On Amazon
---
7. Caaocho Pure Natural Rubber Whale Bath Toy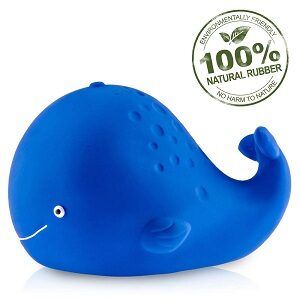 The  Caaocho Whale Bath Toy is made of 100% natural rubber which is safe and sustainable. It is BPA, Phthalate, and Nitrosamine Free. With food-grade paint and unique shape, the toy can be also used as a teether. It is suitable for wet and dry play. It features hermetic design can prevent growing mold.
This whale toy is soft for baby to touch, taste, and bright color makes it a great sensory bath toy.
Click Here to Get this 100% Natural Rubber  Bath Toy for your child.
---
8. Nuby BPA free Bath Stacking Cups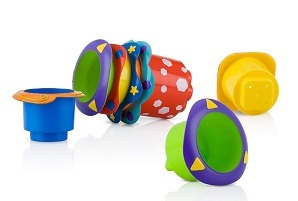 The set contains 5 pieces of colorful stacking cups. Kids can stack the cups, put things inside them, or scoop water with them, it is great to build fine and gross motor skills.  Each cup with holes at the bottom, kids will love watching the water drains from the bottom of the cups. Also, there are different shapes on each cup's bottom allow you to teach your child different shapes.
P.S. Here are Some  Outdoor Water Toys For Toddlers you might also interested in.
(Some of the links within this post are affiliate links of which I receive a small compensation from sales of certain items, There is no additional cost to you.)