Dinosaurs are so popular with children of all ages. They have all the mystery, grandeur, and devastating power that fascinate a kid. I have round up some cool dinosaur toys for toddlers that will be a hit.
---
Prextex Dinosaur Pack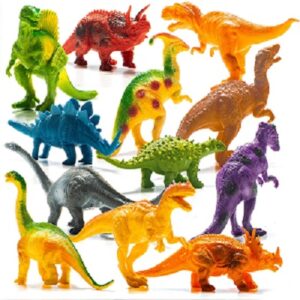 The Prextex Dinosaur Pack will be a huge hit for any little dinosaur fans. Whether you looking for a party favor for a dinosaur themed party or gift for kids, this dinosaur pack is an ideal choice.
The set comes with  12 different dinosaurs, each size about 7 inches, which are the right size for small hands to hold. The dinosaurs feature realistic-looking that can inspire kids imaginative play.
It also includes an illustrated book with each dinosaur's images and the book introduces each dinosaur name, biography, and habits. It is brilliant for inquisitive minds.
FAQS
What are these dinosaurs made from?
– It made from nontoxic hard plastic.
Are the dinosaurs hollow?
– The dinosaurs are solid but there is a little bit hollow space in the middle.
 Can these dinosaurs stand by themselves?
– Most of them can stand.T-Rex is the only one who can't stand up on his own.
What dinosaurs are included in this kit?
-Included in this kit are Allosaurus, Ankylosaurus, Apatosaurus, Velociraptor, Parasaurolophus, Diplodocus, Monoclonius, Pachycephalosaurus, Spinosaurus, Stegosaurus, Triceratops, and Tyrannosaurus (T-Rex).
Why recommend Prextex Dinosaurs Pack
Comes with 12 different dinosaurs to fulfill kids' curiosity.
The illustrated books is a  wonderful add-on.
Great for dinosaurs party or gift for kids 3-5.
With a perfect size for small hands to manipulate.
Realistic looking encourages young kids imaginative play.
Click Here to Find More Detail Images of  Prextex Dinosaur Pack
---
TEMI Dinosaur Toy Set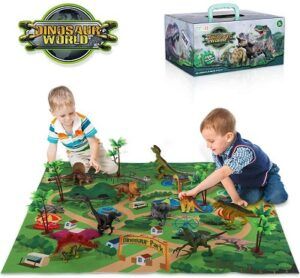 Looking for an engaging and interactive dinosaur toy set for your kids who is obsessed with dinosaurs and could never get enough of dinosaur toys? This set will let your kiddo spent hours exploring the dinosaur world.
This set includes 9 attractive different dinosaurs with trees and a compelling dino park mat that will spark kid's hours of imaginative play.
The hand-painted dinosaurs are made of non-toxic and high-quality PVC material. Kids will love it's realistic and vivid looking. The vibrant play mat is made of soft non-woven fabrics, it is large enough for kids to play with their friends, which can help to develop cooperation and communication skills with others.
FAQS
What includes in the package?
-9 x Dinosaurs,5 x Trees, 1 x Playmat, 1 x Storage Case
 What is the size of each dinosaur and the mat?
– Each dinosaur is approximately 6 inch,  Activity mat dimension: 31.5'' x 27.6''
 Do these dinosaur toys and trees stand up on the mat?
– Yes, the dinosaurs and trees can stand up well on the mat.
Why recommend TEMI Dinosaur Toy Set?
With a vivid dinosaur playmat, as well as a variety of realistic dinosaurs to let your child learn and grow in the game.
Large dinosaur figures of all types ensure safety for kids.
Come with a plastic box with a handle for storage.
The dinosaur toy set can be played at home, outdoor, or as part of a science project at school.
Click Here to Check Deals on Amazon
---
Li'l-Gen Dinosaur Set with Sound Book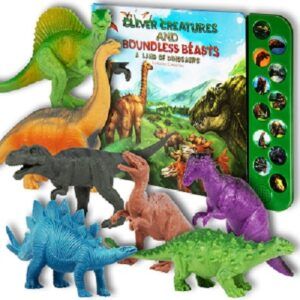 The Li'l-Gen Dinosaur Set is great for boys and girls dinosaur lovers. It comes with 12 different detailed plastic dinosaurs for fun group play, either with their folks and other kids their age.
The Dinosaur sound book makes this set a great education toy. Kids can explore the colors, landscapes, and habitats of each dinosaur, or press the audio buttons that say each dinosaurs name with a roar. It will keep your little one occupied for hours.
FAQS
– The package includes a durable reusable box, a sturdy Sound & History playbook, & 12 vibrant colored dinosaurs
What is the Sound & History playbook for?
-The book has several hardboard pages with one or two dinos per page. It is a compilation of sounds & a biography of each dinosaur that tells a brief history of how they came to be & how they were wiped out
 Does the playbook make sounds?
-Yes by pressing the sound button,  you will hear the dinosaurs name and realistic dinosaur sounds.
 Does the book require batteries?
– Yes, It comes with batteries ready to use. It has a battery compartment to change the battery when needed.
Why Recommend Li'l-Gen Dinosaur Set with Sound Book?
It included a sound book and 12 dinosaurs give your child hours of fun and learning.
The dinosaurs are a perfect size for small hands and are very durable for rough house playing.
The set is great for kids group play, help them discover and develop social and technical skills.
It is a birthday gift, Christmas gift, dinosaur themed party supplies.
Click Here to Get the Li'l-Gen Dinosaur Set with Sound Book for your little one who is crazy about dinosaurs.
---
Dinosaur World Road Race Playset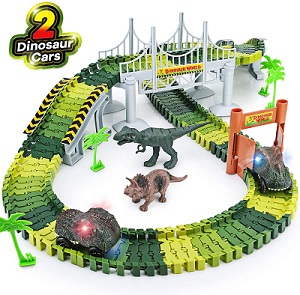 If your little one likes dinosaur and racing cars,  they will be thrilled with this awesome Dinosaur World Road Race Set. The set comes with a flexible track playset and  2 LED Dinosaur Cars and 2 realistic looking Dinosaurs.
The track came in sections and it is easy to assemble, kids can create various track layout. The dinosaur car requires 1x"AA" battery, it can run very fast on the track and with led light,  your little one's gonna have a blast when playing this interactive toy of fun accessories. The 2 free-standing dinosaur figures that kids can play with without the track as well.
FAQS
Are batteries included?  what size needed?
– Batteries are not included,  Each Car requires 1×"AA" battery
  What ages does this toy fit for?
– It is a great gift for 3 4 5 6 Year & Up Old boys and Girls.
 Is it compatible with the Magic Tracks?
– Yes, it is!
Why Recommend  Dinosaur World Road Race Set?
The track is easily twisted, flexed, snapped to form various different track shapes. This can enhance kids' hands-on abilities and creative thinking.
 Cool dinosaur cars and realistic dinosaurs are lightweight and easy for little hands to grab.
 Perfectly as educational toys encouraging imagination.
 Kids love playing it.
 The accessories are sturdy.
Click Here to Check the Price of Dinosaur World Road Race Playset.
---
Prextex Plush Dinosaurs Set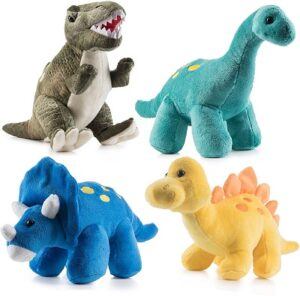 If you are looking for stuffed dinosaurs for your toddler, I recommend Prextex Plush Dinosaurs Set. Comes with 4 different 10 inches adorable plush dinosaurs that will provide your little one hours of dino fun.
The dinosaurs are made from high-quality, huggable short soft plush material, filled material-PP Cotton. It is comfortable and soft to the touch and great for cuddling!
FAQS
 Are they washable? -yes, they are
Why Recommend Prextex Plush Dinosaurs Set.
 The stuffed dinosaurs feature good vibrant colors and cute appearance face.
 Made from high-quality material, great for toddlers to play.
 It is comfortable and soft to cuddle.
 The dinosaurs are very detailed and lots of fun for kids.
 They can be used as kids' bedroom décor or snuggle Buddies at night.
 With good size for kids. It's not too small. It's just the right size to carry around.
---
FunzBo Dinosaurs Painting Kit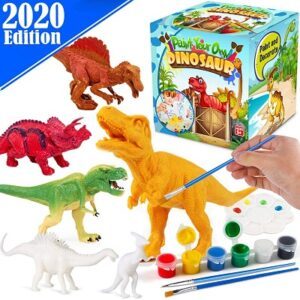 This Dinosaur Painting set is a creative DIY gift for toddlers. It will not only let your little dinosaur fan enjoy the fun of playing with dinosaurs, but this toy set also lets him or her enjoy the fun and excitement of arts.
It comes with 4 big and 3 small different types of paintable dinosaurs and 2 sets of paint and a mixing pad. The paint is made of non-toxic water-base material, kids will have a blast of painting and repainting the dinosaurs.
FAQS
What material are the dinosaurs?
– The dinosaurs are made of safe durable ABS plastic.
 Can the paint on these dinosaur figures be washed and re-painted?
– Yes they can.
 What sizes of the dinosaurs?
– They're two different sizes. The smaller ones are about 3 inches tall, bigger ones are about 5-7 inches tall.
Why recommend  FunzBo Dinosaurs Painting Kit?
This dinosaur painting kit comes with all the things you will need, Dinosaurs, Brushes, Color set, Color mixing pad, Dinosaurs Sticker, all are ready to paint.
This activity can encourage kids to learn the colors, mix the colors, work on their motor skills, and improve focus.
It is a great Crafts and Arts Set for dinosaur lovers, ideal party activity or favor gifts for the dinosaur themed parties.