Rocking horses have been popular toys for children for hundreds of years. It is more than a classic toy for kids, but also fun and can help them improve basic coordination skills and encourage imagination development. There are thousands of rocking horse and animal toys in the market, how to pick the right quality one for your little one? Continue to read you will find tips and advice of choosing the best and right rocking horse, and my picks of some best rocking horses for toddlers.
---
Tips for choosing a rocking horse for toddlers
For many traditional and modern rocking horses, There are 2 sorts of stand mechanism. The bow stand and swing stand.
The bow stand means the horse sits on a curved shape base, which allows it to rock when children use their upper body strength to force their weight forward and downward to the horse.
The swing stand mechanism which also calls "safety stand" invented by Philip Marqua in the late 1800s. It is the horse hangs on a rigid frame by iron straps the horse moves only relative to the frame, which does not move. Compared with the bow rockers, the swing stand base requires less space and is also believed that it is safer.
Rocking horse material: Most of the classic rocking horses are made from wood, but nowadays, plastic or plush fabric cover on a wooden framework is also very popular. If you choose a wooden rocking horse, watch the paint and edge, and the wood type. For plastic material, aware if it is BPA free.
Stability: It is important to choose the rocking toy that will not turn over or fall over on its side when your child rocks hard.
Height: Rocking horses are not in one size fits all. So it is better to match the toy size to the child's height.
Child's interest: Your toddler's interests are also key elements that you need to consider in your rocking horse decision-making. What designs and style you little one likes? A horse, or a fluffier plusher look from a rocking animal, such as a unicorn rocker, or sheep rocking animal, or donkey and rabbit.
Below are my choice of 3 best rocking horses for toddlers.
---
Little Tikes Rocking Horse Blue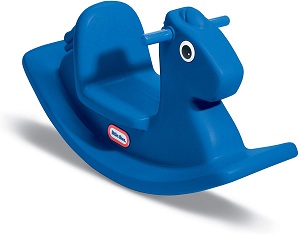 This Tikes Rocking Horse is a great gift for toddlers age  12 months to  3 years. Designed in bright blue color with smoothed corners and edges, kids will love to play with it.
This rocking horse is suitable for both indoor and outdoor. The seat is with child-friendly design, which can keep kids from falling forward or back. The seat is also low to the ground so that young kids can get on and off easily and safely.
It is made of sturdy hard plastic. It is light enough for an adult to easily move it but heavy enough for a child to climb on it and it does not turn over or move unexpectedly. Maximum weight limit- up to 50 pounds.
FAQS
What are the dimensions of the seat?-The seat is about 9″ W and about 10″ in-depth
What ages is recommended for?-It is recommended for Toddler age (12 months-3 years) and can support a 50 lb (22 kg) child.
What type of material is the product made of?– The Rocking Horse is made of Low-Density Polyethylene. (hard BPA free plastic)
 Does this rock well on carpet?– Yes, it can works on carpet or tile even grass.
Why Recommend Little Tikes Rocking Horse Blue:
Smoothly rounded with a high seatback.
Easy-grip handles.
Low saddle designed for stability.
Perfect size for indoor or outdoor use.
Comes fully assembled.
Maximum weight limit: up to 50lbs.
---
Rockin' Rider Carrot 2-in-1 Pony Plush Ride-On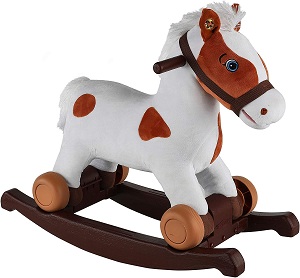 This Plush Ride-om Pony is adorable. Unlike the normal rocking horse, this little pony features a 2-in-1 design, it can easily convert from a rocking pony to a rolling pony without any tools.
It will sing songs and say the fun phrases when squeezed his ear. His mouth will also move when he sings and talks. Kids will love it.
The soft plush makes it comfortable for the little one sitting on it. The realistic mane, tail and embroidered eyes provide more imaginative fun for kids.
FAQS
What ages are recommended?-Carrot is recommended for ages 12 months to 3 years and nd up to 40 lbs.
What are the dimensions?– LxW: 23.5 x 10.25inches. Rocking pony seat height is 12.5 inches, rolling pony seat height is 10 inches.
Does it comes with batteries and are batteries replaceable?– it requires 3 AA batteries included. They are replaceable, located back of the neck.
Why Recommend Rockin' Rider Carrot 2-in-1 Pony Plush Ride-On:
Cute and realistic looking.
2-in-i design, offer more fun for kids.
Can sing and make sounds. And with adjustable volume.
Feature soft, huggable plush, safe for kids' skin.
It is easy for toddlers to get on and off.
Click to Check Deals on Amazon
---
Radio Flyer Blaze Interactive Riding Horse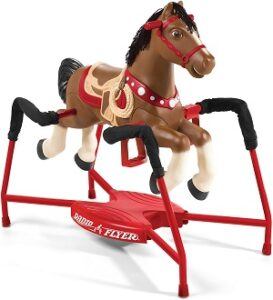 If you are looking for a fun and interactive riding horse the Radio Flyer Blaze Interactive Riding Horse is well worth considering.
This riding horse features a swing stand mechanism, kids can rock back and forth or up and down, while the frame stand will not move.
When you kids rocking the spring horse, it will respond to your child's motion with life-like sounds.
It comes with a realistic carrot and comb encourages imaginative play. Feed the realistically designed horse with carrot, it will make crunching noises.
Parents love the protective covers over the spring to prevent possible pinching. There is a little step below which help kids climb up.
Though some parents complain that it took time to assemble the spring horse, they said it worth it when they saw their little one exciting face.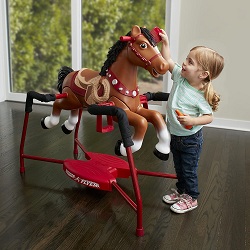 FAQS
what ages is spring horse suitable for:– It is approved for children ages 2-6 and has a weight capacity of 60 lbs.
Does the horse have to be turned on to work or can a child just get on and make it go up and down and back and forth by himself?–  The movement of the horse is by the child's bouncing up and down, back and forth on the horse which is attached to the 4 black-covered springs which are also attached to the red frame. The switch is for the sound.
What are the dimensions of this assembled?-It measures 20.5 inches x 40.5 inches x 37.5 inches when assembled?
what is it made of?-The Blaze Horse is made of hard plastic with yarn hair. the base structure is made out of steel with steel springs. Plastic cross brace cover.
Can it use for outdoor?– It is recommended for indoor use, but you can take it out in good weather.
Can the sound effects be turned off?– The sound on this model is adjustable to three settings: low, high, and off. Under the horse's chin, there will be a small black switch to adjust the sound. To turn off, you will want to ensure the switch is moved all the way forward (furthest away from the body).
Why recommend Radio Flyer Blaze Interactive Riding Horse:
It is cute, detailed, interactive.
Very sturdy that can last for years.
With 3 Riding Actions: walk, trot, and gallop,  that can trigger realistic sound.
Carrot activates chewing sounds, and the brush is included, great for imaginative play.
Built-in safety straps for protection.
With climb step for easy on and off.
Weight capacity 60-Pounds.
Click Here to Check More Comments of  Radio Flyer Blaze Interactive Riding Horse
(Some of the links within this post are affiliate links of which I receive a small compensation from sales of certain items, There is no additional cost to you.)