For the 2-year-olds toddlers, their Social and Emotional, language, cognitive, physical have great development in the second year. Choosing a variety of educational toys allows them to learn different skills and improve mental development in a fun way. The good educational toys for 2 year olds are ones that activate the senses and are ideal for motor skills, encourage creativity, improve problem-solving skills, and safe of course. Toys are good at this and suitable for 2 years old are building blocks, coloring books, crafts, pretend play set like kitchen playsets, doctor kit, musical toys, climbers and many more.
There are so many toys on the market that will make you feel overwhelmed to choose the right one for your little one. To make it easy for you, I have done the research and sifted through tons of toys, and here round up a list of toys for 2 year olds that are fun, educational, safe and popular.
---
#1 Top Bright Bird Feeding Game Toy Set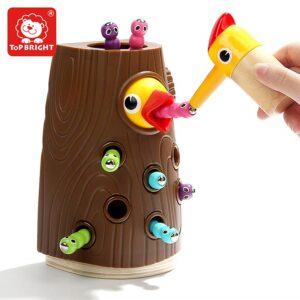 The funny feeding game provides an opportunity for your little one to pretend to be a bird mom. Use the magnetic bird head to catch the cute worm which hides in the wooden stump, and then feed them to the hungry baby bird, your toddler will find so much fun of it and build the hand-eye coordination at the same time.
The stump made of high-quality natural hardwood, with 8 holes for fitting the warms and a bird with an open big mouth. The stump size is 9.6 x 4.5 x 7.5 inches,
The mama bird head made from plastic connected with a rounded-edges and smooth painted finish handle makes perfect and safe for a small hand to hold.
It comes with 8 vibrant worms size at 2.4inches. The worm head is with the magnetic that can attach to the bird head handle easily. There are four color worms include pink, blue, purple, green. It provides the opportunity for parents to teach toddlers about coloring and counting while kids engaging the feeding game.
After playing, Put the colorful worms in the tree to storage and save space. And that helps your child to build a good habit of storage by themselves
Some parents said it is an awesome educational toy for learning and Interactive fine motor activity and can keep their kids busy. They recommend young kids better played under supervision.
Why Recommend Top Bright Bird Feeding Game Toy Set
Hold the bird handle and put the caterpillars out and put into the tree, that will help practice motor skills, and improve hand-coordination
The feed the bird with worm successfully need to be patient, that makes a great educational toy to teach kids patience
Help with problem-solving skill development
Fun caterpillars with vibrant colors encourage kids to build color recognition, counting skills
Safe and high-quality material
Design for kids ages 2 and up
Portable size and easy to storage
Fun and satisfy kids' curiosity about nature
Click Here  to Check Price on Amazon
---
#2 Wooden Peg Puzzle Set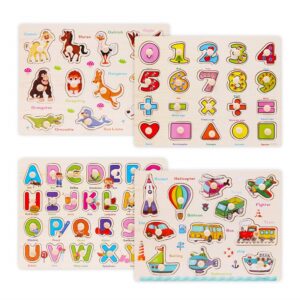 If you looking for the educational toys that can introduce letters, numbers, animals, and vehicles to your 2-year-old boy or girl with hours of enjoyment, then this Wooden Peg Puzzle set will be a top choice.
There are a total of 4 pack colorful puzzles, include numbers, alphabet, animals, and vehicles. There are pictures under the animal and vehicle pieces, which make great and easy matching activities for the young child.
Each puzzle is designed with a perfect size sturdy wooden handle to help with toddler 2 years and elder grasp easily.
The puzzle set is made from high-quality natural wood, painted with environmental paint. Without any rough or sharp edges, makes an ideal safe puzzle toy for your kids to play and learn.
It comes with a well-made packaging box, makes a perfect gift for boys or girls. The box can be also used as a storage box, pack all the puzzles in it left no mess.
This puzzle set is recommended for children ages 2 years and up, but because of the big size without choking hazard, some parents buy for their 18-month-old, though it might be a little too advanced for her, but parents still happy of buying it, as their kids definitely can grow with it.
Why Recommend The Wooden Peg Puzzle Set
Kids can learn ABC, numbers, cars in a fun way
Assists children in developing important skills such as hand-eye coordination, fine motor skill
Parents can play with kids, help them to learn and spent the parent-child quality time together
Without small parts, safe for kids to play independently
Made of premium quality
Colorful and fun patterns attract kids
Designed for little hand
Battat Famers Market Basket Cutting Toy Set
Click here to Get Your little one This Cute Wooden Puzzle Set
---
#3 Battat Famers Market Basket Cutting Toy Set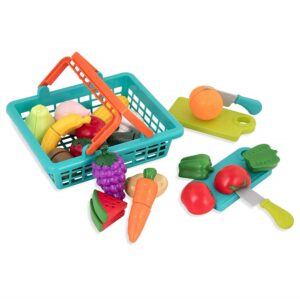 Giving your child pretend toy is a great way to spark their imagination, develop social and communication skills and improve hand-eye coordination. The Battat Famers Market Basket is perfect for that child who likes to imitate moms to cut the food and make the best homemade meals.
The realistic toy basket filled with a large selection of fresh fruits and veggies including a apple, a banana, a carrot, a corn on the cob, a cucumber, a bunch of grapes, a Kiwi, a mushroom, an onion, an orange, a pear, a potato, a Bell pepper, a Strawberry, a tomato, and a Watermelon,  encourage your child to pretend to go for a grocery shopping.
The playset also comes with 2 cutting boards, 2 toy knives, that allows more than one kids to play together.
All food items are stuck together with velcro, kids can use safe toy knives to cut them into 2 parts, and they will enjoy the 'crunch' sound when cutting the food.
All the items are made of BPA free plastic, perfect size for little hand to hold.
This cutting food toy set is recommended for toddlers 3 years and up, but according to the reviews, the 2-year-olds kids have a great time with the food cutting/play.
Whether you looking for a gift or fun educational toys for 2 year olds, This toy set will definitely a hit.
Why Recommend Battat Famers Market Basket
The realistic design brings more fun for the pretend play
The food items can be separated with a safe plastic knife, keep kids engage playing it
Cutting the fruits or vegetable helps build hand and arm strength
The great tool to introduce different fruits and vegetables
Comes with enough items for toddlers play together, good for social and communication development
Bright color and different shapes make great sensory play toys
With the basket, easy to storage
You might also interested in:  Best Kitchen Playsets For Toddlers
---
#4 V-Tech Touch and Learn Activity Desk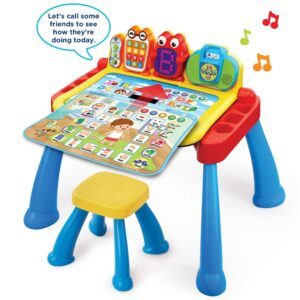 Looking for a functional educational toy that can brighten up your adorable toddler's day and make playtime even more pleasure, then don't miss the VTech Touch and Learn Activity Desk.
The desk features an interactive desktop, touch with a finger lightly, it can play sound and teach your toddler letters.
Come with 4 extra activities pages to replace, which fill with engaging content includes numbers&counting, fruits, body part and Music Jammer with colorful keyboard and different musical instruments.
Your child can explore more than 100 vocabulary words, 20 activities, and 20 songs and melodies with the learning desk.
Lift the desktop, the desk will change into an easel and chalkboard with storage space. Activity cards and art supplies store easily inside the desk.
There is a Light-Up Display to shows how to write letters and numbers step-by-step. And the toy phone can teach numbers and greet.
When the child gets older, you can buy the additional expansion packs to expand their knowledge.
Come with a perfect size stool, kids can sit on it to play with the interactive desk or draw a picture using the easel.
There are 2 color choices of this great educational desk: Pink and Blue. It requires 4 AA batteries which is not included.
This educational desk is intended for ages 2-5.
Some parents said it is very easy to assemble and that is a fantastic educational tool that keeps a toddler busy in many ways.
Why Recommend  The VTech Touch and Learn Activity Desk
Provide an interactive way to help kids to learn
With music to keeps young kids entertained
Provide different ways to play, can be used as a drawing tool
With storage space to store cards
Perfect size for young kids
Sturdy
Volume can be adjusted
---
#5 Mega 80 Pieces Classic Building Block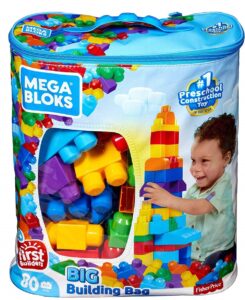 Building blocks as a classic educational toy offer countless benefits for children, such as expand imagination and help develop dexterity, fine motor skills, and problem-solving skills. The Mega 80 Pieces Classic Building Block Set can be the perfect choice as your toddler's first blocks toy to explore endless possibilities.
Come with a number of different shapes that allow your child to create a variety of different objects. And it can be combined with other Mega Bloks bring more fun of building.
All the blocks packed in a well-made PVC bag with zipper and handle, It makes easy to store or carry on the go.
The blocks are made of BPA free material, and their size is ideal for young kids to grasp yet big enough to prevent the choking hazard.
Parents can also use these colorful blocks as the teaching tool for kids to practice color recognition, counting and sorting.
No matter your child is 2 or 5 years old, they can enjoy hours of fun from this open-ended block set.
Some parents said adding more parts such as wheels will bring more building fun.
Why Recommend The Mega 80 Pieces Classic Building Block
Kids think these blocks are tons of fun to play with
Simple yet fun to play with
Allow Open-ended play, provide endless possibilities for kids to build different things
These blocks fit together and come apart easily, prevent your child get frustrated
This block set can help your child develop problem-solving skills and build confidence when building anything they imagine
Great way to develop your toddler's fine motor skills and creativity
Made of high-quality material, makes it durable and can last for years
Easy cleanup with a handy storage bag
Ideal size for small kids to manipulate
---
#6 RenFox Kids Musical Mat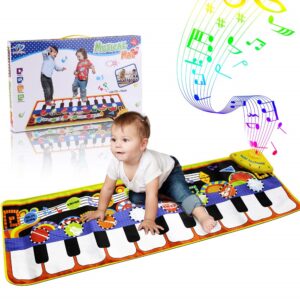 Giving your little one the early learning musical toys will help them develop in so many ways. The RenFox Kids Musical Mat is a great toy for your child's music enlightenment.
The mat allows your child to make 8 different instrument sounds, includes piano, violin, accordion, horn, xylophone, oboe, guitar, flute. Or according to your need can change into a piano keyboard.
Feature 4 modes including demo, one-click annotation, play, playback and record to select, adding more fun when they play.
You can adjust the volume just by turning the knob on the top right corner.
The mat size is 100 X 36cm, big enough for your 2-year-old kiddo to step on it and dancing with the music, or they can use their little feet to create a special melodic, that keep them entertained and help develop gross motor skills.
Made of soft non-woven fabric, protect the young kid's tender skin from hurt.
The foldable and lightweight mat can be used indoor or outdoor. It's convenient to carry during your family trip.
The mat is powered by 3xAA batteries which are not included.
Sounds and songs can be made with hand touching, crawling or dancing. So this is a great gift appropriate for any child.
Why Recommend The RenFox Kids Musical Mat
A great musical educational toy to introduce kids different Instrumental sounds
Big size for your little one and their friends play together, helps improve child's social skills.
Encourage kids to dance on the mat, help improve gross motor development
Promote music intelligence, vision training, sense of touching, sense of hearing.
Made of soft, safe material
Foldable, Easy to carry and storage
Related post: Best musical instruments for toddlers
---
#7 The Stacking Peg Board Toy Set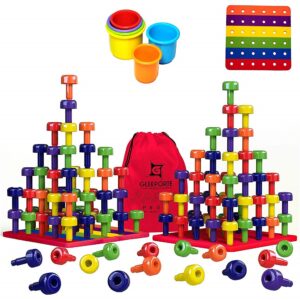 If you are looking for fun and creative educational toys for your 2 year olds, you might consider The Stacking Peg Board Toy Set which provides tons of fun of sorting, stacking.
The set includes 60 pegs of 6 different colors and a board. It allows you little one to create any patterns or stacking different colors in their way.
It also comes with 6 stacking cups of different size as bonus, Stacking the cup or use as a color sorting tool, that adding more play fun while at the same time help your 2-year-old of learning about color s and develop sorting skill.
Stack and match the pegs coordinate with the colorful board strengthening your child's visual perception, and color recognition in a fun and enjoyable way.
The colorful pegs are designed with the perfect size for the little finger to grasp.
The pegs and stacking cups are made of BPA Free plastic and the board is made of high-quality foam.
After playing, put everything with the storage bag.
There are many ways the  Stacking Peg Board Toy Set can be used as an early learning educational experience.—color identification (10 each of yellow, blue, red, orange, purple, green), sorting, patterns, & math skills.
Some parents said it takes a little work for the preschooler to put the peg into the foam hole. But that is a good way to develop fine motor skills and improve finger strength.
Why Recommend The Stacking Peg Board Toy Set
Kids find so much fun of it
Encourage your kids to use their imagination
Great way to improve your child's fine motor skills and dexterity
Come with stack cups, storage bag, colorful board, provide more way to play
Helps with color recognition and math skills ( Related post: Top 10 counting toys for 2 year olds)
Grasp the pegs and place it into the board, good for hand-eye coordination development
The size and the shape of these pegs make them easy for your child to pick up and play with
they are well made and durable
Therapists like to use it for the special needs
---
#8 The Berenguer Boutique Soft Body Baby Doll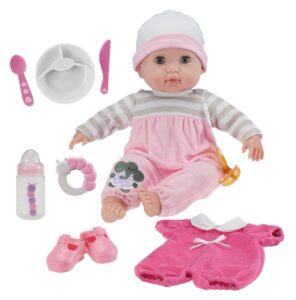 Dolls can also help teach your toddler about important things like affection, compassion and how to take care of someone else, and it is a good way to for them to learn about the different parts of the body.
The Berenguer Boutique Soft Body Baby Doll features realistic detailed head, arms, and legs, and eyes that can open and close. Your kids will love this cutest baby doll.
The adorable doll comes fully dressed in a 2-piece embroidered outfit matching a cute hat. It also includes a pair of adorable shoes and an extra outfit.
Feeding accessories include a pacifier, a rattle, and a baby bottle meet the child needs to play, care for, feed, and love their doll.
Size at 15inches, she is the perfect size for your child to hug.
The doll is soft to feel, and durable can last for years. Perfect for toddlers 2 years old and above. It is a wonderful gift idea for any occasion!
Why Recommend The Berenguer Boutique Soft Body Baby Doll
Comes with accessories that can teach nurturing and self-help skills because children are hands-on learners
Help develop fine motor skills as he or she undresses and dresses this baby doll
Helps to develop your child's communication and social skills through interactive play with the doll
Ideal size for children 2 years and above to cuddle or carry around
With a realistic face, hands, feet and blinky eyes
Favorable price, durable
Great way to encourage imaginative play
 Click Here to Buy This Adorable Doll for Your 2 year olds
---
#9 Peppa Pig Magnetic Wood Dress Up Puzzle
If your child is a Peppa Pig fan then the Peppa Pig Magnetic Wood Dress Up Puzzle is well worth considering.
It comes with different styles of magnetic outfit and accessories for your toddler to mix and match to create a fashion Peppa, includes  8 tops, 13 bottoms, 4 icons, 1 stand, 1 base.
The magnetic wood pieces feature chunky makes easy for small hands to handle.
A wooden storage box can keep the pieces neat.
Your child will spend hours of fun dressing up the Peppa Pig.
Why Recommend  The Peppa Pig Magnetic Wood Dress Up Puzzle
Kids like Peppa pig and they enjoy playing with it
Help develop fine motor skills
Good quality
Easy to for small hand to grab
Help develop dressing up matching sense
Wonderful travel toy to keep your toddler entertained
Encourage your child to engage in imaginative play
---
#10 The LEGO DUPLO My First Alphabet Truck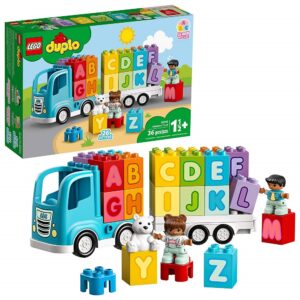 The LEGO DUPLO My First Alphabet Truck will provide your two year old toddler with creative play as well as a great introduction to ABCs.
The 26 letter bricks offer lots of opportunities for the toddler to become familiar with the letters of the alphabet.
Comes with a boy, girl and teddy bear figure, load up the bricks on the truck and transport, that brings more role-play fun and engagement.
The truck size is 4" (12cm) high and 2" (7cm) long, it is compatible with other LEGO DUPLO sets for added fun.
This educational LEGO toddlers' toy is recommended for boys and girls ages 18 months and up.
A number of parents shared that this LEGO DUPLO My First Alphabet Truck the ideal combination of entertaining toy and learning aid.
Why Recommend The LEGO DUPLO My First Alphabet Truck
A great way to introduce your child of letters by playing
Manipulating the bricks are good for fine motor skill and hand-eye coordination development
Encourages toddler to engage in role playing and pretend play
Pieces are the right size for young kids to play and avoid the choking hazard
Combine with other LEGO Duplo sets for expanding creative play
High quality that can last for years