Outdoor play contributes to great mental and physical development benefits for toddlers. Provide them some play equipment at your backyard that can encourage them to have some physical activity while having fun. Here I got you cover the top 5 outdoor play equipment for toddlers that fit your yard and budget, which can help your little one foster physical, social, and cognitive development.
---
Little Tikes Hide and Seek Climber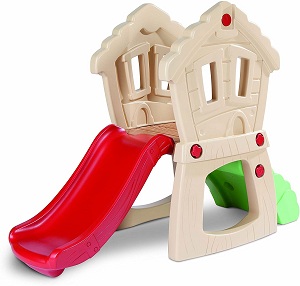 Ages: 1-3 year olds
Slide height: 19.75 inches
Slide length: 28.25 inches
The Little Tikes Hide and Seek Climber is perfect for both indoors and outdoors. The slide and climbing rock-wall is designed for beginners. Feature smooth edge and the right size, it is safe for young kids to play.
Climbing the rock-wall or crawl through the adventurous tunnel, it is a great way to build coordination and balance.
Why Recommend the Little Tikes Hide and Seek Climber:
Easy to assemble, and sturdy structure.
Feature easy climbing rock wall for beginners and gentle slope slide for soft landings.
Great play equipment to encourage physical activity.
Perfect to home backyard use.
---
 Saucer Tree Swing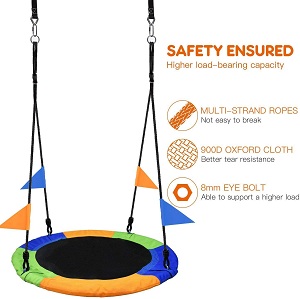 Size: 40 Inch
Weight Capacity: 660lb
The PACEARTH Saucer Tree Swing is a great gift for a family with multi children. It is ideal to be used in outdoor playgrounds for kids to enjoy outdoor fun.
It is made of high-quality 900D Oxford Fabric. The higher specification of the fabric, the greater load-bearing capacity. So when you choosing a fabric swing, you should notice the fabric types and specifications. The oxford fabric feature soft, wearable and ductile, makes this Saucer Tree Swing more durable and comfortable. At the meantime, it uses upgraded multiple strands braided ropes to ensure the security when swinging,
The set comes with two extra swing straps and galvanized climbing carabiners to meet your need. You can adjust the length of the ropes as you like.
The Saucer Tree Swing can be hung from a tree limb or a beam. Simply place the two hanging straps around the tree limb to mount the swing.
Why Recommend the PACEARTH Saucer Tree Swing:
High quality and easy to assemble.
It can support kids and adults together, increase more fun. Playing with friends helps your little one to develop social skills.
Adjustable length makes the installation more flexible.
Bright color and comfortable design.
Click Here to Check More Detail Pics
---
Little Tikes Inflatable Bounce House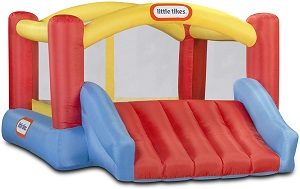 Inflatable size: 106.2 inch x 137.7 inch x 6
Jumping area size: 12′ x 9′
Maximum combined weight limit: 250 lbs.
This Inflatable Bounce House is the perfect outdoor play equipment for any kids. It is large and sturdy enough for  3 kids to play at the same time. The weight limit is 250lbs, so adults can also join the fun with kids.
I like the large inflatable slide feature, which adds extra excitement to this bouncer. Kids can slide out of the bounce house and climbing back up. It encourages more motor development for young kids.
There is protective netting surround the jumping area to keep the kids safe while jumping. It is also convenient for parents' supervision.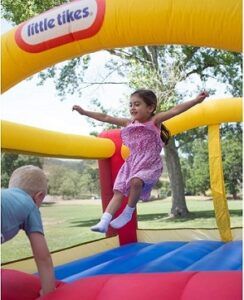 The package comes with:
4 blower stakes
6 bouncer stakes,
1 heavy-duty blower with GFCI
4 Repair Patches, and a storage bag
It only takes 2-3 minutes to inflate the bounce house. But to keep the house to stay inflate you need the blower on constantly. As soon as you turn the blower off the bouncy,  house self deflates within a few minutes.
Why Recommend the Little Tikes Inflatable Bounce House:
Made of high-quality puncture-resistant material.
Large and sturdy for kids to bounce, slide, jump.
Easy to set up. Stakes anchor the bouncer firmly in place
Come with everything you need.
Great outdoor play equipment for toddlers to have fun and physical activities.
Included storage bag makes it easy to store and take on-the-go.
---
Kids Garden Tool Set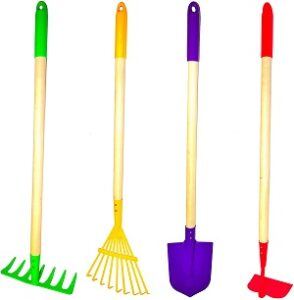 Size: up to 27.5inch height
This garden tool set is perfect for the little one who loves to 'help' dad or mom with the yard work. It comes with 4 realistic tools: Shovel, Rake, Hoe, and Leaf Rake. They are feature bright colors and the right size for small kids.
The tool heads are made real metal and handles are from solid wood. There is a plastic safety cap of each tool for easy hanging and ensure extra protection for kids. The hardwood is with smooth finished, and without sharp edges on the metal parts.
Why recommend the G & F Products  Kids Garden Tool Set:
Great pretend toys to encourage toddlers to explore the garden fun.
Realistic looking and good quality can last for years.
Perfect size for small hands.
Click Here to Get this Sturdy Garden Tool Set For Your Little one
---
Toss Game Set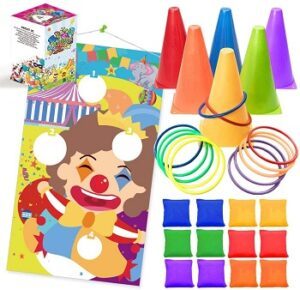 Package includes:
12* Toss Rings (Purple, Green, Orange, Blue, Yellow, Red)
12* Toss Bean Bags (Purple, Green, Orange, Blue, Yellow, Red)
6* Traning Cones (Purple, Green, Orange, Blue, Yellow, Red)
1* toss banner (31.5 x 55 inch)
With colorful bean bags, toss rings, and training cones, this toss game set offers different games in any combination for toddlers. It is a great way to train and promote children's hand-eye coordination and team spirit while playing these fun games with friends or family.
The training cones measure 9 inches tall, it can be used for activities such as soccer training, bicycle obstacle course, motorcycle training, and much more.
Each bean bag size is 3inches, It is with the right size and weight for small hands to hold and throw. The big toss banner is also a hit. It is made from fabric, it is washable and reusable. Feature cute cartoon designs can attract kids' attention.
Why recommend UNGLINGA  Toss Game Set:
A variety of items offer lots of different games that can keep kids entertained.
Great for party, indoor or outdoor game.
Helps kids recognize colors, improve hand-eye coordination, and fine motor skills.
Suitable for kids and adults.
Click Here to Find More Buyer Reviews of this UNGLINGA  Toss Game Set
Last but not least
Outdoor play tents are also a good choice for toddlers to explore outdoor fun. They can crawl through in the tents, play pop up games, hide and seek with their friends. It is great for sensory processing and coordination activities and helps social skills development.
P.S.
Here are top Top 5 Outdoor Tents For Kids
(Some of the links within this post are affiliate links of which I receive a small compensation from sales of certain items, There is no additional cost to you.)