By the time your child turns 2, they are ready to learn about socialize and develop more important skills like strategic thinking, focus, math concept, motor skills, and much more. Board games are a great and enjoyable way to help with these developments. The following list of the best board games for 2 year olds can keep your little one busy and help them learn about numbers, colors, letters, animals, and shapes, and will encourage the whole family to join in on the game night for tons of fun and excitement.
(Some of the links within this post are affiliate links of which I receive a small compensation from sales of certain items, There is no additional cost to you.)
---
First Orchard Cooperative Game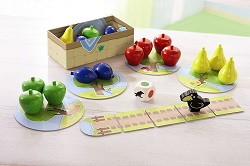 Ages: 2+
Players: 1-4 players
Play Time: About 10 minutes
This First Orchard Cooperative Game is the simplified version of the classic "Orchard" game, designed for  2 year olds. This board game aims to foster kids' team spirit and learn to take turns.
Game ideas:
Children take turns to roll the dice and try to pick the fruits from the trees before the raven reached the end of the path. If they succeed in picking all the fruit before the raven reached the orchard, they win together, otherwise, they lose together.
Package includes:
1 raven
1 fruit basket
4 green apples
4 red apples
4 yellow pears
4 blue plums
5 path cards
4 trees
1 color-symbol dice
Why recommend the First Orchard Cooperative Game:
The board game is very easy to set up, doesn't require reading, suitable for young kids to play.
The game is simple for 2 year olds to understand and play. It won't cause frustration for them.
It is designed for cooperative play, which can help players to foster social skills and understanding of game rules.
The fruits are made of solid wood, can also be used as pretend playset. Feature vibrant colors can help little ones to develop color recognition skills.
Click Here to Get the First Board Games For Your Little one.
---
Peaceable Kingdom Snug as a Bug in a Rug Game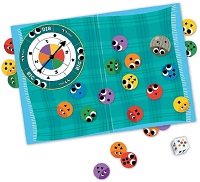 Ages: 2-6
Players: 2-4 players
Play Time: 10-15 minutes
The Snug as a Bug in a Rug Game is with 3 levels to play, which makes it work well for families with children of multiple ages. Level 1 is suitable for a 2 year olds to have fun and learn about colors, numbers, shapes, counting, matching, and the concept of big and little.
Game Idea:
Take turns Spin the spinner and find a matching bug and try to get all the bugs under the rug before 3 stink bugs are sitting on top, and you all win!  Each level adds more challenge.
Package includes:
1 board game with built-in-spinner
24 colorful bugs
3 stink bugs
1 die
instructions for 3 game levels
Why Recommend The Snug as a Bug in a Rug Game:
The game is with 3 levels to play, can grow with the age of the players. And provide the chances for siblings of different ages to play together. It is beneficial for family connection building.
Level 1 is easy for 2-year-olds kids to play and understand. The game can encourage them to learn about colors, some basic math concepts in a non-stressful play environment.
The game is collaborative rather than competitive, which can cultivate emotional development.
It is a fun game. The stink bugs idea can attract little ones.
---
CozyBomB Magnetic Wooden Fishing Game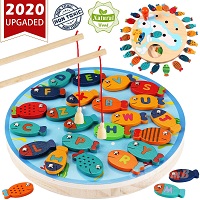 Ages: 2-4
Players: 1-2 players
The Magnetic Wooden Fishing Game is a fun fishing board game that your 2 year old will love. It provides two scenes for your kids to experience. Use doll magnet to search and pull fishes under iced lake and magnetic fishing poles to hook fish in the ocean.
Package includes:
1 Wooden Play Board
26 Alphabet Fish
1 Fishes Storage bag
2 Fishing Rod
1 Cat Doll with Magnet
Why Recommend The CozyBomB Magnetic Wooden Fishing Game:
It is a great early education game. It provides the chance for toddlers to learn about sea life, alphabet letter, colors.
The pieces feature strong magnet, It is challenging enough to keep young kids entertained, yet easy enough to promote confidence and self-esteem.
This fishing game is a great and engaging way to help your kids to develop hand-eye coordination and fine motor skills.
The games allow 2 players to play together.
The items are sturdy and well made.
Click Here to Get the Magnetic Wooden Fishing Game On Amazon
---
Peaceable Kingdom Monkey Around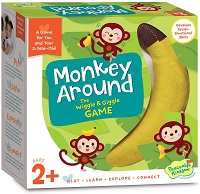 Ages: 2-3
Players: 2+ players
Play Time: 2-5 minutes
The Wiggle & Giggle Game is a great board game to get you and your child up and moving. It's a good game for families with toddlers.
Game idea:
Take turns to draw a card and follow instructions for a movement activity like balancing the banana on your head or holding hands with a partner and spin in a cycle, do the action then place the card on the tree.
Package includes:
40 Monkey Around Cards
1 Banana Beanbag
a Tree-shaped board
Why Recommend The Wiggle & Giggle Game:
The games is easy to play, don't require to set up. It encourages kids to get moving, helps improves gross motor skill development.
The cards with various action instructions can help kids understanding spatial concepts, recognizing matching body parts.
Following the instruction to do the action is a great way to improve toddlers' listening skills and expand their vocabulary.
There is no winner or loser but it provides great practice for toddlers learning taking turns.
Some movements require 2 players to do together, it helps them to relax and build trust.
Click Here To Check More Details
---
Wooden Blocks Stacking Board Games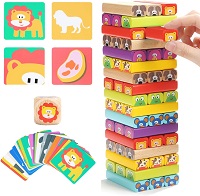 Compared with the classic stacking game, this Wooden Blocks Stacking Board Game features 6 vibrant colors and 6 kinds of cute animal patterns can easily attract your toddler's attention.
2 ways to play:
Take turns to roll the dice, remove the block with the corresponding animal face on the dice, place the blocks on top until the tower collapses.
Players take turns to pick cards and guess which animal is on the card, then carefully pull out one block of that color and put it on top of the tower until it collapses.
Package includes:
51 colorful animal blocks
24 cartoon cards
1 dice
Why recommend the TOP BRIGHT Colored Wooden Blocks Stacking Board Games:
Playing stacking board game is a great way to teach patience and build hand-eye coordination.
The colorful blocks are the right size for small hands to grasp.
The game provides a great chance for toddlers to learn about colors and different animals, and help build memory skills.
The vibrant colors and cute cartoon animal faces are loads of fun for young children. They can also use the blocks to building different items, a great way to inspire creativity.
The game is suitable for 2 or more players which can promote friendship and communication between players.
Click Here to Buy the TOP BRIGHT Colored Wooden Blocks Stacking Board Games On Amazon