It is entertained watching little kids imitate adult behavior or play on different roles. But it is much more than fun, your kids develop in so many ways when they're involved in make-believe play. Toys are essential for children's development. Offer some pretend toys for your toddlers can make their playtime more engaging and help them to foster a variety of skills. To help you save some time looking for pretend toys, I have sifted through tons of toys and picked some high-rated, fun and safe pretend toys for toddlers here.
My top picks of pretend toys for toddlers
Fisher-Price Medical Toy Kit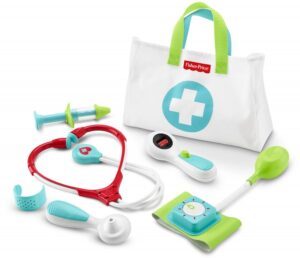 If you looking for pretend toys that can add more fun for your toddler doctor pretend game, the Fisher-Price Medical Kit will be a hit.
The Fisher-Price Medical Kit comes with everything your little doctor needs for performing checkups on their friends or dolls.
Your little one can use the stethoscope to listen to the patient's heart or check the pulse, but it cannot make noise.
A thermometer allows the Mini MDs to check the temperature with their patients. There is a button on the thermometer that can go from "sick" to "well" which adds more fun for the roles play.
Take turns to use the blood pressure cuff to check the blood pressure and pumps it make the gauge spin, or check the ear inside with the otoscope or give a shot with the toy injector which provides your toddler hours of fun.
Including a well-made fabric medical bag with two little Velcro tabs which is easy for kids to open, close and put items into, makes the roles play a breeze.
It will be the perfect pretend toy for toddlers who explore their curiosities in the benign world of make-believe play.
Some parents bought this doctor toy kit for their child who suffering lots of anxiety when visiting the doctor. It can help them ease before the checkup.
Why Recommend The Fisher-Price Medical Toy Kit
It is a fun toy kit for those children who are fascinated and terrified by doctors
Come with a variety of medical tool toys
Include a unisex doctor or nurse bag
Encourage toddlers to discover the fun of taking turns being the doctor and the patient, and learn about cooperation
Help them to understand how doctor keep them healthy
Help kids relax for visiting doctor
All items are durable, safe and easy for toddlers to use
---
Kitchen Sink Toys Set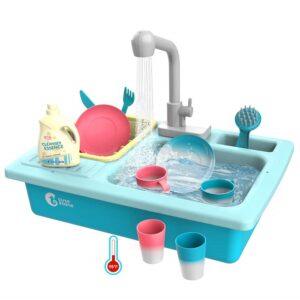 What kid doesn't like to play in the water? This Color Changed Kitchen Sink Toys Set is highly recommended for the little girls or boys who like to play in the kitchen sink and help in the kitchen.
The toy sink featured a realistic faucet with a battery-powered pump controlled. Fill the gutter with warm water over the hole level, switch it on, the water will keep running from the faucet. It saves the water with the Automatic water cycle system design.
Wash the utensils (including plastic cups, plates, knives) with the brush and detergent, put them into the detachable rack for draining, that can keep your toddler preoccupied for hours.
It is also cool that the utensils can change color according to the temperature changes. When the temperature is lower than 33℃, the color will change into darker, which gives the notice of parents of the water temperature.
The dimensions of the sink is 16*11*4inches. All items are made of BPA free ABS, without any sharp edges, make a safe pretend toy set for young children.
Manufacturer recommended for children age 3 & up, Required 2 AA batteries(1.5V)
Many parents reviewed that their children are obsessed with this kitchen sink set, and dishes change color add so much fun.
Why Recommend Kitchen Sink Toys Set
Its fun design for children who love to imitate adult washing
Teach children life skills such as sorting out and washing dishes
Help develop fine motor skills
The automatic water cycle system helps toddlers develop a good habit of saving water from childhood.
Comes with enough accessories that can allow one or more kids to play joyfully
Help improve color and kitchenware recognition
Color changeable dishes meet kids' curiosity
The realistic faucet can be rotated 180°, create more fun for the role plays
---
Melissa & Doug Food Groups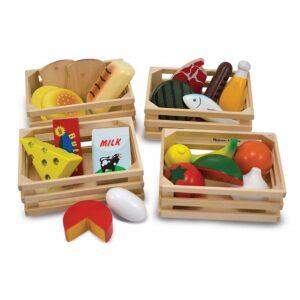 The Melissa & Doug Wooden Play Food set will be a great gift for your budding young chefs.
It provides healthy pretend play for your toddler with a wide collection includes cheese, milk, watermelon, tomato, bread, fish, egg, steak, and much more! They can explore the food match in a creative way!
Includes four wooden crates which size at 6.25 x 4.25 x 2.5 inches. Your little one can use the crate for sorting food or serving up pretend play meals.
The food items are made of smooth solid wood, it is designed the right size for little hands to manipulate.
Though manufacturers recommend for ages 3ups, some parents buy it for their 2 year olds, and they satisfy with this wooden food set. And some parents said it is heavy compared with the plastic, so need to avoid children to throw the toys.
Why Recommend Melissa & Doug Food Groups
Help kids to recognize the different healthy foods
Satisfy young children huger for hands-on play, and develop the hand's dexterity
Can be a complement to any kitchen playsets
Colorful design helps kids for color recognition
Encourage kids to play with friends nourish social and emotional development
Good quality toys that can accompany kids for years
Teach kids food sorting skills
Realistic food pieces can spur creative play
---
Melissa & Doug Dust Sweep Mop Set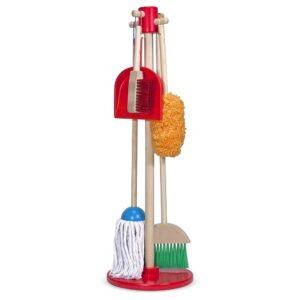 If you looking for hands-on pretend play toys for your little helper who is obsessed with mops, vacuums and mimicking you cleaning the house, you can consider Melissa & Doug  Dust Sweep Mop Set which offer a great opportunity to teach your kids responsibility and life skills in a playful way.
It comes with 6 pieces of wooden housekeeping tools including broom, mop, duster, dustpan, hand brush, and storage stand provides playing house lots of fun in the mix.
Each cleaning tool features kid-friendly size, vibrant color, realistic and classic design encourages your toddler to have creative roles play for hours.
This clean tool toy set is made of high-quality material makes it can last for years. Parents like it is comfortable and easy for toddlers to use. And a storage stand can keep everything neat.
Many parents recommend this sturdy, practical toy for toddlers who enjoy pretend or who like to mimic the chores their parents are doing.
Why Recommend  Melissa & Doug  Dust Sweep Mop Set
Those kids who like mimicking everyday chores find so much fun of it
A great toy set to teach young kids responsibility and boosts self-esteem
Kids-friendly size, easy for young kids handle
realistic design increase more role-play fun
Sturdy can use for a long time
Encourage kids to move and help physical development
With a stand for storage
---
Learning Resources Play Toy Tool Set 
Is your little one like to watch their daddy fix the stuff or put together a few things and always want to be a little helper? The Learning Resources Play Toy Tool Set will be the right tools for your toddler to imitate.
Toy toolbox comes with 5 pieces of chunky size tools, including saw, hammer, screwdriver, wrench, and drill. All the pieces are easy and lightweight for small hands to use.
Tools and are from soft and durable plastic, without any sharp edges make a safe toolset for toddlers to build their imagination and fine motor skills.
What brings more pretend fun for your little contractor is the drill can make a whirring sound when pulling the trigger.
No battery required, recommend for 2ages+
Why Recommend Learning Resources Play Toy Tool Set
A great alternative to screen time
Kids find so much fun with this toolset
A great pretend toys for those kids who like to mimic dads to fix things
Without any small parts, safe for small kids to play
Help develop eye-hand coordination, fine motor skills
Can teach toddlers to learn about the different tools
screwdrivers can make sounds increase more pretend fun
Perfect size for small hands to handle
With a toolbox can keep tools organized
---
Fisher-Price S'more Fun Campfire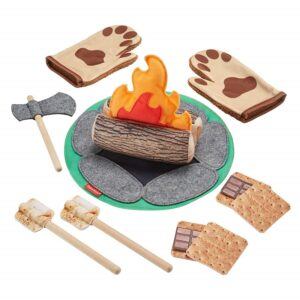 Get ready for exciting camping adventures with the Fisher-Price  S' more Fun Campfire role playset!
Your little campers can "chop" the wood with a felt axe, "roast" some tasty s' mores, gather around the campfire to enjoy a lovely picnic with some chocolate and graham crackers.
Wear fun bear paws pretend to be a hungry bear, roaring and chasing! The Fisher-Price camping toys encourage your preschoolers to act out different exciting camping stories.
Recommend for Ages 3 Years & Up
Why Recommend Fisher-Price S'more Fun Campfire
With real wood pieces and soft fabric accessories provide children with safe pretend camping play experience.
Help kids to learn about sharing and taking turns
Spark kids imagination
Provide lots of role-play fun for kids
Encourage toddlers to develop social and communicate skills
Come with a gift box
Great indoor toys for winter or raining day to keep kids busy
---
Fisher-Price Laugh & Learn Sweet Manners Tea Set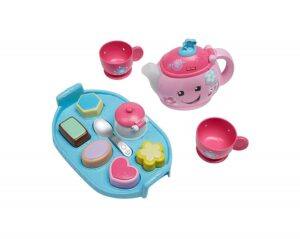 It Tea Time! Give your toddler a Fisher-Price Laugh & Learn Sweet Manners Tea Set dive right into role play fun.
Feature a teapot, two teacups, a sugar bowl, a spoon and a tray full of puzzle-play "treats", This cute tea set provides fun interactive time for your toddler and their friends. Variety play pieces make great pretend toys for toddlers.
As your tiny tea lover "pour" out their tea, the spout magically lights up and plays fun sounds, songs and more that let the pretend play full of fun for hours. For more exciting songs just simply press the tea bag button.
There are ​ three exciting Smart Stages levels for your child to explore the learning fun as they grow
Recommended for toddlers ages 18-36 months
Why Recommend Fisher-Price Laugh & Learn Sweet Manners Tea Set
Fun and adorable tea set keeps kids engage in roles play
Light-up teapot brings more fun
​30+ songs, sounds, tunes & phrases teach toddlers advanced shapes, numbers, manners, and expanded vocabulary
Variety play pieces encourage kids to play together to help develop communication skills, learn to take turns
Sizes are right for small hands
Safe for toddler play
Different shape "treats" can sort on the puzzle tray, help develop sorting and matching skills
Guidelines for Choosing Pretend Toys for Toddlers
Choose age-appropriate pretend toys.
Take your toddler interest into consideration.
Look for pretend toys that will grow with your child.
Select items that are child-size to bring the play to life.
Find pretend toys that are integrative and encourage kids to develop social skills.
Select pretend toys that spur creative play, encourage exploration and problem-solving.
Give your toddler the pretend toys that look like the real thing.
(Some of the links within this post are affiliate links of which I receive a small compensation from sales of certain items, There is no additional cost to you.)
P.S.
To know better how pretend toys can help your toddlers develop in different ways, Check Here