when I was a kid, I loved the kitchen pretend game so much and I am still very excited when I see the kitchen playset,  imagine that if I have the fancy toys like nowadays when I was kid, I would definitely feel living in heaven. Sometimes I like to buy my nieces the cute cooking toys and play with them. That is a great entertain time. My little nieces 1-year-old birthday is coming soon, I was thinking to buy her a Kitchen playset for her birthday present. So I have done a research about the best kitchen playsets for toddlers, I share them below, which are my top choices and chosen by most of the parents. (Some of the links within this post are affiliate links of which I receive a small compensation from sales of certain items)
---
Best  kitchen  playsets For Toddlers  – Plastic 
1. Step2 Fun with Friends Kitchen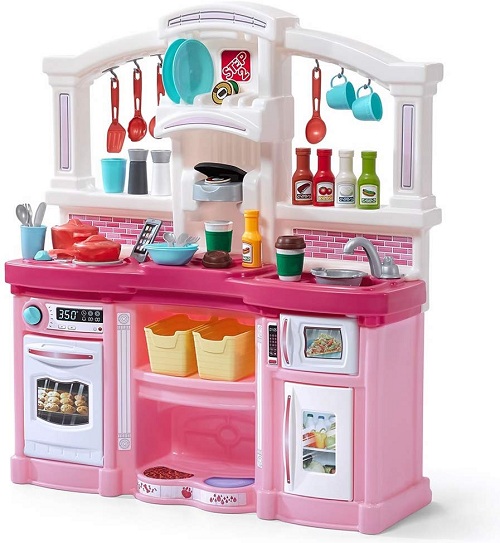 At first, I was attracted by its adorable pink color,  but when you look into it, this kitchen playset does have so many other fun functions. Let 's see what it includes:
Keurig style coffee maker.
Stove with Realistic lights and sounds
Realistic refrigerator, oven, and microwave.
Loads of Storage Space
Pet food area
Kitchen accessories including plates, bowls, cups, forks, knives and spoons, salt & pepper shakers, colander, pot & pan set
Made of BPA free sturdy plastic, size of 12.5 x 35.8 x 41 inches, good size for little ones to have the fun game of cooking or restaurant with their friends. This size will not be too high for the 1-2-year-old.
Pros:
The Salt and pepper grinder, the battery-operated stovetop, the knobs that click makes the game more interactive.
The doors of the appliance can be opened and closed
Come with enough durable cookware/Dinnerware.
The pet area with food/water bowl is cute
The assembly directions are easy to follow
Cons:
There is no holes on the product, some of the screws are difficult to fix into the plastic, with a DRILL will be more easy to assemble it
---
2.

Little Tikes

Role Play Kitchen & Activity Set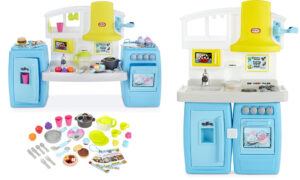 This Kitchen set has 2 modes to play, you can build it into a shorter or taller set up depending on the child's age. This feature is awesome, for example, I have  2 nieces, the young one is going to be 1 year old, and the big sister is 5 years old.  and this playset can entertain both of them. Another selling point is that there is a phone holder can film your child's creations, well, for me, I think this is useless.
Product Size open: 46.75"L x 14.75"W x 32.50"H
Stage 2-kitchen compacted size  : 26.50"L x 13.75"W x 41.75"H
Pros:
Comes with 40+ pieces of food and accessories
Includes 3 pretend play recipes
Featuring realistic oven, fridge, and the stovetop
Cons:
The stovetop can not make sounds, make it less interactive
---
Best  kitchen  playsets For Toddlers – Wooden 
1. KidKraft White Vintage Kitchen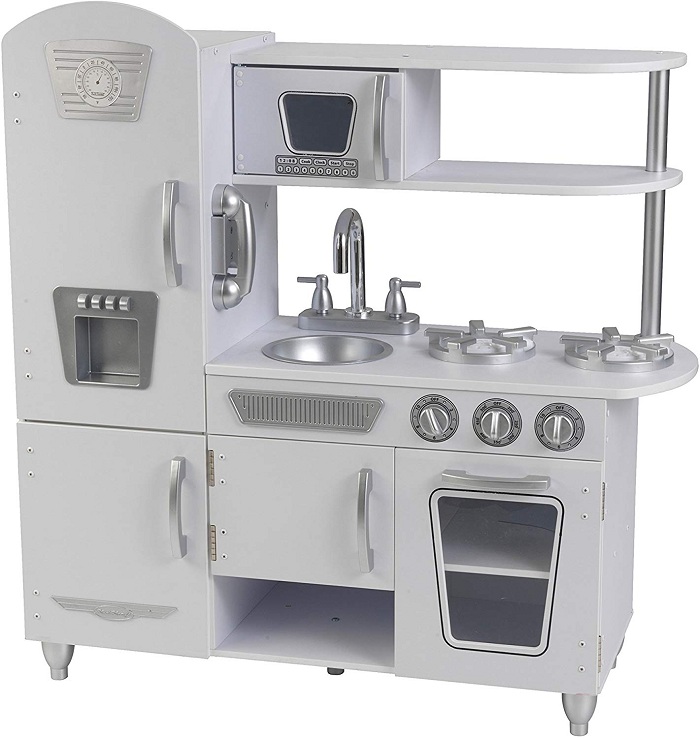 Made of composite wood, molded plastic and some metal this white kitchen set looks so cute and elegant,  just like a mini real-life kitchen. Large enough for multiple young kids to have a cooking party. Come with Refrigerator, freezer, microwave, cabinet and oven, Cordless phone. There are also many cool features compared with the plastic one I introduced above, but of course, this set is more expensive.
Size: 33 x 11.7 x 35.7 inches
Pros:
Oven drawer slides in and out
Turntable in the microwave rotates 360°
See-through windows on both the microwave and the oven
Knobs that click and turn
Cons:
The instruction not clear enough, take time to assemble it
Without play cooking accessories
Click Here to Check More Reviews
---
2. KidKraft Ultimate Corner Play Kitchen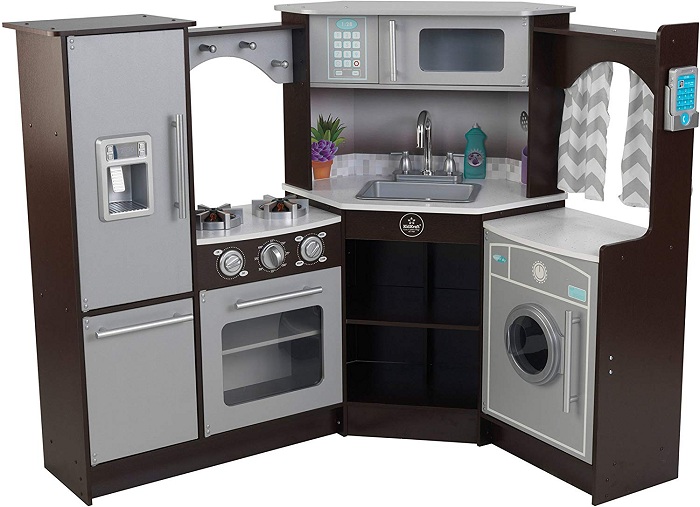 Crafted from composite woods, This modern design kitchen playset with numbers of interactive features like a sink with faucet and taps that turn, fridge, freezer, microwave, oven and dishwasher doors all open and close, battery-powered Stove-top burners, Icemakers that can make sound and lights, and the knobs click and turn which complete the realistic kitchen experience. And What I also like it's specially angled design, it saves space in the play area while big enough for multi kiddos to have hours of cooking fun.
Size: 42.5 x 32.5 x 36.8 inches
Pros:
Sturdy, Dark wood motif looks very nice and neat
With lots of storage space for play food and accessories,
Tons of interactive features
Cons:
If you are not good at assembling, that will be a huge mess for you, most people spent hours to build it
Expensive
Not including cooking accessories
Changing batteries burners/ice maker need to disassemble a bunch of stuff
Click Here to Find More Detail Images
---
 What are the benefits of kitchen playset for children's development?
Pretend play reflects a critical feature of the child's cognitive and social development.  Over the years, researchers have identified the values of imaginative play as a vital component to the normal development of a child.
The little one can role play with their friends, they can communicate with each other and react from what the other person said or did. A great way to develop  language and Social skills
The kitchen playset provides the young child with different ways to practice their motor skills, like grasping and using small accessories and utensils, opening and closing doors, and turning oven knobs
Help toddlers to understand how things working, like need to turn on the stove knobs to cook, it also allows them to think through problems and craft solutions like trouble closing the refrigerator door when too many items are placed inside.
Which Play kitchen you would like to choose for your toddlers?  Share them in the comment section below.:)
You may also interested in Top 5  Outdoor Tents For Kids, Click Here to check the Complete Review.