Trying to find ways for your 2-year-olds to learn how to count in a fun and engaging ways? To make it easier for you, I have round up here a list of counting toys for 2 year olds which jump start your child's education. (Some of the links within this post are affiliate links of which I receive a small compensation from sales of certain items)
---
#1 Correcting Number & Learn to Count Puzzle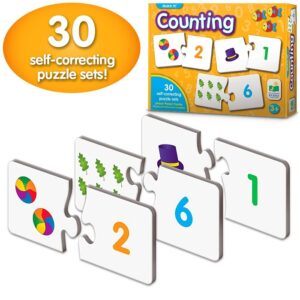 The puzzle set includes 30 counting puzzles cards. Each card with the numbers of objects that associate with the matching answer. The combination of pictures and numbers provides the toddler with a fun introduction to mathematics and the concepts of number and object recognition (cat, trains, etc.) and counting.
Pros:
Each puzzle are unique, only the correct puzzle fit together makes it easy for 2 years old kid play, and ideal way to boost their confidence and develop counting skills
Large and sturdy and easy for small hands to put together.
---
#2 LEGO DUPLO My First Number Train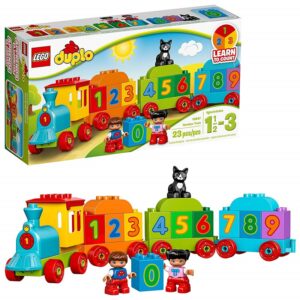 Kids love LEGO! The DUPLO My First Number Train set is the perfect way for toddlers to start playing with legos. The square bricks decorated with numbers 0 to 9 are the perfect ones to get introduced to numbers and counting.
Features a buildable locomotive and three wagons, your little one can build and rebuild the colorful building kit while role-playing with the DUPLO people and animal figures, which helps in the development of creativity, fine motor skills, coordination. This set contains 23 larger pieces that are safe and easy for tiny hands to hold.
Suitable for ages 1½-3 years
---
#3 Melissa & Doug Numbers Sound Puzzle
 
The number sound puzzle board with 21 pieces of wooden puzzles makes a great educational toy for young kids learning to count. Match the puzzle to the right place, it will pronounce the name of each number, it helps with number recognization, and improve matching and listening skills.
The puzzles are designed a little higher above the puzzle board for grasping. There are colorful matching objects under each piece help understand the relationship between quantities and numerals.
AAA Batteries required
---
#4 Montessori Stacking Math Shapes Puzzle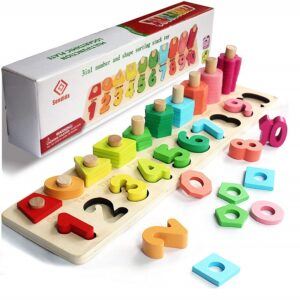 Feature various colors, shapes, numbers, this 3in1 shape sorting puzzle set provide a full learning fun for toddlers. They can sort and stack and learn to identify and match shapes and colors. It is good for hand-eye coordination, fine motor skills development.
Parents can teach the little one numbers with Montessori educational philosophy, match the numbers into the corresponding counters with the exact same color, so all that is focused on would be learning the actual digits.
---
#5 Peg Number Boards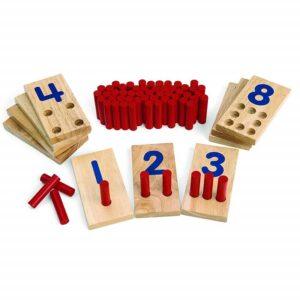 Picking up the pegs and one to one correspondence to the number identification, The Peg Number Boards will provide hours of fun and is ideal for beginning to understand number concepts and counting.  The pure joy of 50 pegs for tiny hand to manipulate,  lining up the wooden peg holders, putting all the pegs in the holes and then taking them out, A great practice for fine motor skills.
---
#6  Mini Muffin Match Up Counting Toy Set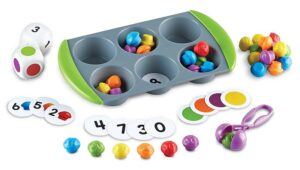 The Mini Muffin Match Up provides different fun games for kids learning early math skills. Picking up the 60 muffins using the Squeezy Tweezers to build fine motor skills and eye-hand coordination and learn about the sorting.  Making your own game by rolling the dice or switching out the twelve double hard paper circles feature various colors and numbers. It will be a good parent-child educational toy.
---
#7 Count & Learn Piggy Bank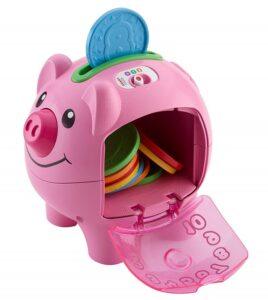 The Piggy Bank features 2 smart levels of play, It is a great introduction to counting, colors, Spanish through a variety of developmentally appropriate songs, phrases, and sounds. Includes 10 colorful coins feature animals on one side and numbers on the other.
Drop coins into the Piggy's back, take them out, press the silly piggy's snout, kids will enjoy so much fun of it. Parents can expand the play like giving your toddler suggestions such as, "Can you show me all of the red coins?" "Can you count how many red coins are there?"
---
 #8 Smart Counting Cookies Toys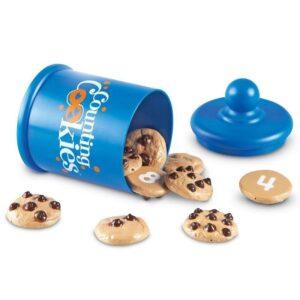 The Cookies Toys Set includes a plastic cookie jar containing 11 cookies with numerals 0-10 printed on the bottom and corresponding number of counting chips on top. Teach your young kids to count the number of chocolate chips on a cookie, flip it over, and see that amount expressed as a number. A fun educational toy for toddlers to understand the relationship between quantities and numbers.
These tasty-looking cookies spark children's creativity in the play kitchen. They can pretend to bake, or feed their barbies and baby dolls!
---
#9  Frog Balance Counting Toys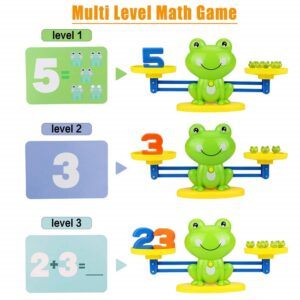 The Frog balance counting toy set includes 30 double-sided cards, 19 small frog figurines, digital modal 1-10, provide multi-level math games for young kids. It is an ideal math teaching tool for parents, teachers. The fun frog shape can stimulate kids' curiosity and build up their interest in learning numbers and counting through the balancing game. The toys are made of safe, non-toxic materials.
---
#10 Counting Bears with Coordinated Sorting Cups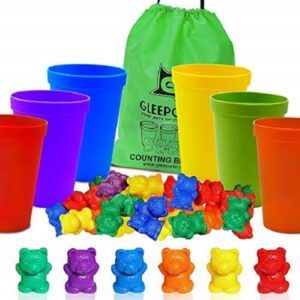 The set comes with 60 colorful bears and 6 matching colors sorting cups. It will be a great educational game toy that includes sorting and counting activities for toddlers, preschoolers to help understand abstract mathematical concepts and improve cognitive development.
The cute bears can also be used as bath toys which make for one amazing addition to your child's learning toy collection. It comes with a storage bag helps you quick clean-up and neat storage.
Last Words
Don't consider math is a rigorous drill, worksheets or fact families for a 2-year-old.  A hands-on sorting toy or counting toy can help them understand the math conceptual. When they are sorting, they are organizing information and making decisions about data. Now get your toddler a counting toy to unlock a magical world of thinking!