Fine motor skills refer to the control of the small movements using hands, fingers, thumb. The small task like handwriting, fasten buttons, sewing, grasp small items require the engagement of fine motor skills. It seems a natural movement for adults, but it is a milestone development for babies, toddlers. How do we help children develop fine motor skills? The trick is " Practice makes perfect". As parents or caregivers can help this process by encouraging children to play, explore and interact with different types of toys.
Here is a variety of fine motor skills toys for toddlers that can help develop the pincer grasp, practice eye-hand coordination, finger dexterity, and more. (Some of the links within this post are affiliate links of which I receive a small compensation from sales of certain items)
---
#1 Teachable Touchables Texture Squares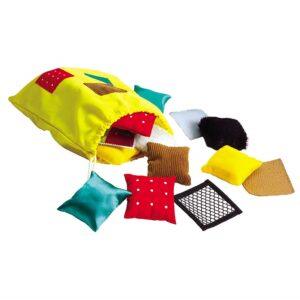 It is essential to having accurate tactile perception for the child to develop good fine motor skills. Tactile perception also calls touch perception, involves a complex connection from the nerves that supply the skin to the brain. If children with poor touch perception, it will affect them to hold small items. For example, they may be clumsily using a fork or may hold a pen really tightly to help them "feel" the pencil better.
There are many nerves on our hand, encourage babies or toddlers to play with a variety of texture toys can help the hands to explore the different tactile sensations.
The Teachable Touchables Texture Squares Set includes 20 Pillows and patches in 10 pairs of different textures. Scratchy, slippery, silky, or soft? The little one can build tactile awareness when they interact with these hands-on items. It also comes with a storage bag and an activity guide that includes matching, descriptors, and tactile discrimination.
---
#2 Learning Resources Trace Ace Scissor Skills Set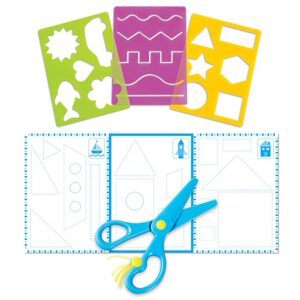 Another important base for fine motor skills is hand function. To control pencils and other small objects and tools, the hand and finger need to work well together. Providing your toddler lots of opportunities to get the hands and fingers working together will improve fine motor skills.
Cutting with scissors is a great way to help a child to build hand function, improve hand strength and finger dexterity.
The Learning Resources Trace Ace Scissor Skills Set comes with 3 basic shape stencils, 1 pair of safety scissors, and 3 pages for coloring and crafting, provides a fun way for kids to practice scissor skills and develop fine motor skills. Trace with stencils, color, and cut the pieces with the safety scissors helps with the hand strength and coordination. The included blank coloring sheets also encourage creative crafting fun, follow the line to cut out the needed pieces and create their own sailboat, house, or rocket!
---
#3 Cubic Activity Learning Toy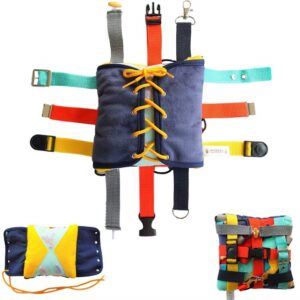 To help the child develop fine motor skills, we also need to know a phrase call Bilateral Coordination, It is the ability to use both sides of the body together in a coordinated way. Many fine motor activities such as playing construction toys, tying shoelaces or eating a knife and fork require both hands to work together well.
The Sensory Buckle Pillow with a variety of practice activities that encourages your child to coordinate both hands together, including buckles, lacing, clasps, buttons, threading, matching, shoelace tying and more. It is a great fine motor skills toy for the toddler to play at home or on the way.
---
#4 Coloring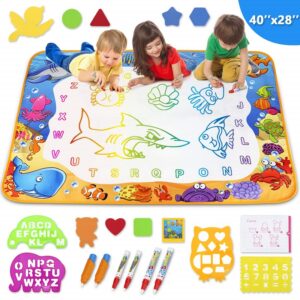 Children usually show interest in coloring at the age of 2 1/2-3 years old. Giving them small crayons or drawing toys that fit their little hands can encourage them to draw and practice holding pen skills.
Click Here to check a list mess-free drawing toys for toddlers
---
#5 Ring toss game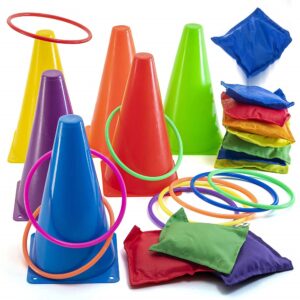 Most movements require both large and small muscle groups. Poor core stability, weak shoulder girdle muscles, weak hand muscles, and poor coordination skills can affect the finger and hand movement ability.
Giving your child the activities that can practice the shoulder and hand muscles will good for fine motor skills. Like throwing a bean bag will use the finger, hand and shoulder muscle at the same time.
The Pretex 3 in 1 Ring Toss Game Set will provide your toddler hours of fun no matter indoor or outdoor. It comes with 10 bright color plastic rings,10 bean bags, and 6cones. Stacking cones, tossing bean bags and rings, Matching color, That will help strengthen the gross and fine motor skills, develop eye-hand coordination.
---
#6 Finger Puppets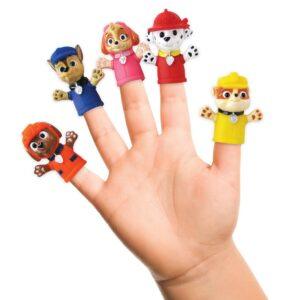 Finger Puppets are great fine motor skills toys for toddlers to understand each finger is independent. Children can learn to create their own stories using their imagination, and they can also practice finger dexterity during playing.
---
#7 Fine Motor Tool Set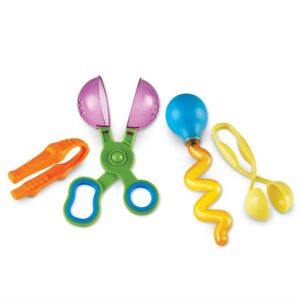 This Fine Motor Tool Set includes Gator Grabber Tweezers, Handy Scoopers, Twisty Droppers, Squeezy Tweezers. These are great to incorporate in play with lots of different items, like sensory beans. It helps toddlers develop fine-motor skills and build little hand finger muscles needed for writing.
---
#8 Color Matching Mosaic Pegboard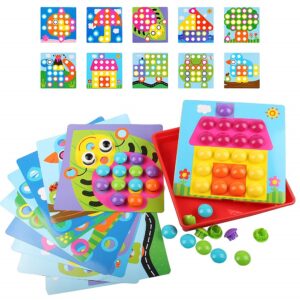 Match and snap the chunk nails to the illustrated pattern cards to complete the picture. A great playset to develops your children's fine motor skills, hand dexterity, finger strength, color recognition, and sequencing ability.
Last words
It is important for children to develop fine motor skills. During the preschool year, being able to color with crayon, playing with different items, build a lego set, make craft works with scissors, these are essential development for your child. To keep up with their peers in these activities, the preschool needs to use their finger and hand muscle in a coordinated way. Many daily activities such as feeding themself with a folk, tying shoelaces, require fine motor control. If children fail with these activities they will feel frustrated and may affect their confidence building when they can't keep up with peers.
When the children get a good development of fine motor skills in the early year, It will enable the child to learn handwriting with a minimum of effort when the formal school year comes.