When kids stay at home, we would like some activities to keep them occupied. Electronic products did can keep kids entertained for hours, but does it beneficial for children's development? How about providing your kids some craft kits to keep them busy while sparking their creativity? DIY craft is a good way to practice motor skills and develop problem-solving skills. Let's jump into the top  DIY craft kits for kids that are perfect for making DIY crafts together or on their own.
---
Air Dry Modeling Clay
This Modeling Clay Set contains 24 colors of air-dry clay that allows you and your kids to create any shape. The clay is very lightweight and soft for kids to model easily. It will dry naturally in 5-24 hours, no oven is needed.
It also comes with 3 clay tools use to cut, shape and design, and a tutorial book with more than 50 kinds of common shapes, foods, and cute animals. That allows young kids to imitate and that can improve their confidence after they create a model. And gradually they start to create their own work independently.
Kids can create more colors by mixing any two colors of clay which will help them master color recognizing, mixing, and matching.
Features:
Soft and smooth
Naturally Dry
No odor
Very lightweight
Doesn't crack, fade
The Sago Brothers Air Dry Modeling Clay got very high rates from many customers. Follow are some pics of the work that some buyers shared.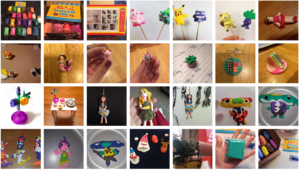 ---
Learn to Sew DIY Craft Kit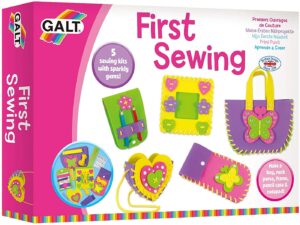 When looking for DIY craft kits for young kids, it is important that the kits are easy for them to use, as they usually get frustrated easily. The Galt First Sewing Kit is perfect for kids to create their own crafts.
The sewing set included:5 sewing kits(butterfly bag, neck purse, picture frame, notepad cover, and pencil case), cord, plastic bodkins, stick-on gems, notepad, 2 pencils, guide. It is a great introduction to stitching for kids.
The sewing kits are made of high-quality pre-punched foam and with an easy to follow instructions, Kids can finish the work easily. While they are engaging with the sewing fun, they are developing hand-eye coordination, focus, and the ability to think creatively. It is also a great way to boost their confidence.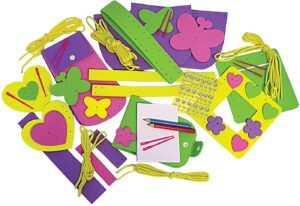 Features:
Vibrant color
pre-punched
Ready cut shapes
plastic needle
---
Dinosaurs Arts Painting Kit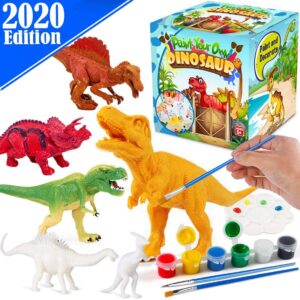 This dinosaur painting kit will be a hit for those dinosaur obsessed kids. With 7 types of paintable dinosaurs and a set of painting kit, kids can enjoy the fun and excitement of arts.
The dinosaurs are made of high-quality ABS plastic that can last for a long time. It comes with 4 large dinosaurs and 3 small sizes, but all are good for little hands to hold.
The painting kit includes 3 pieces of brush, 1 color mixing pad, and 2 sets of paint. So you kids can enjoy the DIY arts with friends. The paint is eco-friendly and can be washable. Kids can repaint the dinosaurs again and again.
Features:
Water-based and non-toxic painting
Well made dinosaurs
2 Player set
Painting with the dinosaurs can keep your kids entertained for hours, and it encourages them to communicate their emotions and feelings through their art.
Click here to Gift Your kids this Dinosaurs Arts Painting Kit
---
DIY Sand Art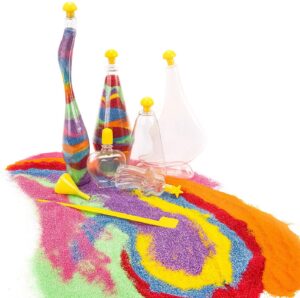 This Create Your Own Sand Art Kit is a cool indoor activity for kids. With vibrant colors of sand and different shapes of bottles, Kids can create personalized designs.
The set comes with everything your kids need to meet their imaginative play. It includes 5 Sand Bottles, 2 Pendant Bottles, 8 Colors of Sand (3.5 oz each), Satin Cord (1.5yd), 1 Plastic Funnel, Design Tool, and an instruction that is easy to follow.
The bottles are made of plastic so it is not easy to break.
Kids can experience the sensory play and learn how to layer colorful patterns by fill bottles with varied color sand.
Features:
Colorful
Sensory play
Different shape of bottles
---
DIY Slime Kit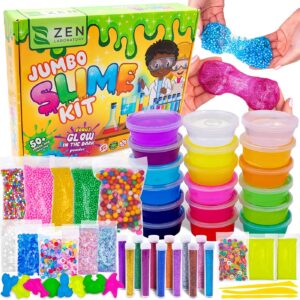 If you looking for DIY craft that will extend the playtime of your kids, go with the hot DIY Glitter Slime Kit, which comes with over 50 different items that provide endless creative options for your kids.
Unlike some other slimes, this slime kit is without borax. It is water-based that makes it safe for kids to play. The slimes are pre-made which left less mess for you to clean up after kids finish playing.
Use the utensils to cut different shapes, squish, add some glitter, beads, and then make it glow,  The slimes will provide hours of art creating fun for your kids, and it also helps to release stress.
The kit includes:
18 different colors of ready-made slimes
3 cutting/shaping utensils
2 plastic straws
12 vials of colored glitter
2 bags of sugar paper
3 bags of beads
6 bags of foam balls
Features:
Borax free
Safety Tested
Full accessories
Ready-made slime
Reusable
Click Here to This Hot Slime Kit for your kids
---
Diamond Painting Stickers Kit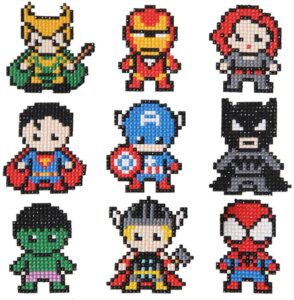 This superhero diamond painting stickers kit is a great DIY art craft for kids to practice fine motor skills, hand-eye coordination, and cultivates patience.
It comes with different kinds of superhero characters: Loki, Ironman, black widow, Superman, capt America, Batman, Hulk, Thor, and Spider-Man.
It includes all you the tools your kids need to fulfill a classic artwork. Use the pen to stick the diamond onto the corresponding canvas, then it becomes a superhero sticker. Kids can sit down and do them alone without being overwhelmed.
Features:
5D colorful diamonds
Adorable superhero characters
Easy to complete
Click Here to Get this DIY Diamond Art Stickers Kit for Your Kiddo
(Some of the links within this post are affiliate links of which I receive a small compensation from sales of certain items, There is no additional cost to you.)