Water activities can keep toddlers engaging and help them grow and develop in many ways. Summer is around the corner, It is time to stock up some water toys to encourage your kiddo to go outside enjoying unlimited water fun and learning new things. Check out the following cool outdoor water toys for toddlers to have fun and cool off from the hot summer sun.
---
SplashEZ 3-in-1 Sprinkler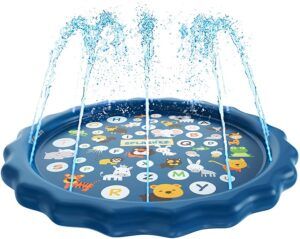 Looking for water toys to entertain your little one and get relief from the heat? I recommend the SplashEZ inflatable pool which is not only fun but educational.
The Sprinkler is made of BPA free soft plastic and has passed the safety standard. That is an important factor when it comes to choosing toys for toddlers. With colorful and cute animals and letters printed inside the pool, it creates a small learning water park for your kids.
With a spacious 60" diameter, It is large and durable enough for few kids to splash. Adults can also join the water fun and cherish the moments with kids in your backyard.
How to use:
Simply lay the splash pad out, hook it to a hose, and turn the water on and the fun began.
Most asked question:
What happens if you turn off the hose while still using the pool? Does it deflate?
Answer:
When you turn on the water the outer rim of the pool gradually fills with water, once full – the sprinklers kick into action.
When you turn off the water the sprinklers will stop working but the outer rim will still have water inside.
Thus keeping the shallow water of the pool from going out and allowing the kids to continue splish, splash and play. The outer rim can also support a sitting toddler.
Click Here to Check Deals on Amazon
---
Foam Water Blaster Set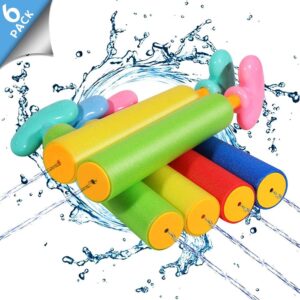 Ready for a water gun fight with your kiddo? Pick this child-friendly foam water blaster set, and invite your family, friends, or neighbors to join the battle games.
The foam guns feature lightweight and good power, and with the perfect size for small hands to hold, that will encourage toddlers to play with it for hours. When they pull the foam water gun again and again, their fine motor skills and hand strength are developing.
The foam gun water set is portable, can be used at the backyard, swimming pool, beach. It is a great fun water toy to motivate kids to go outside instead of staying with the screen.
And it comes with 6 pieces that make a great parent-child interaction toy. You can enjoy the family hour with your kids with these fun water guns. Or kids can play with their friends, it is a great way to help them develop social skills and language development.
Size: 10.24" long,
How to use:
Just dip the nozzle into water, pull the handle to fill the most water into the foam water gun. Push forward, it can shoot water up to 30 ft.
Click Here to Stock up this Fun Water Blaster to Cool off the hotSummer with Your Toddler
---
Melissa & Doug Splash Patrol Sprinkler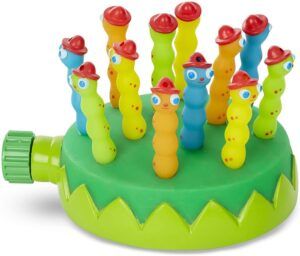 This Splash Patrol Sprinkler is so adorable. With cute worm squirters designs and gentle water spray, your toddler will have so much fun during the hot weather.
It is made from safe, durable plastic. Simply connect it to a hose, and turn on the water,  outdoor water fun began. The height of the water streams is perfect for toddlers, the streams is gentle so kids can play in the water safely.
Now Click Here get Melissa & Doug Grub Scouts Kids' Sprinkler for your toddler to round out the entertained, screen-free play experience
---
Little Tikes Fish 'n Splash Water Table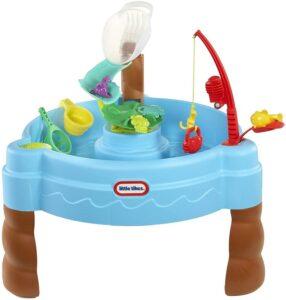 This water table is perfect to put at your backyard and allow your little one to enjoy a day of fishing game.
It comes with 10 cute accessories:  fishing pole, 5 floating critters, water cup, and fishing net. Kids can pretend to catch the fish, pour water to the fishbowl and watch it come splashing down or use the launcher to fling the critters onto the spinning lily pad in the center of the table! It is a great way to develop hand-eye coordination and fine motor skills.
The splash water table is with the right size for toddlers and big enough for a few kids to enjoy the fun water activities together. Playing water toys with other kids helps your toddler cultivate social skills and learn to share with toys with each other.
You don't need any tool to assemble this water table. It can hold up to 7 gallons of water.  Recommend for kids age 2 years up.
Click Here to Gift this Outdoor Water Table for Your Little One
---
Melissa & Doug Spark Shark Fish Hunt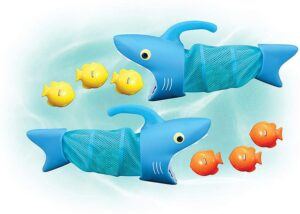 This funny Shark Fish Hunt Toy Set is an ideal gift for toddlers. With 2 big shark nets and bright color fishes, It provides lots of play ideas for your toddler to discover.
The shark nets with a child-friendly handle, young kids can grasp the net easily and scoop up the fish toy. Race with friends to see who got more fishes, counting ]fishes that catch, This fun fish hunting games will keep kids engaged, and inspire imaginative play.
This water toy set is portable and lightweight, you can use it as your child's bath toy or take it for vacation and keep kids busy in the swimming pool.
Last Words
Whether children or adults love water activities during summer. But please keep an eye on your toddlers when they engaging in the water games. Water safety always comes first.
(Some of the links within this post are affiliate links of which I receive a small compensation from sales of certain items, There is no additional cost to you.)