It seems construction vehicles have magic that can appeal to every little boy. Construction vehicles will be a great choice to grow their imagination while having tons of fun. There are so many kinds of vehicle toys on the market, and it can be challenging to select the best one for toddlers. With the below list recommendation of the top 4  construction vehicles for toddlers, you will get something worth for your little one. Looking for toys for your trucks obsessed toddlers? Check here the list of recommendations of the top 4 construction vehicles for toddlers. (Some of the links within this post are affiliate links of which I receive a small compensation from sales of certain items, There is no additional cost to you.)
---
TEMI Construction Vehicles Transport Truck Carrier Toy
The TEMI Transport Truck Carrier Toy will be a great gift for toddlers age 1+. It comes with a big truck and 4 mini construction vehicles that will entertain your child for hours.
The big truck can make realistic whistle sounds and light, which can catch toddler's attention easily. The whistle can last for about 8 seconds.  The cab can be turned and detached from the trailer. There is a flap that can be turned over at the rear of the big truck, and it can be turned into a ramp to transport vehicles just by opening the flap downward.
The 4 mini engineering vehicles including an excavator, a mixer, a crane, and a dump. They are designed for small hands. Feature movable parts that spark children's imagination.
Each vehicle has frictional power, just push and go.
FAQs:
Will the sound it makes continue and be noisy?
— Every time you press the button, the whistle will only last for about 8 seconds, don't worry about it making noise.
Does batteries included?
— Sound and light are powered by 2*1.5V AA batteries (Not included.)
Why recommend TEMI Construction Vehicles Transport Truck Carrier Toy?
The car is of good quality and big enough for the children to have fun.
All the vehicles have friction power.
The big truck can make sounds and light.
The small construction vehicles are realistic looking and do not require any battery.
The cars are a great size for little hands grab and is sturdy enough with no odor.
Helps enhance toddler hand-eye coordination and early STEM development education.
---
Green Toys Construction Vehicle

Kids love toy trucks as they come with different functions, moving parts. As parents want to ensure providing toddlers safe toy vehicles that give them lots of fun and learning. The Green Toys Construction Vehicle set made of  100% recycled plastic with no BPA, phthalates or PVC, will be the perfect gift for any toddlers who love trucks.
This fun set comes with  3 detailed and colorful work construction vehicles: a blue dumper with a yellow open-box bed, an orange scooper, a yellow mixer with a green revolving drum.
With no batteries requires, it will be fun to watch your kiddo push them forward, let them go. And each truck with a moving part, and each comes with a bulldog figure, which brings more fun and encourages pretend play.
Many parents love that the toys are really well made and can stand rough play. Some of the parents bought these construction vehicles for the sandbox, and their children have enjoyed it.
Each vehicle approximately 6″ long. With a smooth surface and round corner, they are perfect for the small hands to hold.
FAQs:
Are these toys friction-powered?
–No, they are not.
What is the size of the trucks?
–The trucks are about 6″ to 6.5″ x 4.5″ X 4.5″.
Can these trucks play on the beach?
–Yes, they are great for indoor and outdoor.
Recommended age?
— Ages 2+
Why recommend Green Toys Construction Vehicle?
Made in the USA from 100% recycled material.
Phthalates, PVC, or BPA Free.
It is lightweight while sturdy enough last for years.
Toddlers will love the bright color and the moving parts.
Helps your toddler develop their fine and gross motor skills through interactive play.
Comes with adorable figures that encourage your child to engage in storytelling, imaginative play.
Consist of 3 different vehicles, your child can play independently or share with friends or siblings.
It's easy to clean, and dishwasher safe.
Perfect for indoor and outdoor play, can be played in a sandbox.
Find More Parent's Comments Here.
If your little one also a fire truck fan, check here.
---
LEGO DUPLO Construction Truck & Tracked Excavator  Building Site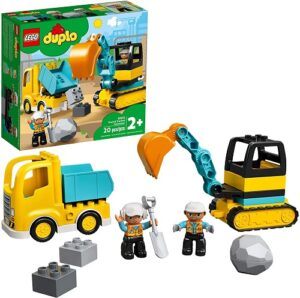 If your children love  Duplo Legos and construction things, The LEGO DUPLO Construction Truck & Tracked Excavator  10931 Building Site Toy is a great gift option, allow them to build their own construction vehicles and play with it.
This fun construction building-site set is a lot of fun for small children ages 2 and above.
Once built, your child will get a push-along excavator that has a rotating cabin and adjustable shovel, and a push-along truck with tip function.
The set also comes with a toy boulder that kids can open up, and 2 construction workers figures. Children can pretend to scoop the rock,   dump, or do the construction work.
Toddlers ' fine motor skills and problem-solving abilities develop as they building the truck, taking apart, and building it again. It allows them to explore open-ended play while having hours of fun.
FAQs:
What are the measurements of the boulder? Recommended ages?
-When shut, the boulder measures about 1.7" x 1.6" x 2"! This set was designed for kids aged 2 and up.
What are the measurements of the truck and excavator after built.
-The truck measures over 4" (11cm) high, 5" (14cm) long, and 2" (7cm) wide, and the excavator measures over 4" (12cm) high, 7" (18cm) long, and 2" (7cm) wide.
Why Recommend LEGO DUPLO Construction Truck & Tracked Excavator  Building Site?
Perfect gift for toddlers who are obsessed with construction vehicles and LEGO buildings.
Building blocks help develop preschoolers' fine motor skills and problem-solving abilities
Without small pieces, these truck blocks are easier for small kids to work with.
It is easy for young children to assemble and a wonderful complement to other Lego Duplo sets.
Comes with cute construction worker figures provide more pretend play fun.
---
Coogam 4 Pack Friction Powered Construction Vehicles Toy Set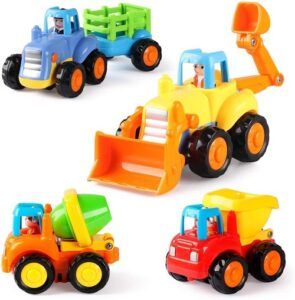 This colorful Construction Vehicles Toy Set will be a hit for young children aged 18month above.
The set includes a cement truck with a mixer that can rotate up and down, a dump truck with a rotating car hopper, a bulldozer with a flexible movable arm, a farm tractor with a carriage that can carry small items.
All the trucks are powered by friction, toddler simply pushes the vehicle, they are powerful enough to move forward a long distance on the hardwood floor as well as carpet.
Parents love the cars are made of sturdy plastic, they are also fit perfect for small hand as well as easy to carry on the go.
FAQs:
What are the dimensions of the little trucks?
– cement truck (2.6 x 3.5 x 2.8 inches)
-dump truck (2.6 x 3.5 x 2.8 inches)
– bulldozer (2.8 x 9.3 x 5.9 inches)
-farm tractor with wagon. (2.8 x 6.5 x 2.8 inches)
    2. Are the wheels plastic or rubber?
– The wheels are made of plastic.
Why recommend Coogam Friction Powered Construction Vehicles Toy Set
The vehicles are well made and great size for young children.
Comes with 4 different truck toys that with movable parts.
Friction power that works very well over the carpet and rolls fast and far. It also helps kids learn about cause and effect.
Different shapes and colors of trucks can attack babies' attention easily and stimulate their visual development.
Grab the trucks and move the different parts of the truck helps with fine motor skills development.
Made from non-toxic plastic material, no sharp corners, and small parts. Great gift for young children.
Click To Add This Cute Construction Vehicles Toy Set to your Child's Toy List.