Pull-along toys may seem old-fashioned but they are actually great educational toys for toddlers. Pulling the string toy will engage lots of muscle, body coordination. Toddlers learn to grasp the string, pull it, and try to balance their bodies while walking. This series movement is easy for us, but it's is a big learning step for toddlers, that promotes many different aspects of their development: fine motor skills, hand-eye coordination, building confidence, physical movements. Are you ready to gift your little one this traditional yet fun and educational toy? Here is a list of the best pull along toys for toddlers that give you an easy find the best one for your lovely kiddo. (Some of the links within this post are affiliate links of which I receive a small compensation from sales of certain items, There is no additional cost to you.)
---
VTech Pull and Sing Puppy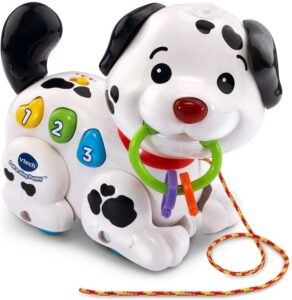 The VTech Pull and Sing Puppy is so adorable that can catch your baby or toddler's attention. It is a fun and interactive toy that design for babies and toddlers ages 6 months to 3 years.
The string is fun for toddlers that they can pull their puppy all around. The puppy can make a variety of songs and playful phrases that can keep kids entertained.
There are 3 colorful buttons on the puppy. Press the button, it can teach numbers, colors, and objects. And it also plays songs or asks a question. The puppy's legs, ears, and tail will move when pulling by the string, which is fun for toddler.
Many parents love it made of high-quality material that can withstand the rough playing by young kids.
The Pull Along Puppy requires 2 AAA batteries.
Music offers a joyful and rewarding learning experience and nurtures a child's imagination and creativity, and it's great helpful for toddlers' language development. The VTech Pull and Sing Puppy included 20 MELODY that provides your child an cheerful and learning time.
This Old Man
Bicycle Built for Two
Did You Ever See a Lassie?
Lazy Mary Will You Get Up?
Toyland
Bingo
Camptown Races
Take Me Out to the Ball Game
Oh Where Has My Little Dog Gone?
Old MacDonald
When the Saints Go Marching In
Skip to My Lou
One Man Went to Mow a Meadow
On Top of Old Smokey
I've Been Working on the Railroad
Home on the Range
Farmer in the Dell
Polly Wolly Doodle
The Alphabet Song
Yankee Doodle SUNG SONG LYRI
---
Hape Walk-A-Long Snail Toddler Wooden Pull Toy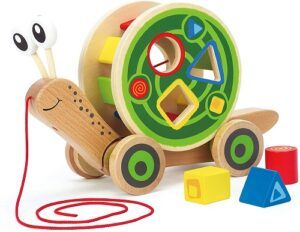 Features: 2-in-1 design
Size: L: 11.9, W: 4.4, H: 7.3 inch
Material: Wooden
Pull toys can help toddlers build confidence, they feel satisfied when walking with something behind them that they are in charge of. Hape Walk-A-Long Snail Toddler Wooden Pull Toy, The winner of the 2013 Play Advances Language Award and the 2014 Parent's Choice Recommended Award, will surely delight your little one.
The bright and colorful Snail Shell is removable and it is also a fun sort shape toy with 3 different holes: a blue triangle, red cylinder, and yellow square. Young children can learn to match the blocks into the corresponding hole. The other side of the shell is designed with an elastic-banded that is easy to open.
A beginner walker will find many ways to play with this Snail Wooden Pull Toy. They can pull or drag the snail around and making the snail's tail wag, and roll the shell on the floor.
Why recommend Hape Walk-A-Long Snail Toddler Wooden Pull Toy:
Made of sturdy and safe wood with no rough edges. The colors are bright and attractive.
Develops toddler's shape and color recognition and improves sorting skills.
Develop your child's fine motor skills.
The Snail Shell is removable and the tail can wave adding extra fun.
Your child will love to push or drag this cute sail toy around the house.
The shell and snail are easy to carry
---
LeapFrog AlphaPup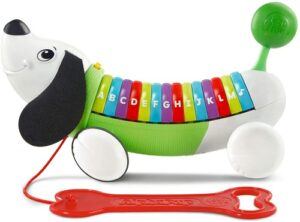 The LeapFrog AlphaPup will be a great hit for toddlers. It's a cute pull-along toy as well as a great educational toy that helps the little one learn about letters and words.
There are A-Z letters printed on AlphaPup's colorful sweater. When children press these colorful letter buttons they will hear letter sounds and names. It helps young children learning phonics and early vocabulary in a fun way.
It comes with a plastic bone shape handle attached to a string which makes it easy for the little hands to pull the alphabet puppy. When your children pulling the toy or press the bone button, it can play three learning songs. And your children will love the doggy waving its tail while on the go.
The AlphaPup's ear is made of soft velvet, it is soft to touch and fun to pet.
There is a sound switch button on the doggy's leg that you can turn up or down the volume.
Though some parents complain the string is a little short, their kid loves this cheerful and fun learning toy. You Can Click Here to Find More Parent's comments
Why Recommend LeapFrog AlphaPup:
Very sturdy and well-built toy that is educational and fun.
The cheerful sounds and interactive voice as well as the wiggly tail keep little ones entertained.
Helps build fine motor skills and hand-eye coordination.
Encourage toddlers age 12-36 months to explore the alphabet and vocabulary.
The volume that can be switched.
Children love playing with it.
I have 5 years of sourcing experience from the factory, especially in the toy category. I am familiar with the safety requirements, materials, and manufacturing techniques of toys. I hope to use my experience to help parents to find the best toys for their kids. There are many other pull-along toys on the market, but the three toys I selected above I think are a good choice no matter their price, Durability, Educational, and fun. If you have any questions please leave them below.