Kids love to play with water but sometimes they are unwilling to take a shower. How can you get your little girl excited about taking a bath? The first thing I think you should take well control of the water temperature. Second, you can bring some fun bath toys to make bath time more enjoyable. Bathtub toys can help kids spark imagination and experiment with water. Toddlers love to watch what floats and what sinks in the water.
The following bathtub toys for girls are recommended by parents as the most fun and well-loved bath toys for toddlers girls. (Some of the links within this post are affiliate links of which I receive a small compensation from sales of certain items)
1.  Mermaid Princess  Bathtub Toy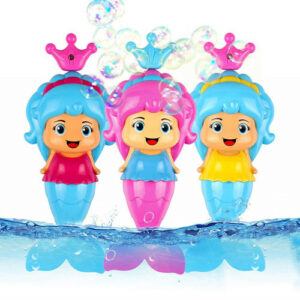 Girls love the princess. This mermaid princess is simple but will definitely bring bath time much fun, Just pull on the mermaid's crown and the mermaid tail will twirl and flap under the water which can help keep your kids entertained. I bought this for my nieces as a gift and they love it so much and they like to keep pulling on the string for the mermaid to swim. It is convenient to take it anywhere.
Brand: Conquer Baby
Where to buy: Amazon
2.  Fishin' Bath Toy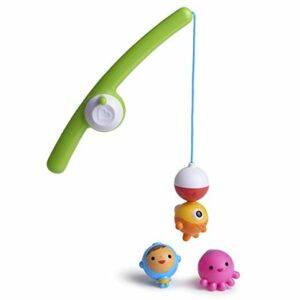 The rod with a magnetic fishing hook can easily pick up sea creatures, keep your little girl busy and engaged in the tub. When toddlers try to catch the floating toys, it helps with motor skills and hand-eye coordination. And it can also help them to learn the colors, parents can practice with toddlers to catch the blue, pink and yellow "fishies". The handle size is a well-designed size for toddlers' hands.
Brand: BABY LOOVI
Where to buy: Amazon
3. Floating Letters Animals Set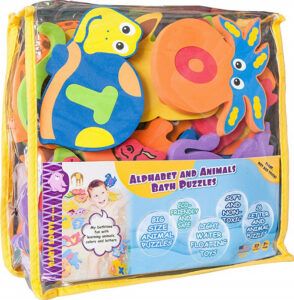 Are you struggle to get your kids for bath time? or you looking for a fun, safe, educational bathtub toys for your little girls. Well. I would recommend this foam bath toy. They come in assorted packs that include alphabet letters numbers, shapes, and all different sorts of animals to keep your child entertained. All the pieces are safe and no-toxic. Wet the foam letters and stick to the wall to keep the kids engaged in bath time. Parents can go through the alphabet together and talk about different animals, Kids can learn while also is helpful for Parent-child interactive. It can also teach your girls color matching and fine motor skills which will develop her mind and get prepare for school.
Brand: BABY LOOVI
Where to buy: Amazon
4.  Octopus Bath Bubble Maker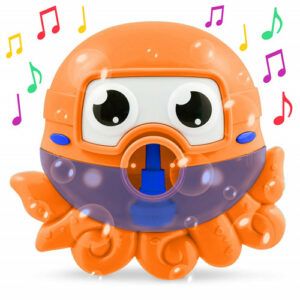 The octopus bath toy is made of safe, BPA-free ABS plastic, with 24 children's tunes. Just turn on the button, your little one can shower in bubbles and beats! The battery is well protected by a waterproof cover, to keep your toddler girl to have much fun with the bubbles and lovely songs.
Brand: CHUCHIK
Where to buy: Amazon
5. Stacking cups Bathtub Toy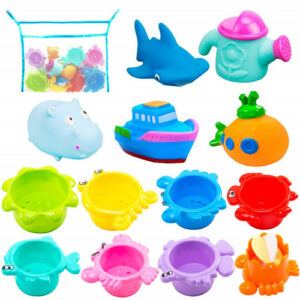 This set of bath toys with stacking cup, fish, boat come with an organizer net. Stacking up the nesting cups, pulling them apart and using them to scoop and strain the water in the bath will bring loads of fun for your toddler bath time, and it will improve their hand-eye coordination and imaginative. The unique and colorful design helps your kids learn about color, size, animals, shapes. It is easy to clean.
Brand: INNOCHEER
Where to buy: Amazon
6. Submarine Spray Station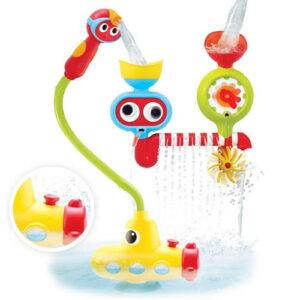 The submarine spray is operated by batteries. It is a small and fun water circulation pumping system, water draws from the tub and allows your kids for safe spraying. Parents like this bathtub toy as it is colorful, durable, fun, and it can encourage toddler independent play and exploration. When they use the spray nozzle can help develop fine motor skills. The two funnels can stick on the wall, Pouring the water flow into it generates a magic chain reaction effect. Keep the little princess busy with it. but one thing that needs to notice is that you need to assemble the batteries by yourself.
Brand: Yookidoo
Where to buy: Amazon
7.  Arctic Polar Bear Bath Toy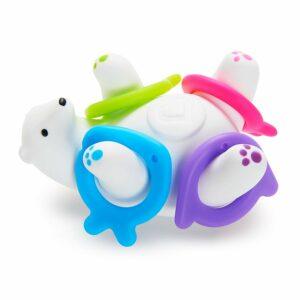 The bear can float on the water with the belly and four legs up in the air. Each pow is a different color (pink, blue, green, purple) that can match small stackable rings color, Helpful for kids color learning. Toddlers can toss the rings to the adorable bear feet or stack it on the belly, good for hand-eye coordination. I like it because it is also easy to clean, no holes so water can't come inside that can prevent the mold.
Brand: Munchkin
Where to buy: Amazon
8.  Float and Play Bubbles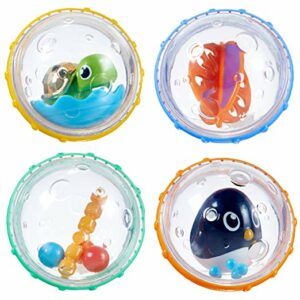 This set of bathtub toy includes 4 different balls. It can spin and rattle, can make noise when shaking it. The penguin and turtle animal characters are weighed to stay upright when rattle and roll it. It can attract your kids to keep playing with it. Good quality material without no hole, water cant goes inside the ball. Some parents said the size is too big if for small baby hands, but they still having fun with it.
Brand: Munchkin
Where to buy: Amazon
9.  Cupcake party bath toy with shampoo rinser set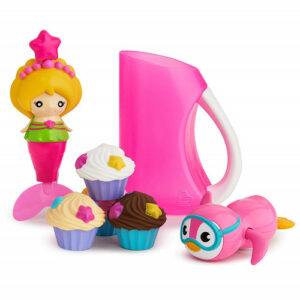 These pink bathtub toys are hit for girls, includes Spanish mermaid, cupcake squirts, rinse the container and a swimming penguin. The rinse container made of the soft material, the contoured rim that gently forms to your child's forehead, ensuring their eyes stay dry. Pull the mermaid crown and winds up the penguin arms, put them in the water, they can swim through the water. The adorable cupcakes are designed for your little sweeties to grasp and squeezes. It can squirt water and float. But after finish playing the toys remember to emptied out the water that gets inside the toys (particularly the squirters) to avoid mold growing inside.
Brand: Munchkin
Where to buy: Amazon
Bath time was made for playtime, but kids can also develop different skills such as fine motor skills, color identification, curious, during the bathing time. The good bathtub toy is not just playing but also an educational toy, keep the kids not to struggle for bathtime anymore. This list of bathtub toys is colorful, bright, fun and cute design, specially chosen for girls.
If you have any quetions please leave them below, I will happy to help you out.