Research shows that Infant walker–related injuries decreased after the implementation of the federal mandatory safety standard in 2010. And nowadays the baby walkers also have great improvement in the design, such as brake pads, height adjustment, wheels improvement ect. However, experts still encourage parents choosing stationary activity centers, play yards or other safe alternatives to baby walkers. (Some of the links within this post are affiliate links of which I receive a small compensation from sales of certain items)
Why choose alternatives to baby walkers?
From the chart, we can see that despite the decline in Infant walker–related injuries, baby walkers still send thousands of children to hospitals every year. And falling down the stairs still the main cause of injuries.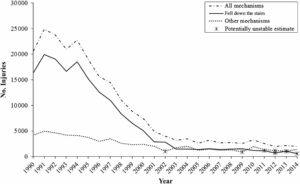 Estimated number of infant walker–related injuries among children <15 months old treated in US EDs by year and mechanism of injury (NEISS 1990–2014).
Putting a baby or toddler in a walker also provides them the more chance to reach dangerous objects, such as household poisons or hot drinks. A child in a walker can move more than 3 feet in 1 second which cannot give enough time for parents to react when the accident happens.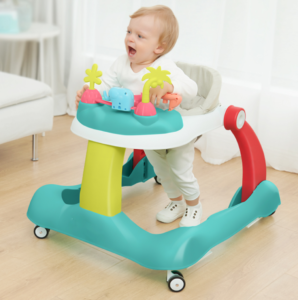 Many parents have the impression that walkers can help their children learn to walk, and also keep them safe entertained while parents are engaged in other activities. While studies show that infant walker use can transiently delay mental and motor development. When baby crawl, falls then again stands up, it will help strengthens their muscles and learn to balance their body. But with a walker, they miss these practices.
---
4 Alternatives to baby walkers
#1 Fisher-Price 3-in-1 Sit-to-stand Activity Center
An activity center designs similar to the infant walker but without wheels. Though it can't move, it provides much fun for baby, and what is important, it is safer.  It can also help with the gross motor development as they go from sitting and reaching & interacting with the activities to pulling up to a stand.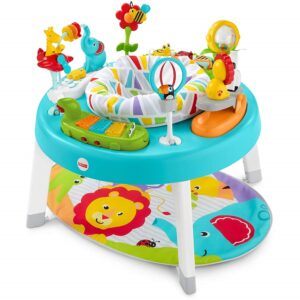 let's see a mom's review on Fisher-Price 3-in-1 Sit-to-stand Activity Center, she had a walker before but she decided to choose Fisher-Price 3-in-1 Sit-to-stand Activity as an alternative to using a walker. Because she watched her baby moving very fast with an infant walker, which is very dangerous.

The Fisher-Price jungle-themed activity center features 3 ways to play as your baby grows. The soft play and colorful mat and the musical alligator can be taken out for newborn baby to lay and enjoy the music.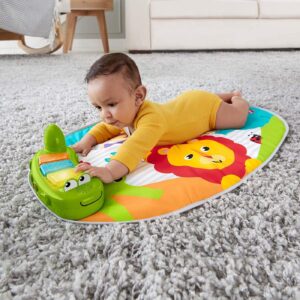 The machine-washable seat can allow the older babies to spin for 360 degrees and discover with the fun toys and activities. With 3 adjustable height positions can easily adjust the height to find the right fit for your baby.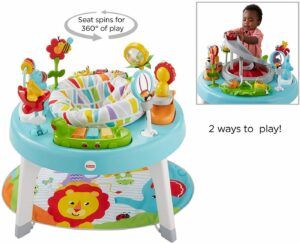 when your toddler can walk with the support, you can also remove the seat and insert the racing ramp, so your toddler's little muscle can get a big workout when they walking around the activity center to explore the exciting car racing game and other fun toys.
With moveable legs for easy storage.
---
#2 Regalo Portable Play Yard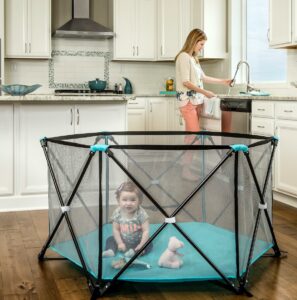 A play yard can provide a safe area for your baby to play, crawl, or learning to walk. Featured portable and sturdy build, the Regalo Play Yard accommodates children between 6 and 24 months with enough room for your little monkey to move around.
Measures 48″ wide and 26″, Comes with a storage bag, It is very lightweight, you can assemble it in any room in one minute, move it outside, fold it up and store up very easily.
The Frame is made of high-quality, strong steel and reinforced stitching. With a push-down foot lock for extra safety.
Feature with soft ventilating mesh walls and a nylon bottom which is easy to clean up by wiping down with a damp cloth and soap simply.
---
#3 Little Balance Box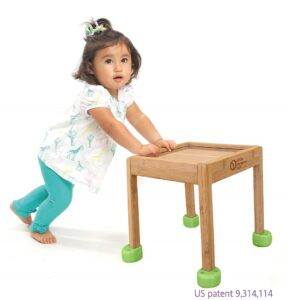 The Little Balance Box made of bamboo, features easy cleanup top and rounded border,  without no wheels, is a great tool to help your baby develop balance and learn to walk.
With a wide-open base and stable square shape, it allows your toddler to naturally transition from kneeling to standing with using their hands and/or forearms in a variety of positions.
Feature spring-loaded feet, which can prevent the Little Balance Box to move forward during your child pull-up stand. As the springs will compress creating increased resistance and drag on the feet when the toddler leans on the top surface.
With the nylon spring feet, your toddler can move with the Little Balance Box on tile and wood surfaces but not too fast like the common wheeled walkers. It provides safe and natural stability for your child while learning to walk.
It can also use as a table, It allows your child to participate in the tabletop activities while sitting or standing.
Size:       14 x 14 x 12 inches
---
#4 Baby safety helmet for crawling walking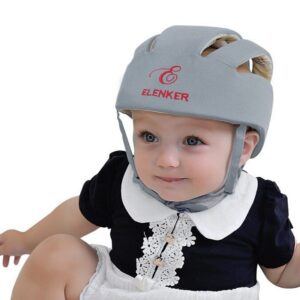 When the baby learning to walk they fall down a lot and will hurt their head, and it happens sometimes even you standing right behind her. So when you choosing the play yard or the Little Balance Box as alternatives to using a walker, you can also take the baby safety helmet into consideration. A helmet can offer protection for the little head.
The ELENKER Safety Helmet made of non-toxic special mesh IXPE, Feature shock absorption, impact resistance, super lightweight, good air permeability, Suit for baby ages 8 – 60 months and head circumference of 16.93″ to 22.05″.