Montessori method is a child-centered educational approach to observe and guide children physically, socially, emotionally and cognitively development. Based on Montessori's method, children are naturally eager for knowledge and capable of initiating learning in a supportive and thoughtfully prepared learning environment. As Parents, you can apply the Montessori method to create a playroom full of age-appropriate hands-on, multi-sensory toys and activities for your toddler to choose to play with their own minds. Following are some tips to choose the Montessori materials for toddlers, and to make it easier for you, I also list some Montessori materials for toddlers for your choice.
---
 Tips for choosing Montessori materials for toddlers
Choose toys made of natural, aesthetic materials such as wood wool, cotton, metal, ceramic rather than plastic.
Consider the materials that are simple, don't cause kids frustration, and they can hone one skill at a time.
Look for the items that are appropriate in size, and place them in the area that toddlers reach easily. So they can engage in activities independently.
Choose realistic materials to allow them to understand and learn the world around them.
Provide the materials for your toddlers that they can physically manipulate and incorporate them into pretend play.
P.S.
The following are some top picks of Montessori materials for toddlers.
---
Montessori Sensory Bin Tools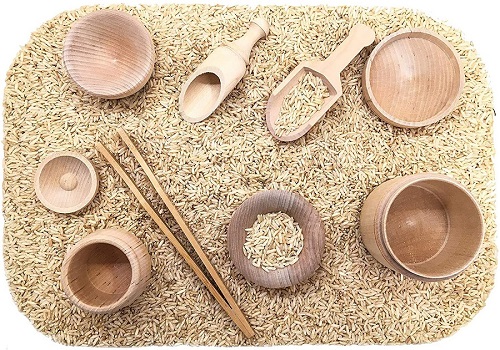 These sensory bin tools are great as Montessori materials for toddlers. With 5 pieces of real looking wooden tools: scoops, tongs and cups, and you simply provide some beans, rice, or other loose materials, toddlers can enjoy hours of sensory play fun.
When you first get the tools, you may think it is too small. but they are the right size for the little hands. Using the tongs to pick the beans, or scoop the beans to the cups, kids can develop hand-eye coordination and fine motor skills.
Click here to get this cute tools for your toddler Montessori education
---
Wooden Tetris Puzzle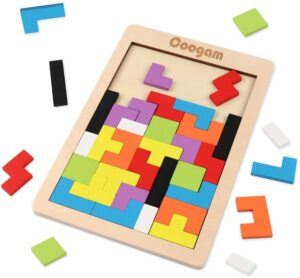 This colorful wooden Tetris Puzzle can be a little challenge for toddlers, but it is a great way to spark their imagination and help them to develop problem-solving skills and improve logical thinking.
With different shapes, Kids can also create different patterns, like human, car, robot, tree. During the playtime, they can know better about geometric patterns and colors.
All the pieces are sturdy and with smooth surface, perfect for small hands to manipulate.
Get this traditional Wooden Tetris Puzzle from Amazon, to get you toddler out of the screen.
---
Montessori Busy Board for Toddlers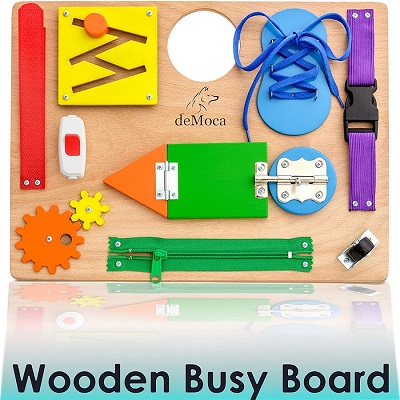 When we looking for Montessori materials for toddlers, we aim to encourage them to learn some skills and foster their own innate talents and interests by playing hands-on activities. The Montessori Busy Board is a great Montessori toy to help toddlers to explore some daily skills like shoe lacing, snap off the buckle elastic belt, solve the labyrinth and many more.
The board is made of high-quality wooden material, and it easy to carry on the go. It is designed varying difficulty levels, with 10 bright rainbow colorful activities makes it also a great sensory toy for autistic children.
---
Wooden Animal Jigsaw Puzzle Set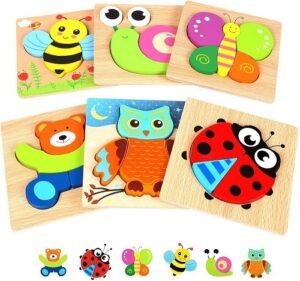 Providing young children some materials like a stuffed unicorn or dragon may confuse them when we told them these do not exist. Montessori materials tend to be realistic playthings. Like this wooden animal jigsaw puzzle set, including 6 packs well-selected cute animals: bear, butterfly, ladybug, owl, snail, which they can see and learn in real life.
Each pattern is with smooth edge, it is easy for toddlers to grasp and put together. It encourages them to learn where objects belong and how they go together without frustration. With this puzzle set, children can not only learn about different animals during playing, but it also helps them improve create concentration and solve puzzles capacities.
Feature colorful patterns can also encourage sensory stimulation and brain development.
Now click here to stocking your child's playroom with this cute Montessori animal puzzle set.
---
Wooden Shape Color Sorting Clock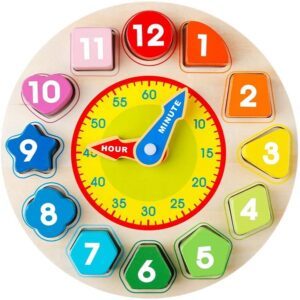 If you want to encourage your preschooler's to learn about time concept, then you don't want to miss this Montessori style wooden shape color sorting clock.
Unlike the digital clock, this sorting clock requires your child to physically manipulate them, the minute hand moves incrementally as the hour hand goes clockwise. It is great to encourage kids to identify time by playing.
With 12 removable numbers blocks in different colors, it provides more learning possibilities for toddlers. It helps them to identify numbers, shapes, colors.
Click here to get this fun Wooden Shape Color Sorting Clock to cultivate your child's time concept from an early age.
---
Melissa & Doug kids Tables & Chairs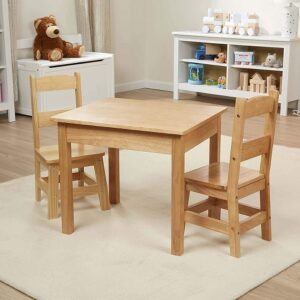 In order to keep kids engage in activities independently, provide them the size appropriate furniture is also important, which is an important element when it comes to the Montessori method.
The Melissa & Doug Tables & Chairs 3-Piece Set which with natural style and kids-friendly size, is ideal for playing games, working on puzzles, creating arts and crafts, enjoying real and pretend meals, and more.
It is made of sturdy solid wood, the chairs in this set can hold a weight of about 150 pounds. The wooden pieces are easy to assemble with just a Phillips-head screwdriver, When assembled, this 3-piece table set measures 20" H x 23.5" W x 20.5" L and weighs 25.8 pounds.
Buy it: Melissa & Doug kids Tables & Chairs
---
Melissa & Doug Dust, Sweep And Mop

Toddlers like to imitate adults to help around the house. This real looking Melissa & Doug cleaning toolset, feature child-friendly size will be a hit. Each cleaning tool gives them an imagined role and pretend task to try. It motivates them to cultivate a sense of independence and responsibility.
Click here to get this Toddler-size cleaning toys for your little helper
(Some of the links within this post are affiliate links of which I receive a small compensation from sales of certain items, There is no additional cost to you.)