The weather is getting hot, Are you ready to splash around in the pool with your toddler? Oh, and don't forget the pool toys, I mean the Cool Pool Toys that can keep your toddler having fun for hours. Maybe a fun treasure diving toy set to help your little one improve swimming and diving skills, or a cool airplane pool float that encourages your little spaceship captain's imagination flow. Take a look at this list of cool pool toys for toddlers and stock up for this summer! (Some of the links within this post are affiliate links of which I receive a small compensation from sales of certain items, There is no additional cost to you.)
---
Topwon Inflatable Airplane
Size: 8.9 x 7.3 x 4.5 inches
Item Weight:  1.45 Pounds
Weight limits: about 50lb
Recommend ages: 1-4 years
This Airplane float toy is so cool and adorable, with a steering wheel that actually turns and a little horn will definitely give your toddler an excellent summer. Even if your little one is the first time to get in the pool or afraid of water, they will love floating around in the water with this inflatable plane.
It made of safe and durable PVC material. Feature with 2 big wings that can provide great buoyancy support and keep balance.
There are 2 smooth leg holes on the seat, your toddler can sit comfortably and get their feet into the water. They will enjoy driving the airplane like in the sky and try to float around by moving their leg, which can help leg motor skills development.
This is a great gift for toddlers to plays water in the pool, Now click here and get this cool summer gift for your little one.
---
Big Inflatable Fire Engine Boat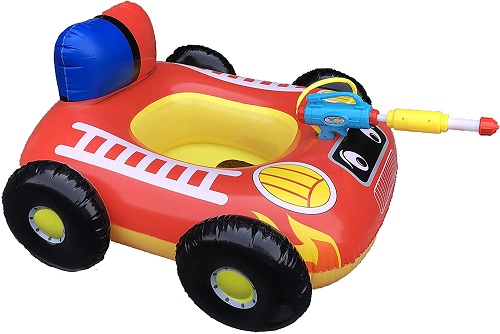 Size: 34*31 inches
Recommend ages: 3-4
This Inflatable Fire Engine Boat will be a hit for any young children. And what makes it cool is that it is equipped with a squirt gun, which makes the pool time more creative and fun.
The water gun is designed with a tube. It can go through the hole of the Fire Engine Boat and get in the water, so kids don't need to fill them up, they just need to pump and have a fun water fight.
It made of Non-toxic PVC material. The surface is printed with colorful patterns and with 4 wheels, kids will love 'driving'  their fire truck.
It is with  2 Smooth leg holes and a big sit place for young kids to sit in comfort, but the downside is, some parents complained the inner seat material is thin for the larger heavier kids, it could be rip. All in all, it is a cool pool toy for toddlers, I recommend it for toddlers aged 3-4-year-olds.
---
ToyerBee Pool Diving Toys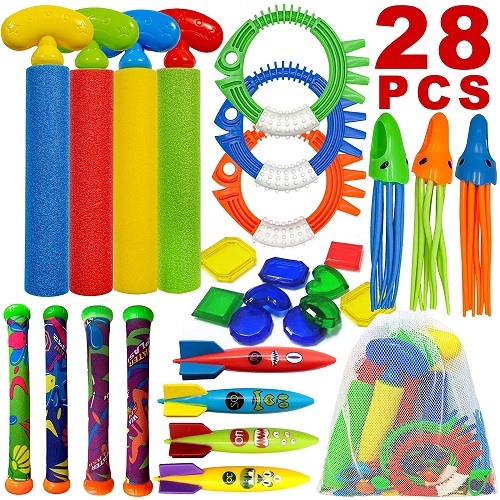 If you are looking for pool toys for your toddler who are learning swimming and diving, the ToyerBee Pool Diving Toys Set will a great gift.
There are so many diving toys set on the market. Why do I recommend this ToyerBee Pool Diving Toys Set?
Firstly,  It is a value pack, it comes with 6 varied items and a total of 28 pieces, including 4 bucket water guns, 4 water torpedo bandits, 3 diving rings, 4 diving sticks, 3 funny faced squids, 10 diving gems. They are perfect for kids that love to dive after objects in the pool and work differently for different ages.
Second, the 4 pack of water foam guns are a hit for kids. They are designed with smooth handles and easy to manipulate by little hands. Toddles can not only enjoy the diving times but also play water fight with friends, siblings, mom, and dad by the swimming pool in hot summer.
Thirdly, the whole pack is so colorful that can attract toddler's attention easily underwater. It encourages toddlers to get into the water and improve their diving skills. The toy's cute shape and pattern can spark young kids' imagination. And the diving sticks is more special than the other normal diving sticks. They are covered with colorful patterns, aren't they look cool?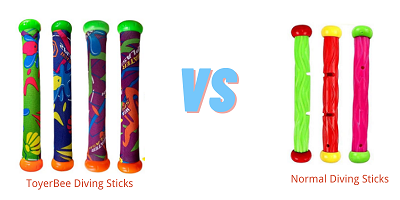 It also comes with a handy net bag to keep the toys together, dry the toys out after use, and storage.
When we choose toys for toddlers, safety always comes first. These pool diving toys are made of high-quality and safe plastic. They are durable that accompany your child in the whole hot summer. The diving toys are well designed, so children can easily grab them underwater.
Want to give your toddler this wonderful pool toy set? Click here.
---
Green Toys Seaplane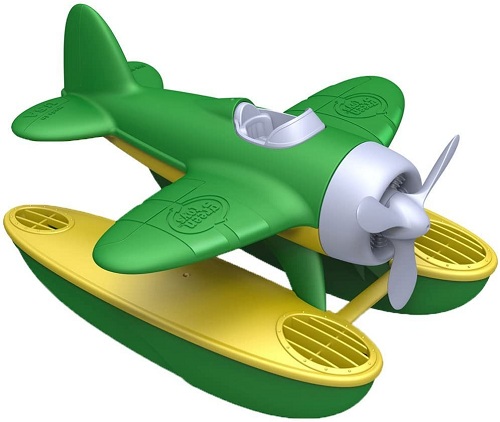 Size: 9 x 9.5 x 6 inches
Green Toys is specialized in environmental toys manufactured in the USA. This Seaplane Toy is another amazing toy produced by Green Toys. Features a cheerful and cartoonish look, the seaplane is sure to delight toddlers.
Young kids will love the spinning propeller, rounded wings, and oversized pontoons of this cool seaplane. It can float in the water like a real seaplane. It is a great toy that offers kids tons of imaginative and interactive fun.
This toy is designed for toddlers ages 1+. It's made from 100-percent recycled plastic, which is safe for kids and helps protect our environment.
The seaplane toy is lightweight for small hands to hold. It's useful for improving the fine motor and gross motor skills of your child along with improving their pincer grip. Parents love this toy is durable that can withstand rough play, and it's easy to clean, and dishwasher safe.
Your toddler will enjoy playing with this cool seaplane toy in the bathtub, swimming pool, or the beach. Click here to give your toddler this Environmentally friendly seaplane,  teach him or her about recycling, helping the environment, saving energy, and reducing greenhouse gases. By the way, Here are some Eco-friendly bathtub toys you might also interested in.