Being stuck inside can cause serious frustration and even depression. Your kids need a little more Vitamin D and you need a little more quiet time. Sprinklers are a fun way to cool the kids off on hot summer days and keep them occupied outdoors and having fun. Don't know what sprinkler toys to look for? Here I got you covered the best water sprinkler for kids.
---
SplashEZ 3-in-1 Splash Sprinkler Pad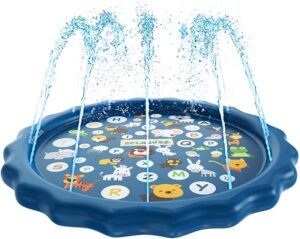 Looking for a summer gift for your toddler? The SplashEZ 3-in-1 Splash Pad will be a good choice. You can create a miniature water park overflowing with this educational sprinkler and provide hours of fun for your kids.
Feature vibrant blue color and the mat is printed with cute animals and letters, toddlers can learn through play. Parents like it easy to set up. Just connect the water hose and turn on the water. Once the rim is filled with water the sprinklers kick into action. No air, pumping, inflating, or deflating is required to operate the pool.
The mate size is 60 inches in diameter. It allows 2-3 toddlers to splash and creates tons of fun under the sun. And they will experience cognitive, social, and emotional growth when playing with their friends, siblings.
FAQS:
What is the depth of the pool when inflated?
–It is about 6-8 inches. Perfect for splashing around in.
What is the splash pads' dimensions?
–The splash pad measures 60inches.
What diameter hose is required?
— 5/8 would be the best fit. It would handle also 1/2 (very tight fit) and 3/4 (a slightly loose fit)
How to empty the water from inside?
—
1. Disconnect the hose.
2. Hold the pool up while the connector is on the bottom side so the majority of the water will go out this way.
3. Roll up the pool starting from the opposite side of the connector squeezing the remaining water towards the connector.
4. Repeat it once again to completely drain the water out.
5. Let it hang if possible for a day before storing it back.
What happens if you turn off the hose while still using the pool? Does it deflate?
–When you turn on the water the outer rim of the pool gradually fills with water, once full the sprinklers kick into action.
When you turn off the water the sprinklers will stop working but the outer rim will still have water inside.
Thus keeping the shallow water of the pool from going out and allowing the kids to continue splish, splash, and play. The outer rim still has water inside too and can act as a support cushion for a sitting toddler.
Why Recommend SplashEZ 3-in-1 Splash Pad:
Perfect outdoor toy for your backyard.
Made of BPA-free material and it's easy to assemble.
Cute animal patterns and A-Z letters make it educational.
Kids will enjoy the time spent in this splash pad.
If you don't have a pool in your backyard, this makes for a great little water play station for the kiddos.
This is a sprinkler, splash pad, and wading pool for kids.
SplashEZ provides great customer service.
Click Here to Check Deals on Amazon
---
CHUCHIK Spinning Turtle Sprinkler Toy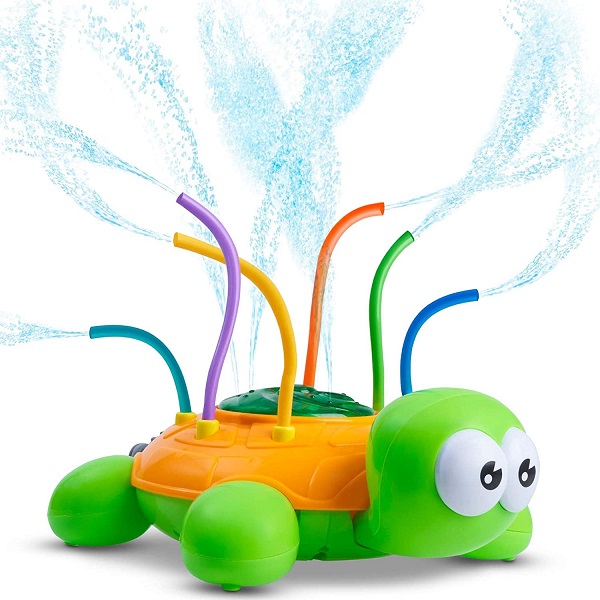 If you looking for a cute sprinkler that provides tons of splashing fun for your kids or pet, the CHUCHIK Turtle Sprinkler won't let you down.
There are 5 wiggle tubes on the turtle's back. The tubes look small and short, but you will be amazed at their spray range. The spray from this outdoor kids' sprinkler can reach a maximum of 8 ft. There are also few holes on the turtle's back, which water can come out from it.
Kids will be excited to watch the water squiggling and swirling with the exciting wiggle tubes.
Why recommend CHUCHIK Spinning Turtle Sprinkler Toy:
It is easy to set up and convenient to use.
Kids will love this adorable turtle water toy.
It is with a long spray range, while the pressure of the water which comes out of both the tubes and the holes on the turtle's back is perfectly safe for your children and your pets.
It provides your kid's lots of fun and physical play. And helps improve your kids' sensory skills.
Made of sturdy and BPA-free plastic.
It can be used as a garden sprinkler.
A cheap and fun way to keep your kids entertained during the hot summer.
It is funny to watch the water squiggling and swirling with the exciting wiggle tubes. As your toddler splashes and giggles, he/she is also experimenting with water's fascinatingly fluid properties and being introduced to cause and effect.
This is a great gift you could get the kids for long summer. Click here to check the video of how this fun sprinkler works.
---
ThrillZoo Trampoline Sprinkler
If you have a trampoline in your backyard, the ThrillZoo Trampoline Sprinkler will be a big hit.
If you tried to use the hose to stay cool on the trampoline during a hot day, this sprinkler will be a better and more fun way to turn your trampoline into a water park.
It comes with 60 adjustable zip ties and a long horse strap. It is very easy to set up and requires no tools. The sprinkler is attached to the net and it fits any trampoline net enclosure size.
The company has upgraded the sprinkler, designed a dry zone so the kids can get out of the water if they want and not have to get off the trampoline. They also get the sprinkler's fittings, connectors and hose reinforced. This version can stand up to higher water pressure.
The sprinkler fits up to 16ft trampolines. With the right amount of spray to cool the trampoline, it will provide your kids hours of outdoor fun.
FAQS:
Does the trampoline require a net to work?
–Yes, for a safety reason. The net is used to connect the hose evenly around the trampoline using zip ties. if your trampoline doesn't have a net you can lay it along the perimeter and face holes up and in. What size trampoline it work for?
What size trampoline does this sprinkler fit?
– It fits all sizes! The difference is how much of a warm-up zone you'll have. The hose is 33 feet long. Most people have a 14 to 15 feet diameter trampoline which gives a nice warm-up area for the kiddos.
Why recommend ThrillZoo Trampoline Sprinkler:
A fun way to turn your trampoline into a water park.
Upgrade version that is more durable.
Provide your kids hours of pure enjoyment.
It's a great way to beat the summer heat.
It's easy to assemble with video instruction.
Getting your kids to go outside instead of just watching TV or playing video games.
It's adjustable to fit any trampoline net enclosure size! It adjusts to fit all standard enclosures: straight pole, curved pole, angled pole, or arch pole enclosure poles because it attaches directly to the net.
The horse is made of high UV-protected material that lasts for years.