There is an abundance of tablets on the market, but not all of them are suitable for toddlers. In this article, we take a look at the best learning tablet for 2 year old, which has been carefully selected to ensure you get the best value for your money and is functional to entertain your 2-year-old. I have analyzed the tablets from different aspects so you can have a better insight into it.
---
Budget pick of best learning tablet for 2 year old
---
1. LeapFrog 2-in-1 LeapTop Touch
2- in- 1 means it can use as a laptop or tablet. The screen can be flexibly turned, Open the laptop to see the screen in keyboard mode, the keyboard is with the letters A- Z, and have numbers 1-10 when you are working with the laptop and your little one make trouble with that, then this laptop toy can help you out. There are 5 molds to play: – ABCs, numbers, games, music, and messages. Your toddler can pretend a working lady with this laptop mode. Close the laptop and watch the screen magically swivel into tablet mode. The screen can be in touch.
How to use it:
The button on the left on the screen is control of the volume, and off
The 5 buttons below the screen can switch to different playing modes. Just pull the control button to left or right, it is very easy.
Push the control button to message mold, type on the keyboard, the letters and numbers will show on the screen.
It comes with 3AA batteries, Size: 2 x 10.1 x 6.1 inches, Age recommend Age 2 -3
 Pros:
A good early educational tool can teach toddlers to learn about the numbers and letters, animals
Can play games, bring fun for your little one
Different kinds of music to entertain
With a handle, lightweight, convenient to take on the go
Made of safe plastic material, so it will be not so easy to break if your child throws it on the floor
2 way to play, laptop mode or tablets mode, and with touch screen
 Cons:
Only one English language
It can set up your child name, but it can only sell the name, while cannot say the name
The screen brightness cannot be adjusted, if play in the dark place, it will be not good for toddlers' eye, so suggest to use it in a bright place.
No headphones, can't download anything, But for the price, I think this is reasonable, and it just for 2 year old toddlers toy, the functions enough for them to have fun.
---
2. VTech Little Apps Tablet
If you have kids, I think your home may have toys from V-Tech. and how is this Little Apps Tablet from V-tech? Please continue to read below.
It is a lightweight tablet that has 4 options and 8 activities for kids to entertain and learn.
Photo fun: It is not a real camera but a pretend camera game, explores letters, words, and numbers.
Piano mode: press the piano keys or letter buttons can make music and add different sounds.
Question game: It will ask questions and kids can interact with it
Calendar check: explore different activities, days of the week and fun music.
2 AA Batteries Included, No headphone
Size: 9.3 x 7.3 x 1.3 inches,
Recommend age: 2-3 years old
Pros:
Features letters, counting, number order, matching, music playing
Great motivational and interactive tool – change to the question game mode, when getting an answer wrong, the tone of the game makes you want to keep trying! I love how it depicts a bear holding a wilting flower and says aww, try again!
Sturdy case
Easy push buttons, 3 colors changing screen
Automatic shut-off, it can save the batteries.
 Cons:
Screen brightness cannot be changed
Screen size is little small, It gives me the feeling like 90's era video game screens
When typing the letters, the words will not show the on the screen. but for example hit the "A" button, the animation says "A, Apple", and spells out the word APPLE on the screen and shows a bear eating an apple.
Overall, this is a solid product and a good educational tool. The theme song is catchy, and the picture of the bear is cute! So I recommend this tablet toy for your 2-year-old.
Click Here to Gift your Toddler With This Fun Learning Tablet
---
3. Bosiki Kids Spanish-English Tablet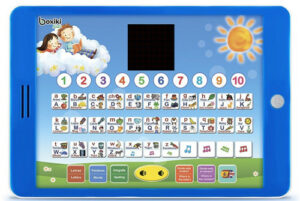 If your family speaks both English and Spanish, and you looking for a tablet that can inspire your little one bilingual language development, I would recommend the Bosiki Kids Spanish-English Tablet. There are not so many bilingual tablets with a favorable price on the market, and the tablet I introduce below is the best option for the price and its function.
This tablet just like Ipad with size. includes Spanish and English letters, words, spelling, numbers, quizzes games, fun songs. The LCD screen can show the letters and numbers, and it is easy for kids to press the buttons to learn. It is a simple bilingual toy, but it can help toddlers for basic language training, and I think it never too early to start your child on a path of learning and education skills development.
There are five function buttons at the bottom, press each button can change the language, for example, you press the letters mode, it is English learning, and you want to change to Spanish, then press the letters mode again, then it will change to Spanish. It is very easy to use, but for the first use, toddlers may need parents' help to figure out how to press the buttons and how to change to a different mode.
Size: 12.3 x 9.1 x 1.2 inches  Includes 3AAA batteries
Recommend age: 2-4 years old
Pros:
Bilingual learning letters, words, numbers
Interactive quizzes games bring more fun, help toddlers to remember
Interesting songs and melodies to relax time
Volume Control
Auto shut-off
Cons:
The LCD screen is too small, It only shows the letters on the screen, will not show the whole word.
Click Here to Start Your Kid's Spanish Learning Journey with The Bosiki  Spanish-English Tablet
---
Best learning tablet for 2 year old with Android System
---
1. TOPELOTEK Android Kids Tablets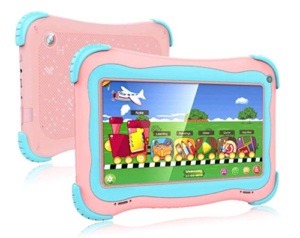 If you looking for a tablet that with more functionality that can entertain your 2-year old while it also satisfies them when they get older, The TOPELOTEK android kids tablet is one of the best options to consider. It Features Wifi connectivity, with numerous apps, music, Dual Camera.
What I like most about it is with the eye protection feature and Parental Control Mode. 7″ IPS 1024*600 Screen display means it brings more bright, clear and vivid graphics.
With 16GB storage, it is already pre-installed many apps such as Youtube, Netflix, Facebook, Google play, interactive games, and learning apps. And it does not need Wifi connected for the pre-install games, so it is convenient for your kids to have fun with the tablet anytime anywhere.
And when with WIFI you can download the movies, games, books, and it supports the microSD card up to 32GB, so don't worry it will be not enough memories.
Parents can set up the kid's mode, so they can only access websites, contents, games.ect. which are carefully chosen for them. I like this advanced parental control technology, and what's more, it can also set the time alarm, so it can control the time the kids with the tablet.

Now you may wonder how long the batteries will last? Well, according to the seller this tablet for kids will take 2-3 hrs to be full charge and it can last 3-4 hrs to play video, music, read books, etc… But from some customer feedbacks, the batteries go fast can't last 2-3 hours. In my experience, if you don't open so many apps in time, the batteries can last longer.
Specification:
OS Android: 6.0.1
RAM:1GB
ROM: 16GB
Support Extended Memory: 32GB
Size: 7 inches
Colors choice: Green and Pink
Pros:
Front and back camera
Comes preloads some apps, games
Kids mode and parent mode
Language selection
A fun tablet as well as a good education tool, kids can play games, watch cartoons, stories, learn about the alphabet and many others.
Durable case, the four corners are cover by the silicone protector to prevent damage from dropping it
Reasonable price
Cons:
Tablet case cannot be changed
---
2. Tagital T7K Plus Kids Tablet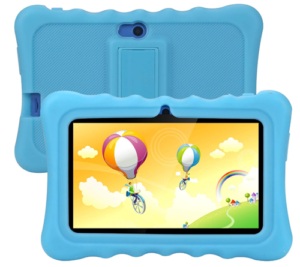 Last but not least. The Tagital T7K Plus Kids Tablet is another good choice of the android tablet for kids. The functionality is similar to the  TOPELOTEK tablet I mention above but also have some difference.
First of all the size is smaller, 7inch, and 8 GB Storage(Supports Micro SD card extension). It comes with a soft cover,  which with a stand holder. Weigh only 318g, perfect to take on the go. It can be connected to the internet and you can download Netflix  YouTube or thousands of free Apps on it as well. With Kid Mode pre-installed, kids can get access to fun and educational games and videos which you choose for them.
Pros: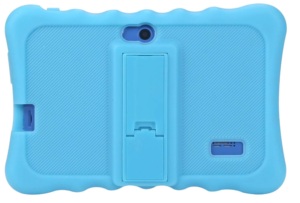 Parental and child mode, control what kids can access
You can how long your little one watches on the tablet with a parental control setting.
With all the functions a kid tablet needs to have, games, videos, Clear HD screen
Solid case to avoid damage easily
Set up easily, when you sign into your Google account it automatically reloads some of the apps you had in any device you had.
Good price for the deal
Cons:
1. It's a little bit slow for YouTube videos.
2. The speaker is on the back, which makes it harder to hear when putting it down on the table.
---
Which One Would You Choose For Your Little One?
These tablet options are chosen for children carefully. After reading through all of these reviews, you might be able to find a good tablet for your kids with ease.  Now I would like to know your favorite tablets, Let me know which one you want for your kids, share them in the comment section below.
(Some of the links within this post are affiliate links of which I receive a small compensation from sales of certain items)
⇒ Related Post: 7 Drawing toys for toddlers-Spark creativity, Mess free