At 18 months, Your toddler becomes more independent and experience complex emotions every day. Their language and cognitive thinking skills have also improved a lot.  Talking, listening, reading, and working on everyday skills with your toddler can help development. How your toddler play also offers important clues about your child's development. Providing the right educational toys for an 18-month child can help him develop in so many aspects.  But finding the best toys for 18-month-old toddlers can be a challenge because we know that toddlers at this age are getting curious about everything, it's hard to keep them entertained and concentrate for long periods of time. I have done the research and took the experience of many moms, have gathered a list of the top toys for 18 months olds that will capture toddlers' attention and help to learn at the same time.  (Some of the links within this post are affiliate links of which I receive a small compensation from sales of certain items, There is no additional cost to you.)
---
Toys for fine motor skills development
Screw, Twist, Turn
Jumbo Nuts and Bolts Toddler Toys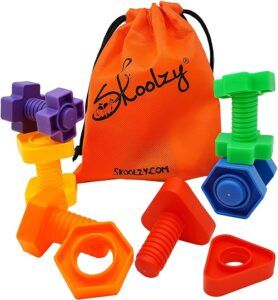 This Jumbo Nuts and Bolts Toddler Toys is a great fine motor activity for 18 months toddlers. The set comes with 6 Complete Plastic Nuts and Bolts Set that in 4 different shapes & 6 different colors. Colors Including purple, blue, green, yellow, red, and orange. Shapes are round, square, cross, pentagon, and triangle.
The pieces are about 1.75in x 2.5in, the right size for small hands to hold, and also avoid choking hazards.
These engineering toys are ideal for toddlers' first Stem toys due to their self-correcting nature. It encourages toddlers to figure out how to match each bolt piece into its proper shaped hole. Your little ones won't even notice that they are learning to categorize and eventually name shapes as they play. It also helps them to develop finger and hand strength when they twist, turn and screw the nut onto the bolt. It's also a great way to practice hand-eye coordination.
Different colors and shapes allow children to sort. This will help Improve Color recognition, shape sorting, increases attention and focus.
Comes with a carrying bag makes it convenient to store and transport.
---
Skoolzy Peg Board Set
Brand: Skoolzy
Material: BPA free Plastic, Foam Board
Development: Fine motor skills, Hand-Eye Coordination, Color recognition
Pegboard Dimensions: LxWxH 8.5 x 2 x 10 inches
Peg Dimensions: 2 inches tall x 1 1/2″ in diameter
It has a total of 25 evenly-spaced holes where you can insert the pegs.
30 pegs in 6 different colors (5 each of red, orange, yellow, green, blue, and purple). They are each about 2″ tall and about 1 1/2″ in diameter with a hole in the top so you can insert a peg. The pegs are made of a hard plastic material.
1 drawstring bag for storing and carrying around the board and pegs. It is made of a nice cloth material that would be easy to wash if it gets dirty.
The Skoolzy Peg Board Set is a fun Montessori toy for toddlers. The set includes 30 pegs in 6 different vibrant colors (5 each of red, orange, yellow, green, blue, and purple), 1 orange pegboard, 1 foam rainbow dice, 1 lacing string, and 1 orange storage drawback. Toddlers can do many educational activities by using this pegboard set, such as color sorting, stacking, counting, or string the peg with the lacing string.
You can also download the pegboard activity guide for more fun and exciting ways to learn.
Parents love it comes with a  carry bag for storing all the items. Children also like to put the pieces in and takes them out, or wearing the carry bag to walk around. The bag is made of Nylon which is easy to clean if it gets dirty.
The pegs are a good size for small hands to grasp. While toddlers insert the pegs, stack them, or take them out of the board, It helps toddlers to develop hand grasp ability and promotes strengthens hand muscles needed for writing.
Many parents proved  Skoolzy Peg Board Set is a great educational gift for toddlers, You can click here to find more comments of other parents, grandparents.
---
Sring Toys:
BMTOYS Wooden Threading Beads Set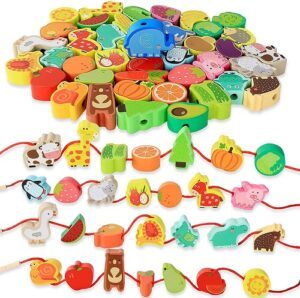 Brand: BMTOYS
Development: Fine motor skills, concentration, hand-eye coordination, problem-solving
Material: Natural pinewood and linden wood
Dimensions: The wooden stick is around 2.76″, the red string is around 27.56″.  Beads size at around 1″-2″ overall and about 3/4″ thick.
The BMTOYS Wooden Threading Beads Set comes with 42 pcs beads and 3 wooden strings. The wooden stings beads include animals, vegetables, and fruits offer imaginative ways for toddlers to play and learn. All the beads are made of solid lightweight smooth wood with vibrant clear images that can attract an 18-month-olds toddler's attention.
The 3 wooden strings lace with a wooden "needle" for stringing. The "needle" is the perfect size for small hands to push and pull. It's a great way to train toddler's fine motor skills,  concentration as well as coordination skills.
It also comes with a storage bag that you can use for storage and travel that makes this fun fine motor activity great for more than just home.
This set introduces little ones to a variety of animals, fruits, and vegetables.  it allows parents to have a conversation/teach words about food and animals for young children. Some parents also use the lace strings activities kit for speech therapy.
Click here to gift your 18 months of this great Montessori Educational Threading Toys.
P.S.
Check here to find more fine motor skills toys for toddlers
---
Open-ended Play
Puzzle:
MAGIFIRE Wooden Toddler Puzzles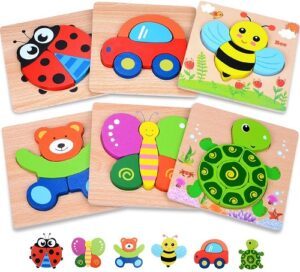 Brand: MAGIFIRE
Material: Environmental Wood
Development: Problem-solving skills, patience, imagination, colors
Size: Each puzzle is 5.7 x 5.7 x 0.2 in
This is a cute set of wooden animal block puzzles for 1 2 3 years old toddlers. It comes with five different animal puzzles including a bear, a butterfly, a ladybug,  a beer, and a tortoise, and a car puzzle.
The puzzle's colors are bright and attractive. Painted with non-toxic and BPA-free paint, with round edges, the blocks are safe for children to play with. And they are chunky for tiny hands to manipulate.
Toddlers will love the happy face of the animal puzzles blocks. The puzzles are not so complicated for toddlers. It helps them to identify the appearance and structure of animals. Building these blocks offers a fun way for toddlers to exercise early brain development and learn to be patient.
Click Here to Check  Deals on Amazon
---
Building Blocks:
Mega Bloks First Builders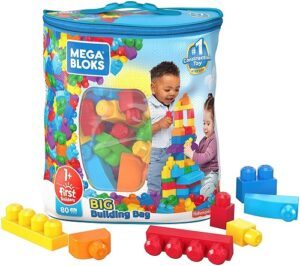 Brand: Mega
Material: BPA free plastic
Development: Creativity, problem-solving, fine motor skills, colors
The Mega Blocks Set is a great gift for 18 months toddler. This award-winning set of 80 big and vibrant building blocks is a great educational toy to spark a little one's imagination.
These big blocks fit and come apart with ease for toddlers. And they are the perfect size for small hands to grasp and not a choking hazard. Some parents complain about those bricks fit loosely. But that is designed intentionally. It is designed for young children that they can build and pull them apart themselves. It provides endless fun for toddlers to stack, build and explore their creativity.
The bricks are sturdy and bright. They are with no sharp edges or cracks. This is an open-ended block set that can accompany your child for years. You can find your toddler learning and building something new every day with these well-made bricks. Parents can build those blocks with their toddlers. It will keep your toddler engaging for hours and enjoy quality parent-child time.
Click here to Gift your toddler the Fist Building Blocks
---
Cultivate logical thinking space and a sense of order
Fisher-Price Rock-a-Stack and Baby's First Blocks Bundle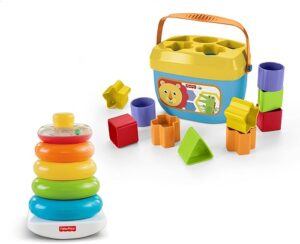 Brand: Fisher-Price
Material: BPA Free Plastic
Development: Sorting, logical thinking space, sense of order, finger dexterity
This set included 2 toys: a stacking ring toy and a sorting block toy.
The Fisher-Price Rock-a-Stack toy offers tons of fun for your toddler to play and explore. It helps toddlers to understand the concept of relative size while they're stacking the rings on the base from biggest to smallest.
Little one will have a blast with the sorting bucket, which features an easy-carry handle for take-along play. The shape sorter lid with five shaped openings encourages little ones to use trial and error to match the shape blocks into their corresponding slots. It helps toddlers to recognize different shapes and exercise their thinking skills at the same time.
As toddlers grasp and interact with the rings and blocks, they are developing their hand-eye coordination and finger dexterity.
Click here to check deals on this fun learning toy set for 18 months year olds.