Role-playing forms a vital part of children's development. It not only provides children tons of fun but helps children build skills in many essential developmental areas. Tea party Toy set is a great role-playing toy for children. Little girls can hold a tea party with friends in the garden, imitate parents in making tea, and having a delicious dessert. Tea party toys can satisfy your little girl's imagination, encourage social and language development. Here I introduce the top 3 trendy kids tea party set that will make a great gift.  (Some of the links within this post are affiliate links of which I receive a small compensation from sales of certain items, There is no additional cost to you.)
---
PRE-WORLD Tea Party Set for little girls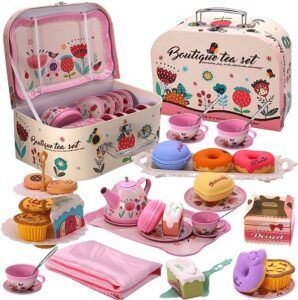 The PRE-WORLD Tea Party Set is super cute. Every little princess will be excited and amazed to get this tea party set. It comes with everything for your little girls to hold a fun tea party with friends, family.
The tea set comes with tea accessories, pastries toys, and a tablecloth packed in a loving suitcase. The suitcase makes it more convenient to store and carry.
The tea accessories like the teapot, teacup, serving tray, and spoon are made of Environmental friendly tin-coated iron material. They are not easy to break and safe for kids. Each tea accessories were printed with beautiful flower patterns that make the tea party time more real. Kids will love it.
The dessert accessories are rich including Cake Stand, 1 Cake Shovel, 1 Cake Box,1 Dessert Plates, 3 Doughnuts, 3 Macaron, 3 Egg Tarts, 2 Cookies, 3 Cake. Those pastry toys are made of BPA-free plastic. Feature realistic looks, those toys will provide your kids with endless tea party pretend fun. Those pastries and serving things can also be added to your kid's kitchen toys collection.
The set also comes with a nice table cloth which is made of cotton and printed with cute animal patterns. The table cloth's size is  23.6″ * 23.6″.
Why recommend PRE-WORLD Tea Party Set
The tea set features beautiful flower designs. Little girls will love it.
The tea party set is made of durable and safe material without any shape edges.
Comes various types of dessert and cake stand that makes the tea party more realistic and interesting for kids. It encourages children's imagination.
Provide kids hours of pretend fun and help them develop social skills.
The tea accessories are in real design that can open the lid, and fill the water and pour it on cups. It helps kids develop their hand-eye coordination and fine motor skills.
Comes with a lovely box for easy storage. It would be a wonderful gift for every little girl.
Click here to check the price of this lovely and exquisite Kids Tea Party set on Amazon.
---
Disney Frozen Tea Set for Girls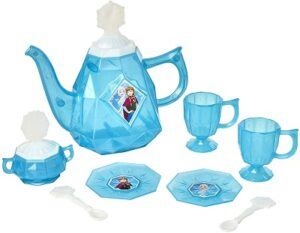 This Disney Frozen Tea Set is so cute and sure will delight every little girl who loves Frozen. It contains 10 Piece set that includes: 1 teapot with lid, 1 sugar bowl with lid, 2 teacups, 2 saucers, 2 teaspoons.
Thi tea set is made of thick and safe plastic. The size is good for small hands. The teapot and saucers are printed in Anna and Elsa pattern, and the Crystal-like glitter details spark your little princess's imagination. Like Anna and Elsa, your little girl will have hours of fun holding a tea party with friends in their 'castle'.
Why recommend Disney Frozen Tea Set
Little girls will love the Frozen theme.
Cute design and durable.
It provides kids endless tea party pretend fun.
With perfect sizes for small hands.
Kids love to hold tea socials for friends and families with this beautiful tea set.
The beautiful package that makes a perfect gift.
It helps kids build language and social skills.
Click here to Get Disney Frozen Tea Set
---
JOYIN Unicorn Castle Pretend Tin Teapot Set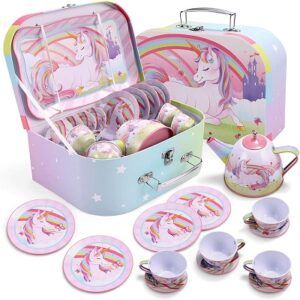 The JOYIN Unicorn Castle Pretend Tin Teapot Set is a lovely gift for any little unicorn fan. This set comes with 4 sets of teacups for kids to share the fun tea party time.
All tea accessories like the teapot, teacups, and plates are decorated with dreamy unicorns,  rainbow, and delightful castles which will inspire kids' imagination.
Kids can use the plate to serve pastry and share with friends or family. Imitate moms of making delicious tea, serve the guest. The fun tea time pretend play will keep kids busy for hours. It helps improve their creativity and develop social skills.
Why recommend JOYIN Unicorn Castle Tea Party Set
Beautiful unicorn patterns can attract little girls.
Made of durable and child-safe material that will last through years of indoor and outdoor tea party fun.
The beautiful unicorn carrying case can keep everything organized after playing.
Kids will have had a blast "serving tea".
The unicorn theme can spark kids' imagination.
Provide hours of pretend fun for toddlers.
Click here to Find more Pics of JOYIN Unicorn Castle Tea Party Set