Prepare the perfect Easter basket filled with cheer for your little boy could be a challenge. Adding some fun toys into the basket can groom Easter gifts and wow your little buddy on Easter morning. But you want to make sure the toys are age appropriate, safe, and fit the holiday theme. Here are some top-rated Easter toys for toddler boys that you can consider for the cool festival gifts, including learning toys, construction vehicles, colorful toy eggs, holiday-themed games, and adorable stuffed animals and so on.(Some of the links within this post are affiliate links of which I receive a small compensation from sales of certain items, There is no additional cost to you)
9 Cool toys ideas for Easter basket
Prextex Easter Eggs with Construction Vehicles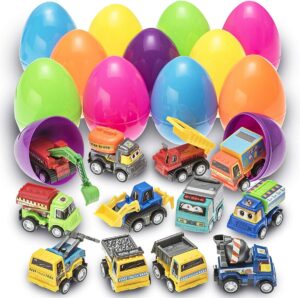 Cars that fit inside Easter eggs, is that amazing?  The Prextex Easter Eggs could be the perfect gift to surprise those construction vehicles fans.
The set includes 12 pieces of different types of well-made plastic vehicles prefilled in the colorful eggs, provides little boys hours of Easter egg hunting Fun.
Each truck with the right size for small hands to pull back and make it run on the floor or table. Feature moveable parts bring more joy and creative play for toddlers.
Recommend for children ages2-5
Click Here to Get This Cool Truck Set For the Easter Basket Fillers
You may also like the Top Wooden Train Sets For Toddlers
---
JOYIN Finger Puppet Easter Eggs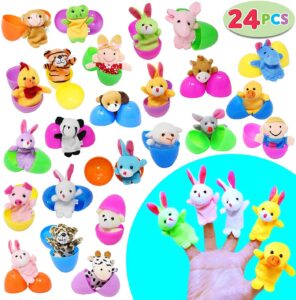 The eggs filled with 24 different farm animal finger puppets will be a good alternative to the usual Easter goodies.
The variety of adorable finger puppets made of soft plush which can fit into kids finger easily. Different characters can encourage young kids to create stories with their friends which will help with social skills development, and it is a fun way to practice fine motor skills and dexterity.
The eggs are easy to open, Children will be cheerful to discover the surprise in each easter egg they hunt!
Click Here to See Additional Image 
---
LEGO BrickHeadz Easter Bunny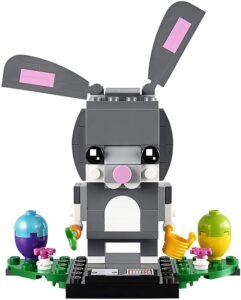 For those kids who obsessed with LEGO and building things, what would be the better seasonal gift than the LEGO BrickHeadz Easter Bunny.
This adorable bunny feature decorated eyes, movable ears and a detachable carrot and bucket is fun to build and hold the attention of children.
The buildable Easter eggs and flowers make it engaging with the holiday theme.
But be careful don't give it to the toddler who likes put things into the mouth, recommend for ages+3.
Click Here to Add the Easter Bunny to Your LEGO BrickHeadz Collection
---
Easter Egg Toss Toy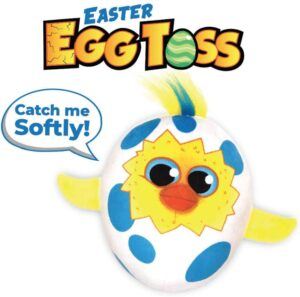 This funny electric egg toss toy will bring so much laugh for your little boys or the whole family. Feature 40  interactive sounds that can respond to action make the perfect game for Easter.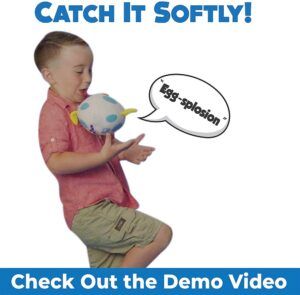 Made from washable recycled plush, this stuffed animal can be played indoor and outdoor. It's a fun toy to encourage your child to run around and practice catching & throwing, Which will improve kids' motor skills.
There is volume control for this talking toy and it requires 3x AAA batteries.
Feature smart sensory, It will make the silly phrase when you pass and catch it.
Click Here to Check Out the Video 
---
Prextex Number Matching Easter Eggs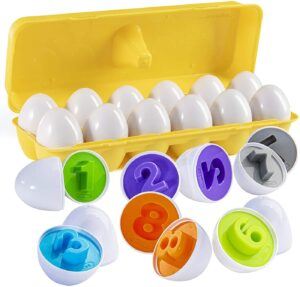 12 realistic eggs packed into a yellow plastic box can be a great addition to your Easter basket or used it for decorations at your easter party.
Each egg feature embossed numbers for shape and number recognition makes a great Easter gift or all year round education toy for your kiddo.
The different color designs of each egg offer more sorting fun for toddlers. For those kids who are still too young to match the number, It makes easy for them to close the egg by simply matching the color.
It is great for skills development such as number recognition, problem solving and dexterity.
Click Here to Check Deals on Amazon
---
Jumping Jack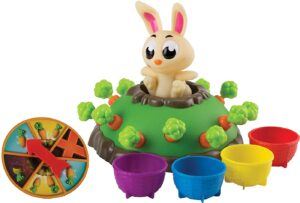 The Easter toy for toddler boys should be fun and engaging, and Jumping Jack will be a hit.
It is a very simple but full of excitement game.
Place all the carrots from the colorful basket to the bunny hill.
Spin the spinner to see how many carrots you get to pick from Jack's bunny hill.
Take turns pushing one carrot out of the bunny hill until bunny Jack jumps out and catches it.
Winner comes out!
It is designed for  2-4 players, and fast setup for repeat play feature makes a great toy for Easter party. Adults and children will enjoy playing with it.
Randomized action creates excitement and suspense, and makes it an engaging toy to help kids build quick reflexes, hand-to-eye coordination and fine motor skills.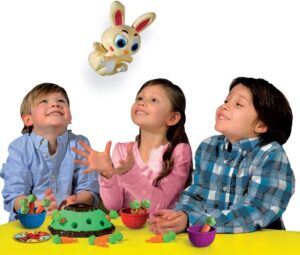 Click Here to Explore This Fun Game with Your little Boy
---
Melissa & Doug Soft Bunny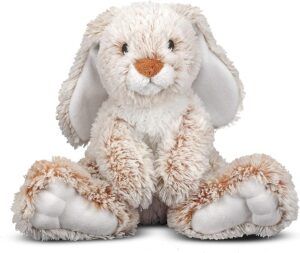 Outfitted with extra-soft plush fur and long ears, This stuffed bunny makes a delightful and cuddly gift for little one.
The soft stuffed rabbit provides kids lots of fun for your kids from playtime to bedtime.
Click Here to Get This Irresistibly Stuffed Bunny for Your Toddler
---
TOMY Toomies Hide & Squeak Eggs 
The yellow carton contains six colorful squeaking eggs for kids to "crack" open to reveal a colorful and fun chick.
The eggs are full of surprises for kids to explore. It is easy for little hands to grab.
It encourages shape and color recognition and provides hours of imaginative play by placing each egg back in the designated base of the carton or matching the colors of the shells to the cheeky chicks.
Click Here to Check deals on Amazon
---
Melissa & Doug Slice & Sort Wooden Eggs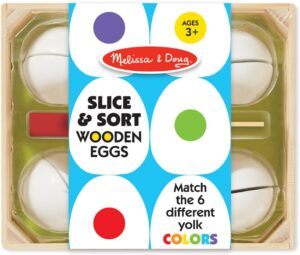 The wooden eggs set is great for Easter basket and provides kids hours of pretend play fun.
Slicing the eggs with the included wooden knife encourages kids to practice motor skills. They can also learn about sorting as match each colored yolk.
It comes with a wooden tray for easy storage, it a great addition to any play kitchen.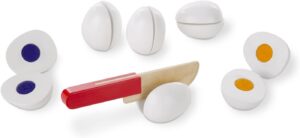 Click Here to Add This Fun Wooden Eggs to Your kid's Play Kitchen
You may also interested in the Top 7 Pretend Toys For Toddlers.