Normally when we say a toddler is age from 12 to 36 months old. At this time their physical growth and motor development will slow down while it is a very important time of great cognitive, emotional and social development. They start to speak from few words like papa, mama to speaking in a sentence, they become more sensitive and have more emotional, they start developing social skills.
On their way to grow up, they need your love your patience. But toys are also playing an important role to help your child to learn and develop different skills. Many families bought a lot of toys for their children, but they don't give them the full play. Because of some parents less understanding of the kids' development trend and internal rules of children's growth and development, and also insufficient understanding of the functional and utility of toys. So what're the best educational toys for toddlers? Read more below for more tips.
---
Bye Bye Baby, Hello Toddler
The 1~2-year-old children's body movements and independent actions develop rapidly. From learning to walking freely; gradually mastering basic movements such as running, kicking, drilling, climbing, balancing. Small muscle fine movements, hand-eye coordination, and accuracy are also correspondingly developed, and children's attention concentration and observation ability are also improved.
In this period, children's understanding of words develops rapidly. They will tell the names and related actions of people and things that are often contacted and can say simple phrases.
The following are some tips for choosing the educational toys for toddlers of this stage.
---
(A) Toys for developing movement
 Learning Walker with cook top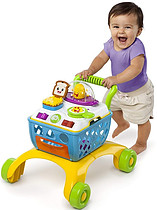 1. Independent walking is a very good movement for children aged 1~2years old.  The small trolley can help him or her to stabilize and gradually walk away from the support.
2. The coordinated movement of the arms and legs can be developed with the fun trolley
3. Expand the understanding of the surrounding things and promote the development of perception, attention, and memory.
4. Satisfy the child's desire to go where he or she wants to go, causing him or her to have a happy mood and broaden horizons.
The cooktop is removable for sit and play. It includes multiple activities including cooking sounds that sizzle and popcorn that pops! Gives baby endless hours of playtime fun with a shopping cart just like mom and dad use.
---
Rainbow Stacker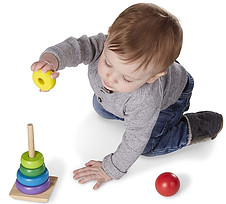 1. Rainbow stacker is slightly more difficult for children in the 1~2-year-old age, which can further exercise the flexibility and accuracy of the children's hands.
2. Develop the ability to concentrate and observe.
This rainbow stacker features brightly colored and smoothly sanded pieces that help children build early shape, color, and size-differentiation skills.
---
 Fine Motor Spike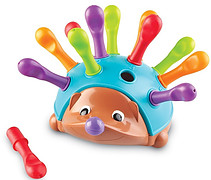 1. The movements of the hands and fingers are further refined and accurate.
2. Develop attention and understanding skills.
3. Instruct the child to insert the stick in different colors and teach the child to know the color.
Build fine motor skills with chunky, peg-shaped pieces that fit the back of this friendly hedgehog.
---
 (B) Development of language and cognitive skill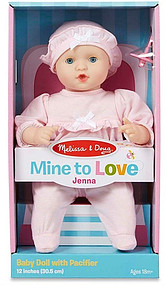 1. Develop cognitive skills. Children in the 1~2-year-old age can know the names the body parts, facial features, clothes, and utensils
2. Children can learn language skills as they talk to Jenna doll and caring for their baby doll helps foster nurturing skills and responsibility.
3. Jenna is a great baby doll to help toddlers express themselves and to encourage imaginative play.
---
  Soft Animal And Alphabet Cards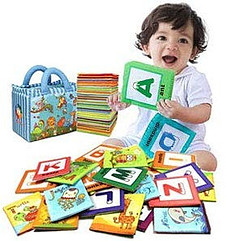 1. The cute cards can be observed repeatedly or for a long time so that children can get a deeper impression, develop their cognitive ability and gain knowledge.
2. Develop observation, attention, and memory skills.
3. Adults use different cards to tell the above images, stories, help children get more knowledge
---
(C) Training hearing and cultivating music interest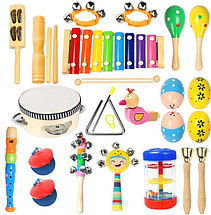 Musical educational toys
1. This instrument set including shaking, tapping, beating and blowing can get the kid moving and feeling the beat, discover the potential and sensitivity in music and audio, study the initial musical concept.
2. It creates more interactions between the parents and kids from playing toys.
---
Grow up more, learn more
On the basis of independent and free walking, toddlers aged 2~3 years have made great progress in walking skills. The movements of children in this age group have also developed quite a bit. They can hold pen painting, unbuttoning, pinching mud and using daily necessities to lay the foundation for self-care and using tools.
In addition to their understanding and language skills before the age of 2, they have further mastered more vocabulary, can speak complete sentences, like to recite songs, can ask simple questions and answer questions, like to talk with people, Language has become the main tool for children to interact and learn.
---
(A) Leading children's association activities.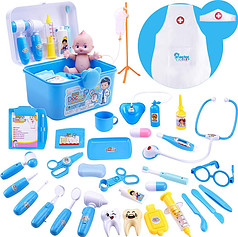 Doctor Kit
1. Spark imagination and creativity in your toddlers. Playtime comes to life through role-playing games and imagining real-life scenarios.
2. Engaging in doctor-patient role-play will give them a great channel to build confidence and develop empathy.
3. This kids play medical kit with 34 different doctor toys stored in a cute doctor case that comes with a stethoscope with realistic heartbeat sounds, a mouth mirror, and a flashlight with batteries. Bring more fun to your kids.
---
(B) Cultivate the awareness of rules and the spirit of cooperation.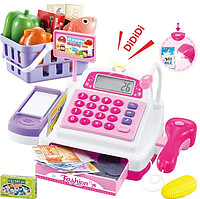 Supermarket Cash Register Toys

1. Cash Register Pretend Play requires multiple children to play together, they learn to follow the rules, coordinate with both parties. A good choice if you are looking for interactive educational toys for toddlers.
2. Children can Role-Play to buy any products, which helps to train cognitive and decision-making skills, understand life experiences.
---
Free educational toys-Nature is the largest toy library
The sand, water, mud, soil, small wood chips, large and small stones, branches and snow, flowers, snow, in nature are wonderful and can arouse children's interest. And kids' never tired of playing these. But keep your eyes on your kids when they play, safety always comes first.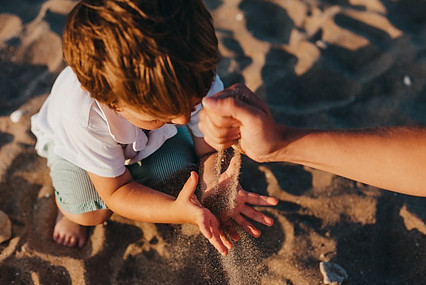 ---
Papa Mama play toys with me- Know more about your toddlers
It is important to lead and educate your kids when they play, but respect the nature of children's play, do not force them to learn what they don't like, but use games, toys, stories to inspire children's consciousness, let children learn and imagine independently, and gradually develop autonomy.
Sometimes toddlers have strong emotions but do not know how to express themselves the way that older children and adults do. In the process of play, you can better understand your toddlers' character, ability, and habits, you can know more about how to communicate with them. So join the game of your kids, they will feel happy.
What're the best educational toys for toddlers? – fun toys +your accompany+ your love +your patience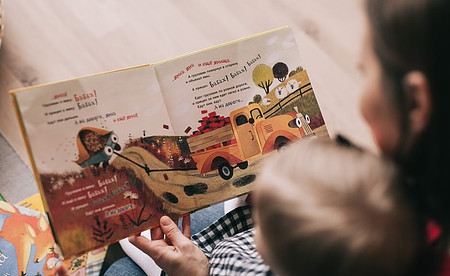 If you have any questions, opinions please feel free to leave them below or you can contact me by lena@besteducationaltoysfortoddlers.com