I believe many parents have the experience that your toddler drawing everywhere at the house, create a mess in the room with markers or crayons, some times that will drive us crazy, cause the marks are very difficult to remove. But the most important thing I think you care about is the marker, crayons, paint is nor safe for your kids.
But drawing is the way for kids to express themselves visually. So please don't stop them for painting instead we should encourage them to draw. It is a very good opportunity for parents to learn about your child and communicate with them better. But I don't mean encourage your kids to leave pieces of "art" on your fridge or the wall. Drawing, mess-free, safety can be the same way, read below the list of Drawing toys for toddlers you can find your best option to feed your little one creative impulses.(Note: Some of the links within this post are affiliate links of which I receive a small compensation from sales of certain items)
1. Water Drawing Mat-A real magic drawing toys for toddlers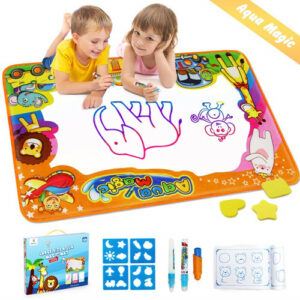 Try to keep your kids busy when you are in the kitchen, doing the household, This Aqua Magic Doodle mat maybe can help you. Why call it magic? Because you only fill the pen with water your toddler can create their imagination drawing anything on the mat. The marks will magically disappear after a few minutes so your kids can have fun on it again and again. The mat is made of High-quality Non-woven fabric, water-proof. Give your child a mess-free, safe entertainment time.

Pros: 
1. Comes with full accessories, Magic Brush, Pen, Drawing template, Stencils, Drawing booklet. Help toddlers to know better of different shapes, inspire their imagination hand-eye coordination.
2. The mat will come out 6 colors, improve kids color perception ability
3. Large size mat for your little artist's imagination to go wild with their friends. Parents can also draw with kids, it is helpful for cultivating a more intimate parent-child relationship.
4. Fordable and lightweight, can be used indoor or outdoor

Cons: 
Some buyers complain it is hard to the get pen's cap off to fill the water.
Size:34.5 x 22.4 x 0.4 inches
Brand: Betheeaces
Click Here to Get Your Little One A Mess-Free Drawing Mat
2. Magnetic Drawing Board- A Fun Way to Develop Creativity and Writing Skills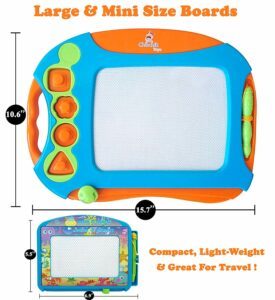 It takes me a few hours to research the magnetic drawing board, If looking for strong and durable drawing board, I will recommend Chuchik drawing board. It is made of the double layer of high-quality plastic so it means it will not break easily. Instead of normal black color, there are 4 colors underneath and with 4 different shape stamps bring your toddlers more fun.
Pros:
1. Smooth surface, make it easier to draw detailed drawings
2. Come with travel Size Doodle Sketch Board, easily take to a car or put in a bag when you are out.
3. The magnetic stamp can be taken in and out easily and won't fall off when connecting with the board.
It can also contribute to the development of the child's motoric abilities and imagination when kids taking out the magnetic shapes and putting them back into their respectively shaped holders
Cons:
Some buyers complain about it is hard for the toddlers to pull the erasing wand. And it doesn't fully erase the magnetic particles from the screen.
Size: 16.1 x 12.5 x 1.9 inches
Brand: Chuchik
3. Play Color LCD Writing Tablet-Eco-friendly, save the paper from now on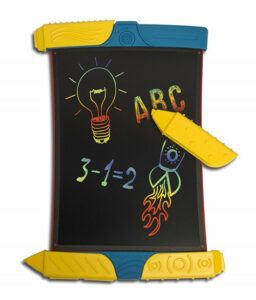 No need to buy a pen, pencil, and paper. This LCD writing toy with four stylus tools that have different tip shapes and sizes can help toddlers create a variety of lines and textures. Writing on the tablet just like on the paper, A great toy to teach kids to grab a pen and can be used on the go to keep your children creative juices flowing.

Pros: 
1. Easy for toddlers to use, Erase the content with the only touch of a button
2. Battery replaceable
3. Smooth writing in rainbow color and in high precision
4. Small, easy to carry.

Cons: 
Price little high, Some buyers said the drawing space is limited
Size: 7.4 x 0.6 x 9.5 inches
Brand: Boogie Board
4. Doodle Board Book- Cultivates the artistic ability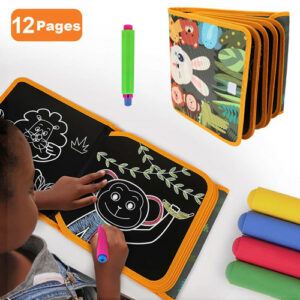 Unlock your toddlers' creative mind with this 12 pages Chalk board book. 1-2 years old is toddlers' painting sensitive period, this doodle book with the filled mold and free painting help exercise your little one perception of art and hand-eye coordination. It can promote parent-child interaction while you draw together, bring much fun for family time.
Pros:
1. Forest animal theme, can be drawn with 4 colors, help toddlers to learn different animals and develop color perception
2. Waterproof material, which is also easy to clean and wipe with a damp cloth
3. Lightweight and flexible to carry no matter on travel or driving
Cons:
After cleaning damp cloth you have to wait for it to dry then can drawing again.
Size: 9.6 x 9.2 x 1.1 inches
Brand: Tumama
Click Here To Check More Reviews
5. Peppa Pig Scribbles- The pig is using her powers of influence for good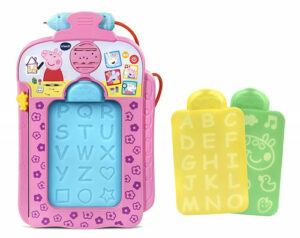 Kids are crazy about Peppa Pig and seem that Peppa could probably convince a child to do anything.
This Peppa Pig Doodle Board with 3 stencils, insert one of it into the board and it will recognize them and give playful responses as toddlers drawing or tracing the letters, shapes and Peppa Pig characters. Kids will more be engaged in drawing with Peppa Pig sound. It's never too early to expose toddlers to language and concepts such as shapes and letters. If you are looking for drawing toys for toddlers as gift this may be a good choice.
Pros:
1. Nice chunky little tablet size to fit small hands and support developing small muscle skill
2. There is a volume switch, free modes for games and songs,
3. Interactive play, remove the stencils and draw freely,
4. The pen is attached via a string so it will not be lost, easy to grasp
Cons:
The writing surface is small, there will be no place to write other contents if insert the stencils into the board
Size: 1.6 x 6.3 x 9.8 inches
Brand: VTech
6. Go-with-Me ABC Backpack – A backpack filled with learning fun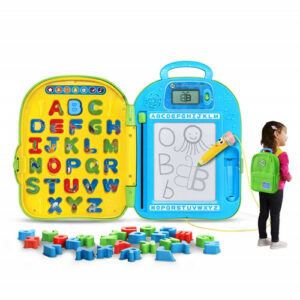 Take this fun backpack, you can get a puzzle (the 26 letters come out) and a drawing toy at the same time.
Letters and animals can show in the LCD screen with sound and fun music setting, help toddlers to spell, write or draw. All pieces store in the backpack, close it and wear it, keep kids entertaining on the go. A great educational toy for toddlers.
Pros:
1. Develop fine motor skills when toddlers practice taking out and plugging the alphabets pieces into the corresponding letter space
2. Seven learning molds includes introducing letter names and sounds, writing, reading, drawing, and animals
3. Good quality magnetic board and erase well
Cons:
Some buyers complain about the letters it is hard for small toddlers to take out.
And the backpack may be heavy for some little one.
Size: 2.8 x 12.6 x 9.6 inches
Brand: LeapFrog
7. Musical Doodle Board-Paint the world with the little finger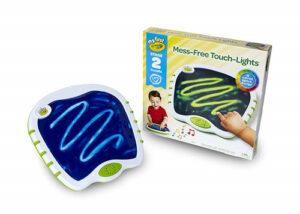 This doodle board with the safe sealed gel surface which can provide your little one the power of creative play. It is with colorful light options, pleasing music can grab the toddler's attention, help them to stay engaged. When they keep moving the finger to doodle and move the gel around can help for motor skill development. It is also a good choice of those kids who are tactile defensive, with CVI or low vision.
Pros:
1. Portable, convenient to take everywhere.
2. No markers, crayons, or paints are needed,
3. Music and color are changeable and you can choose to have the music off. Different color can help teach and stimulate young minds
Cons:
The surface is made of gel so can not draw in detail or write small letters. The gels may get pocketed in the corners, sometimes it's a little hard to smooth out.
Size: 2 x 13 x 12 inches
Brand: Crayola
---
I hope you enjoy this post of drawing toys for toddlers. If you have any questions please leave them below I will be happy to help you out.