My niece likes playing the dollhouse I bought her 5 months ago. She enjoys dressing the dolls and pretends to hold a dancing party with friends. Her one-year-old sister wants to join the game every time. But the dollhouse with small parts will cause a choking hazard,  and some small pieces it is hard for her to grasp.  I decide to buy a dollhouse that is suitable for her. So I did some research and found 4 top rated dollhouses for toddlers. Now I share the list below, hope that can help you find the right dollhouse for your toddler.  Some of the links within this post are affiliate links of which I receive a small compensation from sales of certain items, There is no additional cost to you.
---
Melissa & Doug Doorbell House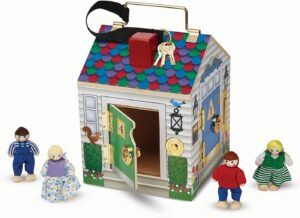 This dollhouse will be a good choice for those kids who are obsessed with keys and locks. It looks classic but there are so many features for kids to explore.
Unlike other dollhouses, this house is without any furniture.  It features 4 doors in different colors and 4 keys attached to the house. Each door can be unlocked with the matching key. The ring bell can make a real sound.
What I like is the 4 dolls and doors colors are matched and each door with the number, which makes the dollhouse not only fun but educational. There are so many creative ways you can encourage your kids to learn such as asking them to knock on the greed door, open door number 1 or let the doll with red cloths find her own door.
Dollhouse Size: 9 x 6.8 x 6.8 inches
Material: Wood
Pros:
Sturdy construction
With a handle for easy carry
With real locks and ring bells
Keys attached to the house so it will not get lost easily
Cons:
Toddler needs to find the right key to unlock the door that may get them frustrated. But in another way, that encourages them to learn to solve the problems
Batteries required for the doll bells.
Check the Latest Price on Amazon
---
Fisher-Price Little People Surprise & Sounds Home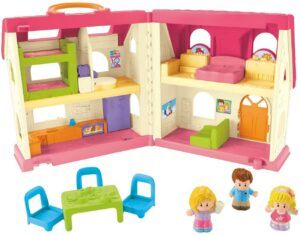 What makes this dollhouse stand out is that it can make more than 50 fun sounds. Kids will hear phrases like "Time to get out of bed, sleepyhead" when pressing the clock, or "wash your hands" when lifting the toilet seat. I think this a really cool feature that can entertain toddlers for hours.
It comes with 3 figures:  Mom, Dad, and Emma. Kids can use them for family role play. Their sizes are perfect for small hands to grasp. Except for 3 blue chairs and 1 green table, all other items are fixed in the house. The house can be folded for easy storage.
Dollhouse size: 10 1/2″ wide and 11″ tall, When it unfolds it's about 21″ wide.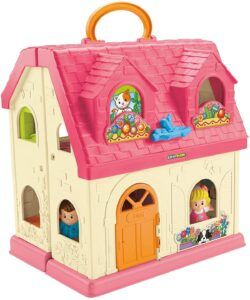 2 AA batteries required, but it is included.
Pros:
The sounds are fun and educational.
The music can be turned off
The size for perfect for toddles
Made from high-quality plastic
Includes kitchen, bedroom and living room that allow kids to act out daily activities.
It is convenient to carry on the go
Cons:
Most items cannot be moved
Only pink color is available
Without bathtub
---
Melissa & Doug Fold & Go Dollhouse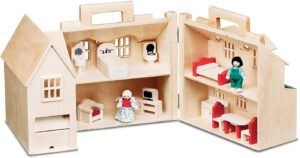 Choosing toys for toddlers, I believe simple is best. I like the simplicity of this dollhouse. It is made from unfinished solid wood that suitable for boys and girls.
It comes with 11 pieces of wooden furniture and 2 small dolls. All the wood pieces are well made and smooth to touch. Kids can place the furniture in their own way which can help develop fine motor skills. And the simple design of the furniture can encourage their imagination and creativity.
The house can be folded and it is easy for toddlers to carry. The front door and garage door can be opened or closed easily which gets them more engaging in the make-believe play.
Dollhouse size: 10.4 x 11.9 x 16.7 inches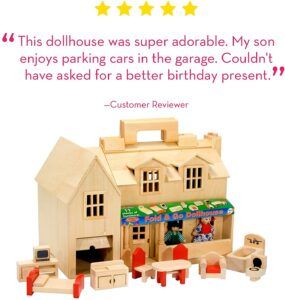 Doll size: 3 inches
Pros:
Don't need to assemble
Simple design but fun to play
Sturdy construction
Moveable furniture
Smooth edge
Cons:
The garage room is small. It is hard to find a car that can fit in the garage. (The opening for the garage is 3.25 x 3.25 inches, and goes back a little over 7 inches deep)
The unfinished wood allows you to paint the dollhouse.
Here is the wooden car toy that can fit the garage.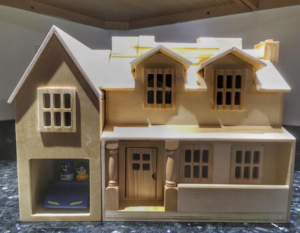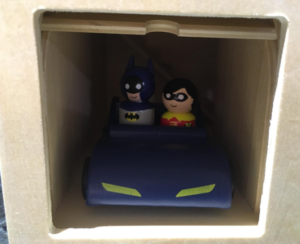 The following are some pics of the painted dollhouse by reviewers. You can click here to see more examples.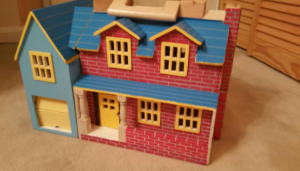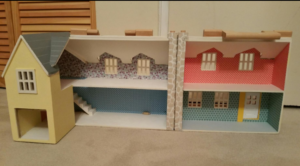 ---
Calico Critters Red Roof Cozy Cottage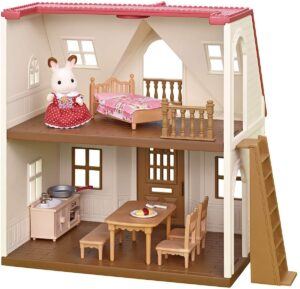 This Red Roof Dollhouse with a removable second floor, fence, and ladder allow you kids to arrange the house with their preference. Since it comes with some small pieces like omelet and fork, this dollhouse is recommended for children ages three years and above.
It is compatible with other craftsmanship that provides more possibilities to create a bigger house. This can be a fun starter set for Calico Critters.
Size: Height 10″, width 12″, and 8″ deep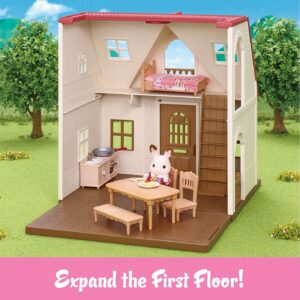 Pros:
Remarkable detail and craftsmanship
Removable floor and ladder add more fun
Doors and windows can be opened and closed
Easy to assemble
The bunny is cute, soft to touch
Can be stacked with Red Roof Country Home
Cons:
Click Here to Get Your Toddler The First Calico Critters Dollhouse
Dollhouse can encourage children to make believe, also known as pretend play, which has so many benefits for their development. There are many deluxe dollhouses on the market, and they look very nice. But I won't choose a complex one for my niece, I believe the simple dollhouse can offer more imaginative possibilities for her. The dollhouse above are all carefully selected, they are all suitable for toddlers and get high reviews from many parents. I choose the Melissa & Doug Fold & Go Dollhouse for my niece. Which one is your favorite? Share them in the comment section below.