A realistic tractor will inspire kids imaginative play and provide them hours of fun. Choosing ride on tractors for toddlers can be tricky as you need to consider the size, safety, features, materials, and price. Following are the top 3 ride on tractors that are designed for young children. The list covers different types and budgets, pros and cons, I hope that can help you to find the best one for your toddler.
---
John Deere 3-Wheel Pedal Tractor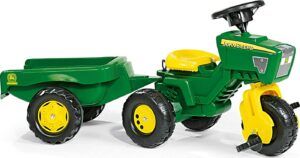 Recommend age: 2-4 years old
Weight capacity:50lbs
This John Deere Tractor is made in Germany. It is without chain and drove by the front wheel with a pedal, which means that it doesn't require maintenance. Kids like to imitate adults to load up stuff on the trailer. This vehicle comes with a trailer for them to fill up, which is also very easy to detach. It offers them hours of farming fun.
There are 2 buttons on the steering wheel, one can play engine sound, one is for the horn, which encourages kids imaginative play.
The tires are made from plastic, but it is very durable and can roll easily on any ground. And they with the oversized feature that ensures kids can drive stable. It is not suggested to run on the wet grass because it may slip.
The seat height off the ground is 14 inches. It is suitable for kids aged 2-4 years old. But that depends on your kid's height.
Features:
3 wheels
Electric Horn
Pedal Powered
Pros:
Realistic Looking
With a detachable trailer
Easy for toddlers to ride
Durable construction
Can be used indoor or outdoor
Cons:
Not adjustable seat
Instruction is hard to follow
Engine sound is loud
Seller: Rolly
---
John Deere Sit 'N Scoot Activity Tractor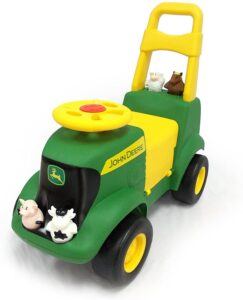 Recommend age: 1-3 years old
This ride on tractor allows toddlers to scoot or push along. It can also turn to be an activity center by flipping out the seat. It comes with 4 cute animals: pig, horse, sheep, and cow, which can put into the specific place: under the seat, on the front and back of the tractor. Animals make sounds when you place them on the right spot.
There are 2 buttons on the steering wheel, one can make engine noises and one play "Old McDonald".  There is a normal/low/off volume setting to meet your needs.
The height is 9inches from the ground to the seat. The yellow handle on the back is removable.
Features:
Fun sounds
Four farm animals included
Three volume settings
Activity playset area
Pros:
Don't need to assemble
Sturdy and well made
Perfect size for toddlers to ride on or push
Cute animals and activity area promote interactive play
Toddlers can use it as a walker
Cons:
The animals don't stay on their spots very well
Seller: TOMY
---
Peg Perego John Deere Ground Force Tractor with Trailer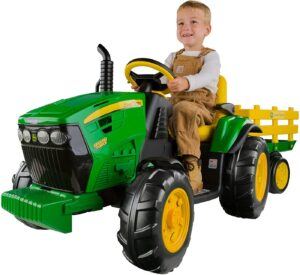 Recommend age: 2-7 years old
The Ground Force Tractor looks cool, any kids will love it. It features 2 speeds -2¼ & 4½ mph,  accelerator pedal and reverse that can bring more excitement for kids. What I like is that I can control the speed with 2nd gear lockout feature, and there is an automatic brake that makes it suitable and safe for young kids to drive.
With large-size farm tractor wheels,  Kids can drive the tractor on grass, dirt, gravel or pavement. But it is not recommended to drive on the tall grass. There is an FM radio under the steering wheel. It requires 2 "AA" batteries which is sold separated.
The seat with flip-up armrests and you can adjust the height of the seat. The tractor connects with a detachable trailer for kids to load up stuff, which provides them hours of pretend play fun.
The tractor is powered by a 12-volt rechargeable battery which is located under the hood. The 12-volt battery will require a full 16-24 hour charge with the standard charger. With a quick charger that will be 2 hours, which is sold separately. The ride time is about 1-3 hours that depends on the weight of the child and the terrain that the toy is being ridden in.
A replacement battery and charger can be purchased by calling Customer Service at 800-728-2108.
Specification: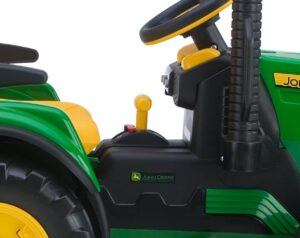 Overall size: 24.5″ H x 26.5″ W x 67.5″ L
Trailer size: 21.5″ x 14.5″ x 9.75″
Overall Product Weight: 50lbs
Weight Capacity: 85lbs
Material: Plastic
Features:
2 speed
12-volt rechargeable battery
Extra-large stake-side trailer
High traction wheels
Adjustable seats
FM radio
Pros:
Cool looking
Large size
Well made and sturdy
Charger included
Good steering
Battery power is amazing for a kids toy
Right size for toddler
Run well on grass, dirt, gravel or pavement.
Cons:
The lights are not working
It is difficult to open the hood to charge the 12-volt battery
FM radio requires batteries, to replace have to remove the steel
Take too long to charge with standard charger
Seller: Peg Perego
Click Here to Check More Detail Pics of the Tractor
The 3 ride on tractors mentioned above are from the same brand: John Deere. The John Deere Sit 'N Scoot Activity Tractor is at the best price. Peg Perego John Deere Ground Force Tractor with Trailer is with the best function and best for outdoor play. You can choose it according to your budget and your child's need. (Some of the links within this post are affiliate links of which I receive a small compensation from sales of certain items, There is no additional cost to you.)