Stacking blocks is a fun and educational activity for toddlers. This open-ended toy allows your children's imagination and creativity to flourish. There are many different types of blocks: plastic, cardboard, foam..ect. If you are not looking for the typical blocks but large soft building blocks for toddlers, here I got you covered. Let's jump into my top picks.
---
ECR4Kids Big Foam Building Blocks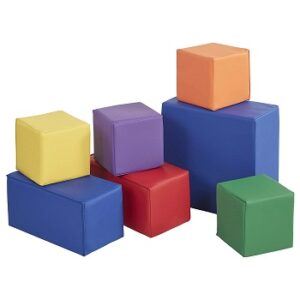 The ECR4Kids large building blocks feature vibrant color and soft material, which is great for children 9 months and older to play. They're perfect for use in school, day care or at home.
Now let's see why the ECR4Kids Big Foam Building Blocks is worth considering.
Size
The set includes 7 pieces blocks in 3 different sizes for toddlers to stack. Which is also great to teach kids concepts (like big, small, large, top, middle, bottom).
Large block: 16″ L × 16″ W × 8″ H;
Medium blocks: 16″ L × 8″ W × 8″ H;
Small blocks: 8″ L × 8″ W × 8″;
These chunky soft blocks are open-ended toys, they are fun to stack and knock down. Unlike the normal size blocks, these big blocks can stack up tall, which increase fun. Playing with these blocks helps infants and toddlers develop dexterity, fine and gross motor skills, spatial reasoning, creativity, and other sensory skills
Material
If the product uses the inferior foam it will have a terrible smell.  The ECR4Kids blocks are made from soft, safety tested polyurethane foam and covered in BPA free leather. They are no smell and safe for kids to play.
You will be surprised by the quality of the leather. It is durable even with rough play, and it is smooth and comfortable to the touch. When it gets dirty just simply wipe down with wet cloth.
The blocks are firm enough for kids to sit or stand on them yet soft and light enough for kids to toss.
Color
The blocks feature 6 vibrant colors: blue, red, purple, green, yellow, orange, Great to help stimulate little minds and encourage early color identification.
Click Here to Check Deals on Amazon
---
Melissa & Doug Match & Build Blocks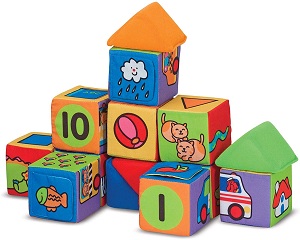 This adorable block set includes ten soft cube blocks and four soft triangles that provide toddlers unlimited and open-ended opportunities for learning and play.
Features:
Stackable:
This toddler toy set features 14 soft, lightweight pieces that are easy for young children to stack and knock down. Feature triangles and cube shapes, kids can build different combinations like towers, castles, boats, and rocket ships. It is a great educational toy to inspire their creativity and helps develop fine motor and gross motor skills.
Encourages matching activities: 
These blocks printed with the kids-friendly pattern were designed to develop matching and counting skills with numerals and quantities (like the number 2 and 2cats), animal heads and tails (put together a panda, a zebra, or an alligator), and fronts and backs of vehicles like an ambulance and a school bus.
Five of the blocks have peekaboo flaps that can encourage kids' storytelling. There's even a way to arrange the blocks so they complete a picture puzzle.
Feature interactive designs and multisensory features, These blocks can delight the little one while helping them promote essential skills.
Washable:
Covered with high-quality fabric(polyester.), these adorable blocks are washable!  Soft textures engage the senses.
Size:
These blocks are approximately 3.25" x 3.25″ x 3.25″ (7.62 cm). Can not say they are giant, but they with the right size for small hands to manipulate.
This Match & Build Soft Blocks set has been sold on Amazon for more than 5 years and got a rating of over 4.5 stars out of 5. Overall I recommend the Melissa & Doug Match & Build Blocks.
---
Foam Building Blocks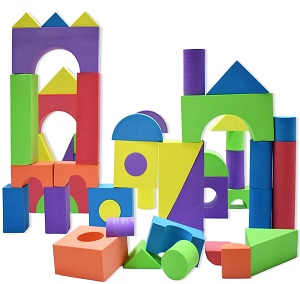 If you looking for soft building blocks set with more pieces for your little one, these colorful building blocks with 50 pieces foam blocks come in 6 different colors and many different shapes will be a good choice.
The foam is non-toxic and comfortable to touch for kids' sensitive skin. The different shapes make this block set a great open-ended toy. And the vibrant color can catch kids' attention easily.  The numerous possibilities keep kids entertained for hours also help stimulate creativity and problem solving skills.
Though the blocks are not giant as the seller describes, many parents said they are happy with the block's size and the quality. Their child enjoyed it. You can click here to find more comments.
FAQS:
What is the foam type these blocks are made from?
– Environmentally friendly EVA material
What size are these blocks?
– The large pieces are about a foot long and the smallest pieces are 2x3ish or the size of palm. The pieces are about 3 inches thick.
(Some of the links within this post are affiliate links of which I receive a small compensation from sales of certain items, There is no additional cost to you.) If you have any questions Feel free to leave them below.