Toddler likes to explore outside, and there are many developmental benefits of outdoor play for toddlers. But when the park is far away from your home or you are too busy with other things, your kids don't always have the chance to the park. The backyard can be a playland for your little one to have fun while enjoying the sun and fresh air. Offering some backyard toys for toddlers can encourage them to stay away from the screen and get some exercise they need.
Before jumping into the backyard toys list, I would share some tips for choosing the backyard toys as there are so many choices on the market that can be tricky finding the best one for your toddler.
Consider factors when choosing the Backyard toys for toddlers
No matter what kinds of toys choosing for young kids, always remember the age-appropriate rule, avoid small parts.
Choose the toys that fit your backyard room, especially for the big size playsets.
Select the toys that are portable, easy to assemble and clean.
For the toys that only can keep it outdoor, check if the material is UV protected and if it is easy to get mold.
Note: Some of the links within this post are affiliate links of which I receive a small compensation from sales of certain items, There is no additional cost to you.
Top 5 backyard toys for toddlers
ToyVelt Kids Golf Club Set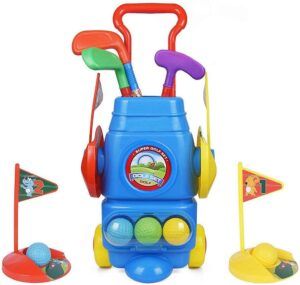 Introduce your kids with a Golf Playset will be a fun way to get them to exercise and learn about golf skills.
The ToyVelt Kids Golf Club Set feature a moveable golf cart, with 3 colorful golf clubs,3 Colorful Golf Balls, and 2 Practice halls,  is perfect for your kids to enjoy hours of golfing fun at the backyard.
All the pieces are age-appropriate, it is lightweight and with the right size for little ones to play.
The cart can storage all the golf accessories together, it is convenient to take it to indoor or outdoor.
Why Recommend ToyVelt Kids Golf Club Set
A great way to encourage kids to get to know golf.
Promote toddler physical and mental development.
Vibrant colors can catch kids' attention.
Kids friendly design.
Fun for backyard play.
Lightweight and easy to storage.
Kids can play with friends which will help them develop social skills.
Check the Latest Price on Amazon
---
Step2 Rain Showers Splash Pond Water Table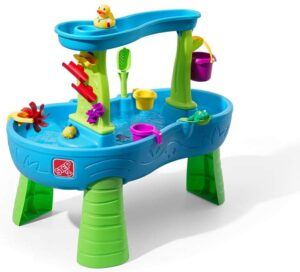 The Step2 Water Table with two-tier design will provide countless fun and sensory exploration for toddlers and preschoolers.
Multiple spinners and ramps can create rain/waterfall effect. Feature large size for multiple children to play together.
Come with 13 pieces of accessories for instant splish-splash water fun.
It is convenient to empty the water table with a non-leak drain plug.
Why Recommend Step2 Rain Showers Splash Pond Water Table
Satisfy kid's hunger for water play
Made of BPA free material, safe to kids to play.
The waterfall effect can teach kids about cause and effect.
Water play can encourage sensory development.
Easy to clean and storage.
---
Kids Garden Tool Toys Set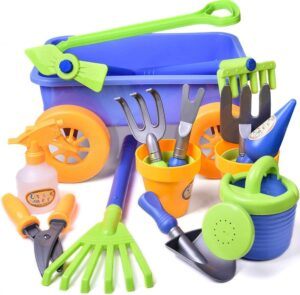 This Garden Tool Toy Set will be the perfect backyard toy for those toddlers who like to help mom or dad in the garden.
The set contains 16 pieces of realistic gardening tools that will provide hours of planting fun for young kids.
All the tools feature kids friendly size and with the smooth round edge which is safe for little hands to manipulate.
When playing done, store all the tools into the pull wagon for the next garden adventure.
Why Recommend Kids Garden Tool Toys Set
It can encourage kids to go outside and get in touch with nature.
It is a great way to introduce children to healthy eating habits by getting them to involve planting.
This backyard toy set allows for quality family time.
It provides the chance for kids to relax and boost physical development.
Click Here to Explore the Garden Fun with Your Toddler
---
Step2 All Around Playtime Patio with Canopy
Looking for imaginative toys for your little chef to host an ultimate backyard cookout party? This pavilion-style outdoor playhouse will be the perfect choice for you.
This all-in-one playhouse with multiple play stations including play grill, snack table, water table, sand cover, canopy, 16-piece accessory set is ideal for social and interactive play.
There is a drain plug for empty the water.
Feature realistic stacked stone and market-style canopy bring more pretend play fun for kids.
The Canopy is made of sturdy canvas, it can be easily disassembled for clean and storage.
The counter size is about 22 inches, suitable for children from ages 2 years and up.
Why Recommend The Step2 All Around Playtime Patio with Canopy
It encourages toddlers to creative role plays in the backyard.
Larger enough for multiple kids to play together.
Sturdy construction and realistic designs perfectly fit into any backyard.
Pretend play is beneficial for toddlers' mental and physical development.
See Additional Reviews on Amazon
---
Husqvarna Toy Lawn Equipment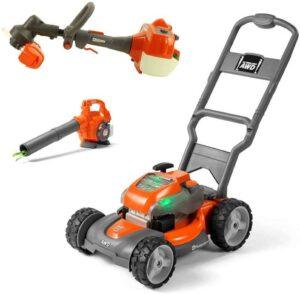 The Husqvarna Toy Lawn Equipment includes a leaf blower, a weed eater,  and a lawnmower are the perfect outdoor play tools for young kids who like to imitate parents do the yard work.
The play yard tools required 4AA batteries to operate. They can make real engine sounds and provide real blower action to meet your toddler's imitation desire.
The lawn toolset is recommended for children 2-5.
Why Recommend Husqvarna Toy Lawn Equipment
Realistic appearance satisfies kids' pretend play fun.
Size of toys is appropriate for toddlers to hold.
Made of safe and durable material.
It comes with a 1 year manufacturer's warranty.
Safe for young kids.
Encourage young kids to learn about life skills and enjoy working fun.
Last but not least, Play Tents is also ideal for toddlers to have fun in the backyard.