Kite flying is a great outdoor activity for kids. This great outdoor game not only brings lots of fun for your family, but it's also a great way to help kids exercise,  develop social skills, encourage self-expression and improve hand-eye coordination. It is time to get your kiddo a kite and running on the beach. Here are some tips for choosing kites for beginners and a list of beginner kites for kids which is carefully selected.
Choose beginner kites for kids guidelines:
Choose a single-string kite. It is simple to use for kids and it doesn't require lots of strategy and tricks to get the kite flying.
Pick the models with handles that make it easy for little hands to hold.
A beginner's kite with tails is more stable and can fly better. But make sure the tail is lightweight that will not impede flight. The kite with tails looks beautiful and fashionable, kids will love it.
Choose the kites made of durable material that are not easy to break. You don't want the kite break in one hour and that will make your little one sad and destroy their confidence.
Most kites are usually made of water-resistant polyester cloth, but the thickness is varied.  210T nylon fabric will be good.
---
Yetech 2 Pack  Dinosaur kite and Unicorn kite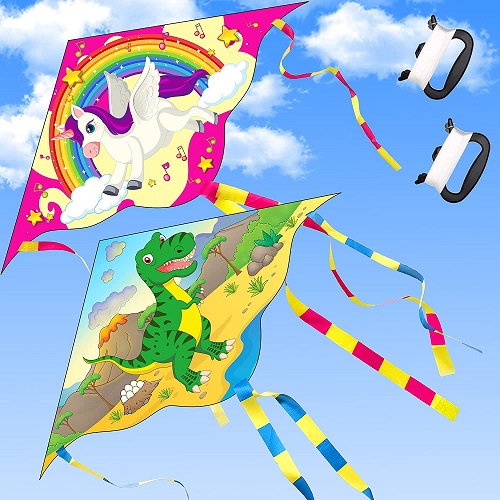 Kite measurement: 110*55cm
Tails measurement: 100cm
This Yetech kite Set is designed for kids. It comes with a dinosaur kite and unicorn kite. It is perfect for families that have more than 1 kid.
The kites are made of high-quality, tear-resistant polyester fabric. The framework uses strong fiberglass material, which is not easy to break off. The kites can withstand strong winds and are waterproof.
It is very easy to set up the kite. Just takes 4 rods 2 from top to bottom 2 from left to right.
This stylish kite pack is designed with a unique and simple triangle shape, with 2 long tails, young kids can fly the kite easily without assistance. And your little dinosaur and unicorn fan will love the adorable pattern of the kite.
It comes with 2 Swivels with an 80m cord string. The string is 80 meters long plenty to let the kite fly high enough. The handle is comfortable to hold and fit small hands.
Why recommend  Yetech Kids Beginner kite Set
Made of durable and light material and it is easy to assemble.
The kites are easy to fly. Kids can learn to control the kites easily. It helps improve kids' coordination skills and experiences a great sense of achievement
Kids will love the attractive dinosaur and unicorn printing.
It's will fun outdoor game for kids even adults.
Ready to take your children outdoors to create a great adventure and priceless moments with your children or grandchildren with these cute kites? Click here to get the  Yetech Kids Beginner kite Set.
---
Mint's Colorful Life Delta Kite for Kids & Adults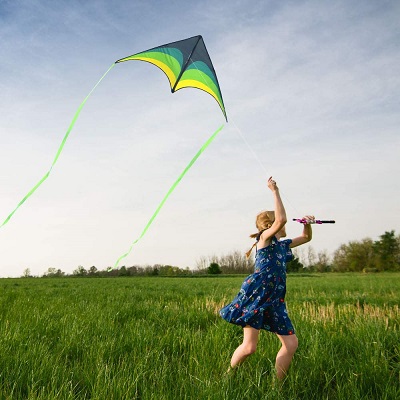 Kite measurement: 60″x 30″
Tails measurement: 2×118″
The Mint's Colorful Life Delta Kite is also using a classic triangle design, which is easier to control and fly. The size is not too big or small, it is suitable for kids, beginners, and toddlers.
The kite is very easy to assemble. And the company has upgraded the kite with the former, using updated solid and side poles.
The kite is simple but with vibrant color, it still can catch kids' attention and they will love the 2 long ribbons fluttering in the wind.
Why recommend Mint's Colorful Life Delta Kite:
Nice-looked for outdoor flying.
Use 210T bright well made nylon cloth.
The kite is easy to handle and kids loved the size and look.
Bring lots of joy to your family.
It comes with everything you need. Easy to take down and It's portable.
The kite goes up and stays up very easily and for long periods of time.  It can help kids build confidence.
Many parents and grandparents were happy with their purchase. Not only for its great quality, but it is also a great outdoor activity that provides tons of fun for kids and even grown-up. Click here to see more pic of this kite.