Sand, the great hands-on material to keep kids engaged and entertained. It offers the open-ended play chance for kids to explore and develop some important skills. Kinetic sand, unlike the regular sand, allows kids to mold it, cut it, squish it, stretch it, shape it. It is great for kids to experience sensory play while having fun. Read below know more about kinetic sand and check out the recommendations for the best kinetic sand and other play sand on the market.
what is kinetic sand
Kinetic sand is a mixture of regular sand and Silicone Oil. It mimics the physical properties of wet sand, but it is totally unlike the normal wet sand, it won't dry out and stick to anything, it can be molded into any desired shape. The silicone oil with a unique property that can make the kinetic sand moves slowly when not under pressure, that's the reason it can be molded into shapes, like a sandcastle. But it still would flatten out, just not quickly.
And actually 'Kinetic sand' is a toy trademarked and produced by Spin Master Ltd. It's the best-known brand of play sand.
Things to consider when choosing play sand
Vary brands of play sand have different textures, some are softer, some are with better stretch, some are thicker. The thicker sand can be molded into shape better for detailed building projects. And the softer kinetic sand is more suitable for toddlers, preschoolers, which cause less discouragement them.
Pay attention to the amount of the play sand kit when you buy it. For bigger building projects or multiple kids, you may need two to three pounds of the kinetic sand.
Most of the play sand is the same color as the regular sand. But there are also some brands offer colorful play sand which can increase more fun for kids' creation.
Some play sand kits equipped with the sand accessories or play container.
Where can buy kinetic sand
The original kinetic sand can buy on Amazon or kinetic sand.com
There are other brands of the play sand, which are vary slightly in texture and consistency, and equipped with different types of playsets. Keep reading below find the best kinetic sand/play sand for toddlers, children.
---
5 best kinetic sand/play sand for children
Kinetic Sand Beach Sand Kingdom Playset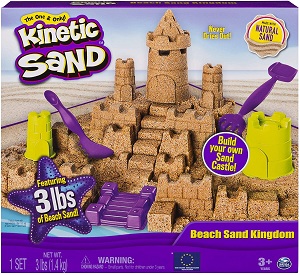 This Beach Sand Kingdom playset comes with 3lbs of kinetic beach sand and a set of colorful sandcastle molds and tools, allows your kids to create their dream sandcastle indoor.
The  Kinetic Beach Sand is made with larger grains of natural sand, it feels like wet sand, but it is dry and soft, it slips out of the molds easily and doesn't stick to hands or surfaces.
The sand playset comes with a cardbox, unfold it,  it turns into a beachy play area, builds bridges, turrets, and walls,  cut, dig, rake and shovel the kinetic sand, kids can enjoy tons of fun.
Click to Check Deals on Amazon
---
Kinetic Sand Sandisfying Set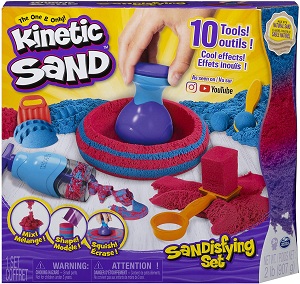 What includes:
2lbs of vibrant color kinetic sand(1lbs of red
1lbs of blue )
10 sand play  tools:
Wister with Ribboner and Grater Attachments
Squisher
Shaper
Crinkler
Scooper
Slicer
Dome
Stacker
Phone Stand
Transformable SandBox,
Backdrop
Instruction Sheet
Features:
Bright color makes it more appealing
Shapes and molds easily
Never dries out
Not sticky to hands, mess-free sand play
With a portable transformable sandbox, kids can experience the magic sand play anywhere.
With a phone stand and backdrop allows you to film your amazing sand creations.
Endless Ways to Create, encourage kids' sensory development
How to play:
Mix, marble or layer the red and blue Kinetic Sand, then use the various tools to experiment with different sand effects. Click to check the video.
---
National Geographic Play Sand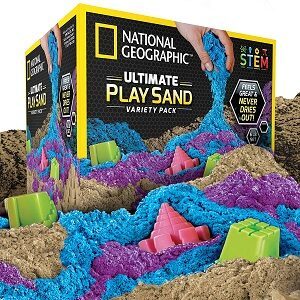 Compare with Kinetic Sand, the NATIONAL GEOGRAPHIC Play Sand price is cheaper. You can get 6lbs of multicolor play sand under US$30.
The NATIONAL GEOGRAPHIC Play Sand Combo Pack also comes with 6 different molds for kids to explore.
Like the original kinetic sand, it doesn't dry out, allowing you to use it again and again, it is easy to squeeze and mold different shapes.
But there are also differences, it makes with finer grain sand,  and it is a bit dryer than the original kinetic sand. However, the finer grain sand can show fine details for building detailed shapes. And it feels smoother and softer.
But according to some reviews, if play with wet hands or if the sand is too moist, the color can be on your hands, but it can washes off with soap and water. If you don't want the sand with color, you can also choose the regular color sand.
They offer different color options, Click to check.
---
Slimysand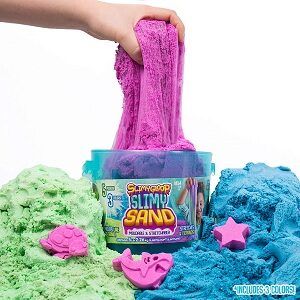 The Slimysand is softer and more stretch than regular kinetic sand. It stretches like slime, but you can feel the sand in it which provides you a different texture. It's special tactile makes it very therapeutic for children who struggle with anxiety.
This Slimysand set is packed into a plastic bucket, which is reusable for storage. It contains 5 Pounds of SlimySand in 3 different colors (Blue, Green, and Purple). It is enough to entertain 2-3 children.
There are 3 molds in the bucket lid for kids to create fun shapes. Slimysand can help kids strengthen fine motor skills through stretching, squeezing, squishing, and molding!
Click here to get this new texture Slimysand
---
Dino Play Sand Kit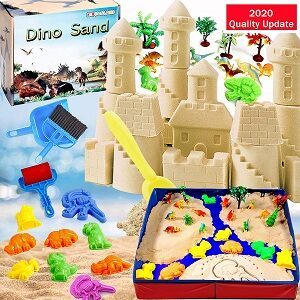 If your kids love dinosaur and playing sand, the Dino Play Sand Kit will be a huge hit and fit their needs perfectly.  The set includes 3lb play sand and enough dinosaur sand toy for several kids to explore.
The Dino sand has the texture and fluidity of ordinary sand, it is a little 'dry' compared with the regular kinetic sand, but it also can mold into different shapes and it never dry.
It comes with a foldable oxford cloth sandbox that makes less mess.
This Dino Play Sand Kit is fun for all ages, great for sensory and imaginative play! Click here to Buy
Kids can learn and develop some critical skills through playing sand, you can check here to know more about how kids can benefit from playing sand.
(Some of the links within this post are affiliate links of which I receive a small compensation from sales of certain items, There is no additional cost to you.)