Karaoke machine will be a huge hit for kids who love to sing and dance. It will bring your family so much fun and laughter. There are so many types of karaoke machines on the market, but it will tricky to choose the most suitable one for kids. I was looking for a  Karaoke machine toy for my 5-year-old niece and read plenty of reviews of the karaoke machine for kids. But I found most of the blogs introducing the best karaoke machines for kids are not so suitable for kids. Sure they recommend the machine are with many functions and also some are even profession. However, I just want a simple karaoke machine toy for my niece, not so fancy, easy to operate, and of course affordable price. I don't expect it can last for years, you know, kids. So I had spent some time searching it on online shopping stores(most on Amazon) and gathered a list that I thought will be a good gift for my niece and would like to share with you here. (Some of the links within this post are affiliate links of which I receive a small compensation from sales of certain items, There is no additional cost to you.)
---
List of Karaoke machines for kids ages 3-12
Niskite Karaoke Microphone for kids
The  Niskite Karaoke Microphone is made of aluminum alloy material and with vibrant color, is suitable for boys and girls ages 3+. There are 4 colors for you to choose from blue, purple, gold, and rose gold.
Features:
Bluetooth connection or Audio cable connection:
It comes with a cable to connect your phone. Or you can connect it to your Bluetooth device. It allows your kids to play and record any songs they like from any app on your phone like Spotify, YouTube, or Apple Music. 2 ways connection will bring an amazing singing experience for your kids at an indoor or outdoor party.
The range from your Bluetooth device (phone, etc) is about 10 feet.
Adjusting sound:
You can adjust the volume and echo to the best state.
Decent sound quality:
Lots of parents said their kids have a fun time singing with this wireless Bluetooth microphone. WIth updated Bass Diaphragm Cavity,  it creates vivid sound effects and echoes that make kids enjoy listening and singing all day.
Five voice-changing:
The voice changing function is a big hit for toddlers girls or boys. There are 5 voice-changing modes that bring tons of fun for kids including Baby voice, Monster voice, Male voice, and Female voice.
Your kiddo can choose to sound like an old man, a singing lady, or a funky robot!
High-capacity rechargeable battery:
The microphone is built with a 1800mAh rechargeable lithium battery that can provide over 8 hours of continuous use to keep your kid's entertained for hours and hours.
It takes less than 2 hours to charge.
Support TF Card:
Inserted TF card max 8GB with songs saved in advance allows you to sing without a smartphone. The karaoke mic will play songs on the TF card automatically in sequence.
Pros:
The echo really makes your voice sound so cool.
You can change the song from the microphone is awesome and pause and play also.
Portable size and wireless that can take it outdoor or indoor
Encouraged Kids to learn the lyrics of songs so that they can sing properly.
Voice changer is hilarious and so fun.
Charges easily and the battery lasts a long time.
Can create an echo feel like at KTV.
Good price.
Cons:
Support TF Card not included.
It will be easy to break if it fell on the hard floor
---
VTech Kidi Star Karaoke Machine
VTech Kids Star Karaoke Machine is also a fun toy for keeping your kids entertained for hours. Kids will enjoy singing and dancing like a superstar with this awesome Karaoke Machine. The machine size is 50.37 x 14.57 x 16.7 inches, recommended for kids 3-12 years old.

Features:
Work with your own music player
You can connect easily connect your MP3 player or mobile device to play your favorite tunes. The Karaoke machine is also preloaded 8 original songs. Young kids can play the song without adults' help.
Audience sound effects and Music Magic Mode
The audience sounds like applause, cheering and laughter will make your kids really feel on stage at a concert! Music Magic Mode turns down the main vocal track so anyone can be the star and take the lead.
Voice changing effect
Including 5 voice-changing effect that provides more fun.
Disco light effect
Kids will love the colorful light effect. The light can twist 180 degrees which create a great atmosphere for kids to be a superstar on their singing stage.
Record function
The karaoke machine includes a built-in recorder that records for up to five minutes. Record yourself and add fun voice-changing effects, then listen to and enjoy your performance.
Including 6 games
The LCD display can light up. And it provides 6 games for more fun.
The karaoke machine stand can adjust 4"to 5", the machine is detachable. It is light enough for kids to carry it anywhere. The downside is that the batteries run fast. Overall it is a great gift for kids who like singing. Very easy for kids to operate. It has 2 colors to choose from, pink and purple.
Click here to find more detailed pics of the VTech Kidi Star Karaoke Machine.
---
Croove Karaoke Machine for Kids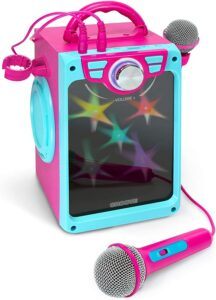 Singing can help kids build confidence and develop self-expression. And most importantly can keep kids in a happy mood which is good for health. The Groove Kids Karaoke Machine comes with 2 mics that allow your kids to have a 'concert' with friends, siblings, or parents. It's great for family karaoke contests, birthday parties, or kids' play dates.
Features:
Powerful speaker and pro-quality microphones
Compared with the 2 kids' karaoke machines mentioned above, the powerful speaker is one of its outstanding features. The sound is loud which makes it great for family night. But don't worry, It has a volume control button. You can turn the volume up and down of any music you play through it. It is equipped with 2 pro-quality mics that can be turned on/off.
Flashing Disco Lights
Bright, multicolored whirling disco lights will bring your family a great visual effect.
Bluetooth, AUX in (cable included), or USB Port connectivity
It comes with a USB power cable and line-in cord. You can  Bluetooth, AUX in (cable included), or USB Port. You can play your favorite music from any device like iPhone,iPod, Ipad, Laptop, TV, Wireless Mic, Amazon ECHO, Android..
Portable and rechargeable
The POP BOX includes a sturdy handle and rechargeable batteries. It's lightweight for you easily take the show on the road.
Downside:
You cannot control the volume of the microphones, you can only change the volume of the music.
This POP BOX will definitely deliver endless entertainment for kids and adults alike! Click here to check the price on Amazon.
A karaoke machine can keep kids busy and entertained for hours at home. If you are looking for more indoor toys, check here.