Doll play is not just fun for toddlers, it offers so many benefits for toddlers' development. Toddlers learn by imitating, they imitate parents or caregivers to take care of their baby doll. It offers toddlers hours of pretend fun while practicing important skills like language, empathy, fine motor, etc. Here is a list of the best baby dolls for toddlers that make a great gift for your little one. (Some of the links within this post are affiliate links of which I receive a small compensation from sales of certain items, There is no additional cost to you.)
---
Melissa & Doug Mine to Love Jenna Doll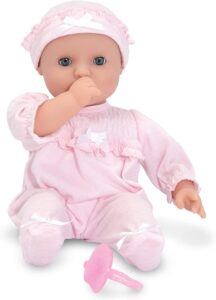 Brand: Melissa & Doug
Item Dimensions LxWxH: 12.5 x 7.2 x 5 inches
Age Range: 18+ months
Features:
Adorable Pink Outfit
Sucks Thumb or Pacifier
Soft Body
Eyes close and open
Sweet baby cheeks
The Melissa & Doug Mine to Love Jenna Doll comes beautifully presented in a box that makes a great gift.  Your little one will fall in love with this adorable baby doll at first sight.
This baby doll features an ideal size for toddlers 18 months and older to hug, cuddle, and carry around. The doll's body is soft and pliable and its features are fairly realistic. She is with beautiful blue eyes and her eyes close when she lays down.
Your little one can comfort the baby doll by helping to suck her thumb or the included pacifier. These pretend activities can help toddlers develop empathy and foster nurturing skills and responsibility.
Jenna is dressing in a removable stitched pink romper and wearing a matching infant bonnet. Helping her baby doll remove and put on clothing will keep your little one busy. It's beneficial for their fine motor skills and cognitive development.
Melissa & Doug Mine to Love Jenna Doll can inspire hours of imaginative play for your toddler. Doll play also helps self-esteem, confidence, and language development. Melissa & Doug Mine to Love Jenna Doll is made of good quality that can accompany your toddler for years to come. Ready to gift your little one this adorable doll? Click here
---
Baby Alive Magical Mixer Baby Doll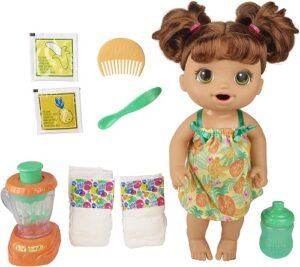 Brand: Baby Alive
Item Dimensions LxWxH: 4.02 x 10 x 14.02 inches
Age Range: 3+ months
Features:
With a real working blender toy
Baby Doll drinks, wets, and "poops,"
Magical mealtime-playtime
The Baby Alive Magical Mixer Baby Doll will be a blast for girls and boys ages 3 years old and up. It comes with everything your kids need for a fun pretend feeding playtime, including a toy blender, 2 packets of doll food mix, spoon, bottle, and 2 diapers.
The real working toy blender will provide your kids with tons of food-making fun. Pour the powdered doll food into the blender with water, then press down on the button to mix up the baby's food! Then kids learn to feed their baby doll with the delicious food they made. It helps toddlers develop fine motor skills, hand-eye coordination, and learn to take care of others, like their younger siblings.
The doll is also cute. Your little girl will love the baby doll can "pees" and "poops" her diaper. And she will love changing diapers for their baby doll. It helps her with being a big sister and doing things mommy does.
Parents love the baby doll is durable and requires no batteries. It is a great gift for any toddler who loves feeding and changing the doll's diaper.
You can click here to see the video of Baby Alive Magical Mixer Baby Doll Tropical Treat.
---
Playskool Dressy Kids Girl Activity Plush Stuffed Doll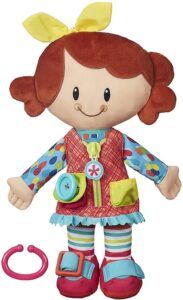 Brand: Playskool
Item Dimensions LxWxH: 4.17 x 14.37 x 7.36 inches
Age Range: 18+ months
Features:
Discovers buttons and zippers and ties
Well made and educational
Time valued gift
Machine washable
Kid-friendly size
This huggable Dressy Girl plush is a great learning tool for toddlers. It is a great dress toy for toddlers to practice different getting dressed activities like opening and closing the zipper and working the Velcro strap on the shoe. It helps toddlers to develop fine motor skills.
The doll is soft and features friendly-looking makes it a great sensory toy for kids. With the child-friendly size and a carry-along clip, she is perfect for kids to carry around, no matter in the car or at the doctor's office, or almost anywhere your day takes you.
This snuggle buddy is with so many things for your little one to discover about getting ready for a busy day. Click here to give your toddler this adorable gift.
---
JC Toys African American Baby Doll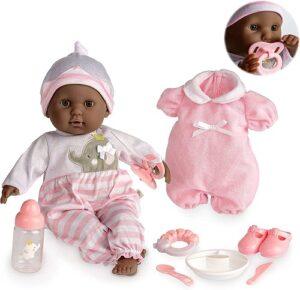 Brand: JC Toys
Item Dimensions LxWxH: 15 x 12.6 x 5.5 inches
Age Range: 18+ months
Features:
Detailed soft baby doll
Outfit and feeding accessories
BPA Free
Eyes open and close
Soft and smooth to touch
This African American Baby Doll is so lovely and well made. It is an ideal gift for any little girl. The baby doll is with beautifully detailed vinyl head, arms, and legs. Her eyes can open and close. She is with a realistic look but is not creepy. Kids will love to hold and cuddle this adorable baby doll.
It comes with a two-piece embroidered outfit, an extra outfit, a pair of adorable shoes, a baby bottle, a pacifier, a rattle, and feeding accessories that provide your kids hours of pretend fun. Kids can help their baby doll to change clothes. put on shoes, or feed her. It helps promote their life skills and learn to take care of others.
Parents like this baby doll is made of great quality that remains a favorite for years to come. And she is the perfect size for young children to hug.
Click here to check more detailed pictures of this lovely African American Baby Doll
P.S.
Toddlers can learn a lot from playing with baby dolls, here are the benefits of playing With dolls for toddlers.