Spring is in the air, and Easter is just around the corner! As you prepare for the festivities, don't forget to include some Easter-themed books in your little one's reading list. From adorable bunnies to colorful eggs, these Easter books for toddlers are perfect for introducing your child to the season and its traditions.
---
How to choose Easter books for toddlers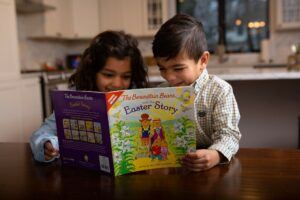 Choosing the right Easter book for your toddler can be a fun and rewarding experience, but it can also be overwhelming with so many options available. Here are some tips to help you choose the perfect Easter book for your little one:
Age appropriateness: Make sure to choose a book that is appropriate for your toddler's age and developmental stage. Board books are great for young toddlers who are just starting to explore books, while picture books with longer texts may be more suitable for older toddlers.
Theme and content: Consider the theme and content of the book. Some books focus on the religious aspect of Easter, while others are more focused on the secular traditions such as egg hunts and bunny rabbits. Choose a book that aligns with your family's beliefs and values.
Illustrations: Toddlers are drawn to bright, colorful illustrations, so look for books with eye-catching pictures that will capture your child's attention. Interactive elements such as flaps, pop-ups, and textures can also be engaging for toddlers.
Text: Choose a book with simple, age-appropriate language and a clear, easy-to-follow story. Rhyming texts can be fun for toddlers, and repetition can help with language development.
Diversity: Consider choosing books that feature diverse characters and cultures to expose your child to different perspectives and experiences.
By considering these factors, you can find an Easter book that your toddler will love and cherish for years to come.
---
The Benefits of Reading Easter Books with Children
Easter books can provide children with valuable learning opportunities and experiences. Here are some things that children can learn from reading Easter books:
Easter traditions: Easter books can teach children about the traditions associated with the holiday, such as egg decorating, egg hunts, and the Easter Bunny. Children can learn about the history and origins of these traditions, and how they are celebrated around the world.
Religious significance: For families who celebrate Easter as a religious holiday, Easter books can teach children about the religious significance of the holiday, including the story of Jesus' resurrection and the importance of faith and hope.
Values: Easter books can promote values such as kindness, generosity, and forgiveness. Many Easter stories feature characters who learn important life lessons, such as the value of friendship and the consequences of selfishness.
Vocabulary and language skills: Reading Easter books can help children develop their vocabulary and language skills. They can learn new words and concepts related to Easter traditions and themes, and practice comprehension skills as they follow the story.
Creativity and imagination: Many Easter books feature colorful illustrations and engaging storylines, which can inspire children's creativity and imagination. They can imagine themselves as characters in the story, and use their imagination to come up with their own Easter-themed stories and activities.
Overall, Easter books provide a fun and educational way for children to learn about the holiday and its traditions, while also promoting important values and language skills.
---
10 Easter Books for Toddlers-Encouraging Empathy, Understanding, and Growth
Here are 10 Easter books for toddlers that you and your little one will surely enjoy:
(Some of the links within this post are affiliate links of which I receive a small compensation from sales of certain items, There is no additional cost to you.)
---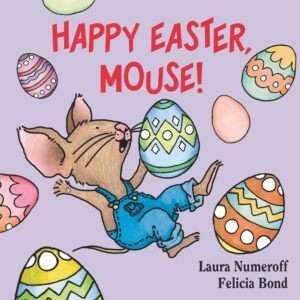 In this board book, Mouse prepares for Easter with his friends and goes on an egg hunt. With simple text and colorful illustrations, this book is perfect for toddlers.
---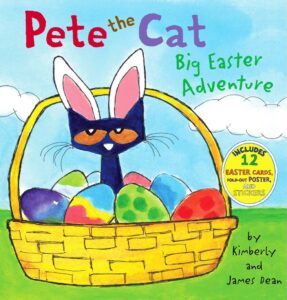 Join Pete the Cat as he helps the Easter Bunny and saves Easter in this fun and interactive story. Your toddler will love singing along to the catchy tunes in this book.
---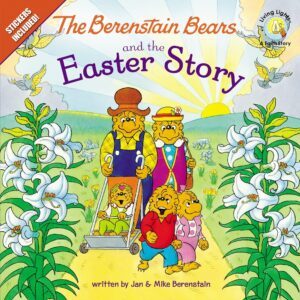 In this book, the Berenstain Bears learn about the true meaning of Easter through the story of Jesus' resurrection. It's a great way to introduce your little one to the religious significance of the holiday.
---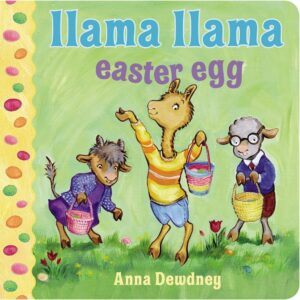 Llama Llama and his friends have fun decorating Easter eggs in this adorable board book. Your toddler will love the rhyming text and vibrant illustrations.
---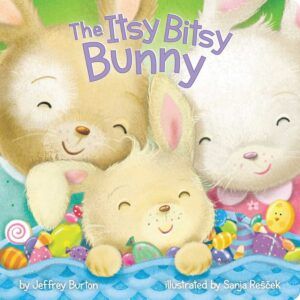 This Easter-themed version of the classic nursery rhyme is perfect for toddlers. Follow the Itsy Bitsy Bunny as he hops through the meadow, meeting his animal friends along the way.
---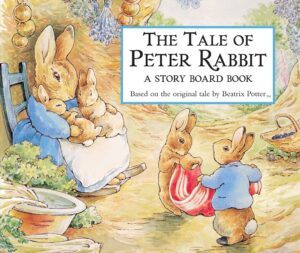 No Easter book list would be complete without this classic tale! Your toddler will love the misadventures of Peter Rabbit as he sneaks into Mr. McGregor's garden.
---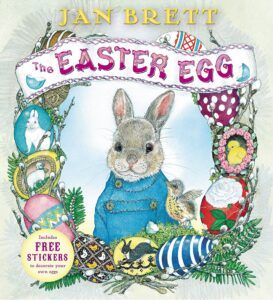 In this beautifully illustrated book, a bunny named Hoppi wants to decorate the best Easter egg in the forest. Your toddler will love the intricate illustrations and heartwarming story.
---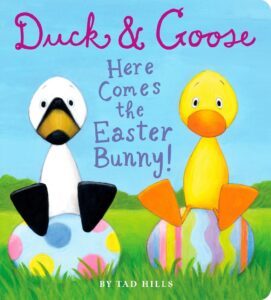 Duck and Goose search for the Easter Bunny in this adorable board book. With charming illustrations and simple text, this book is perfect for toddlers.
---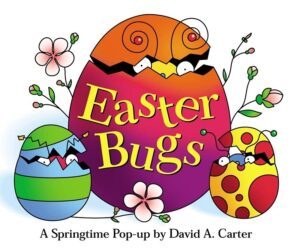 In this pop-up book, bugs celebrate Easter in their own unique way. Your toddler will love the interactive nature of the book and the colorful pop-up pages.
---
"Easter" by Roger Priddy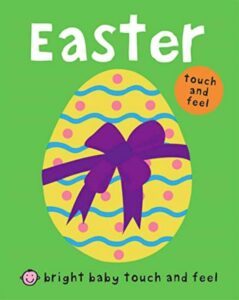 This board book introduces toddlers to the Easter holiday with simple text and bright photographs. It's a great way to teach your little one about Easter traditions and celebrations.
With these 10 Easter books for toddlers, you and your little one can enjoy the season and learn about the holiday's traditions and meanings. Happy Easter!